Since 1980 I have given tours, lectures, and slide-shows about Seattle plants. Exploring Seattle, documenting plant occurrence, noting flowering and fruiting times, tasting edibles, and teaching others, is a joy. Tours allow people to benefit personally from my learning. As 2018 proceeds, I will keep adding tours to this page . . . In most years, I lead 13 to 16 of these tours.
TIME: It varies. Most tours are on Sundays from 3:00 to 5:00. Dress for the weather, and be prepared to be walking for nearly all of the two hours. Usually at the end of the tour I ask if anyone cares to join me to sit down somewhere nearby for rest, chatting, a bite to eat and a drink.
WHAT TO BRING: Whatever you prefer, such as notebooks, cameras, tape recorders, bags to put samples in, fieldguides. Please, no dogs.
NO IFS, ANDS or BUTS: Tours are conducted even if it rains or if there is a low turnout. Registrants will be called if an emergency occurs.
SIZE LIMIT: Tours are limited to 15 participants (only 10 for edible plant ones). First come, first served. For tours that sell out, additional ones may be scheduled. Moreover, custom tours can be arranged for your group.
COST: The cost per participant is $10 (i.e., $9.01 plus $.99 sales tax). Payment by cash or checks only. If you prepay for a tour, but miss it, you receive credit for a future one.
Details and registration: For additional information, or to register, call Arthur Lee Jacobson at (206) 328-TREE (328-8733).
Note: The first 15 people who pay for a tour, fill it. If you don't want to commit yourself now, you can always wait, then call at the last moment to see if space remains. Most tours will have space available even on the very day they are scheduled.


Sunday, March 18, 2:00 p.m. - 4:00 p.m.
Spring Flowering Trees tour
A great many trees blossom in spring, and can be breathtaking. See Cherry trees, Magnolias, Pear and Plum trees, Pussy Willows. Even shade trees such as Elms, Hornbeams & Maples have flowers. Meet in front of Madison Park Hardware (42nd Ave. E & E Madison St). When done, we can visit and warm up at the Attic Alehouse.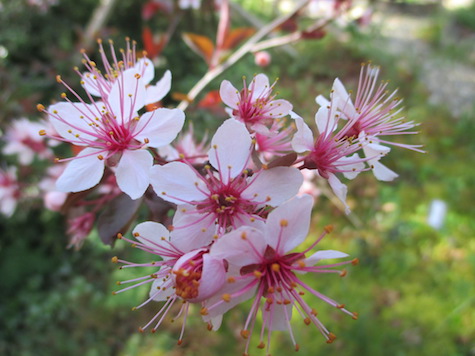 Atherton Plum tree flowers in late March (photo by ALJ)


Sunday, April 8, 2:00 p.m. - 4:00 p.m. (SOLD OUT)
Edible plants tour
Anyone who spends much time walking outside should learn common wild edible plants, and learn to avoid poisonous ones. Hikers, walkers, and chefs can increase their culinary options by attending this tour. The emphasis in spring is salad greens such as Candyflower, Cleavers, Cress, Daisies, Red Dead-nettle, Dock, Maple flowers, Oregon Grape new leaves, Sweet Cicely, Vetch, Wall Lettuce, Wild Garlic, etc. Location TBD.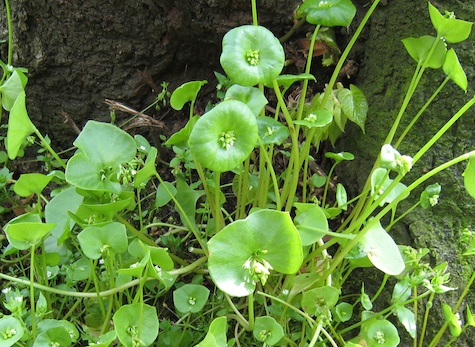 miner's lettuce in bloom (photo by ALJ)


Back