Trees of Seattle second edition
2006 - $28.95
ISBN 0-9622918-4-6
496 page softcover book
126 color photographs

More than 1,400 different kinds of trees. An update of the long out-of-print 1989 first edition.

Contents

Updates and Errata

Gradually I will add reviews to this website, as they appear.

To download in PDF format a sample page click here
To learn more about PDF format see Adobe Acrobat Reader.

You can now order autographed copies of the new Trees of Seattle from me directly, and at a discount from the cover price.




Below is a reduced image of the new Seattle Trees of the Streets: a Neighborhood Sampler map. It features 99 kinds of trees mentioned in the Trees of Seattle book. It lets users instantly locate noteworthy trees in every Seattle neighborhood. The 28 by 20 inch map features full color, informative icons, complete address data, has both English and scientific names, and helpful annotations such as tree heights.
The trees selected are all visible from the street. A good diversity exist --big old landmarks; cute little novelties; evergreens and deciduous; common and rare. To map every tree cited in the book would be impossible, but to map a diverse set of 99 has resulted in a fun map that will be helpful to many tree lovers. This map was conceived and created by Lacia Lynne Bailey. You can get more information or order a copy via PayPal or postal mail by e-mailing Lacia at: LLB101@excite.com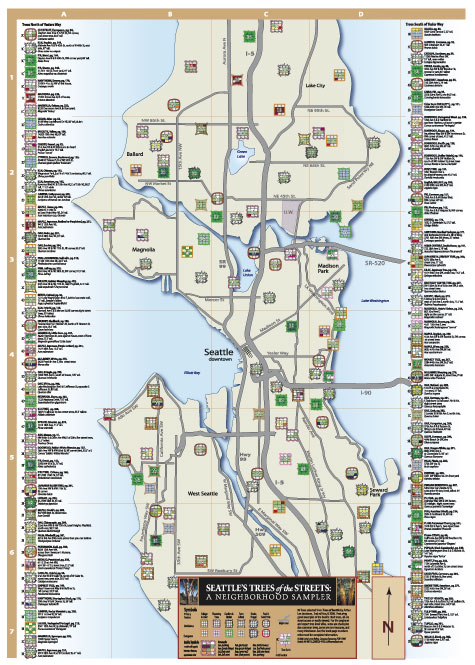 Seattle Trees of the Streets map by Lacia Lynne Bailey