At least in North American nurseries, for decades, the plant whose scientific name is properly Alpinia Zerumbet has been, is being, and presumably shall be sold wrongly as variously Alpinia nutans, Alpinia speciosa or as a dwarf clone of Elettaria Cardamomum. Other names, too. A minority of nurseries, such as San Marcos Growers, use correct nomenclature.
The original or True Cardamom, also called Small Cardamom, Cardamom Ginger or Cluster Cardamom, is a plant of tropical India that can grow 18 feet tall and is prized for its spicy seeds. Its flowers are prostrate, near the ground, and not showy. It is grown very rarely in pots indoors in temperate climates.
There are other species called cardamoms, in genera Elettaria, Amomum, and Alpinia. But this month I write about only one of them, because it is cultivated widely in North America.
Alpinia is the largest genus in the ginger family, with some 200 species, at least 30 reported as eaten by people. The genus is distinguished easily by its terminal flower cluster on a leafy shoot, emerging above the uppermost leaf. The rootstocks of some are consumed as spices called galangal.
Alpinia Zerumbet ranges from India into SE Asia, and is grown both as an ornamental and as an edible aromatic herb. To thrive, it needs shade, warmth, and humidity. It can get frosted in winter and still come back the next spring. Names for it include Light Galangal, Shell Ginger, Shell Flower, Pink Porcelain-Lily. In its typical form it can grow as tall as 12 feet, but is cultivated usually in clones that are short. One of these is sold as Dwarf Cardamom, False Cardamom, and Cinnamon Ginger. One is a variegated clone grown for its beautiful yellow striped leaves.
Its rootstock used fresh is a substitute for galangal and ginger (Zingiber officinale); the pith of young stems, the young tender leaves, and flowers are all eaten.
If you care to ascertain if a plant is really Alpinia Zerumbet rather than another, examine its leaf margins closely: they are fringed with tiny, extremely fine sharp teeth. Utterly unlike the plants whose names it is sold incorrectly as.
The dwarf Cardamom clone is easily grown indoors in a pot. If kept moist, warm, and from excessive light, it thrives. If you put it outside in summer, too much sun burns the foliage, and makes it paler green. In my experience, this clone stays less than 2 feet tall; its leaves measure up to 7.5 inches long by 1 and a seven-eighths inches wide. It does not flower in Seattle, but its grassy foliage is elegant.
When grown outdoors in the south as a shade groundcover, this clone can be 3 feet tall, make larger leaves, and produce flowers in nodding clusters --hence the specific name nutans; most Alpinia species bear erect flower clusters. The specific name Zerumbet is shared by some other ginger family genera. It is an Arabic name, that in the Middle Ages was written variously as Zeruban, Zerumber, and Zerumbet.
Because the plant blooms infrequently, it is valued mainly as a foliage ornamental and for its warm, pleasing fragrance. Though many members of the ginger family are just as sweet and winsome to inhale.
My photographs show one specimen in a green pot that dates from 2010 (purchased as Alpinia officinarum) and has been indoors the entire time; and a second, smaller, paler specimen that has been in its black pot since 2010 (purchased as Elettaria Cardamomum), but has spent the summer outside. I have divided both and have 8 starts to sell at my October 1st yard sale. The beautiful drawing from 1803 shows the flowers.
Three other Alpinia species that are sometimes cultivated indoors in pots are: A. luteocarpa (Bamboo Ginger), A. purpurata (Red Ginger), and A. vittata (Variegated Ginger).
Back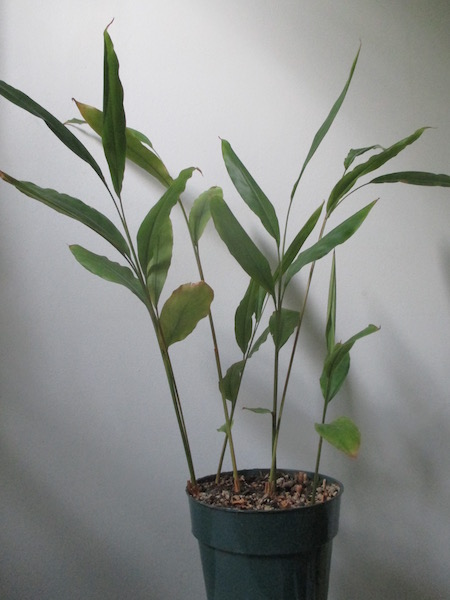 Alpinia Zerumbet photo by ALJ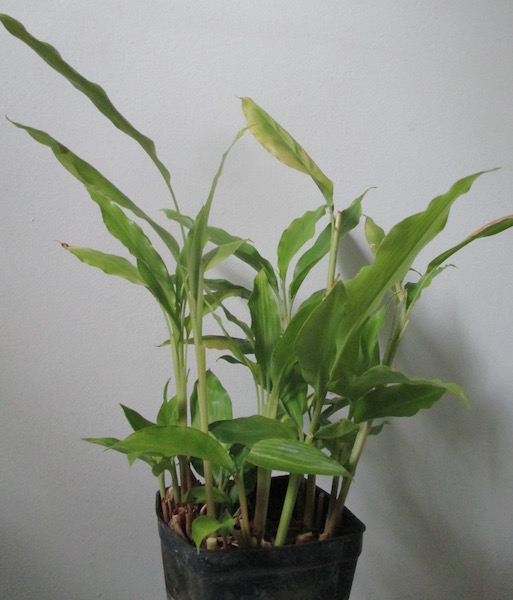 Alpinia Zerumbet; photo by ALJ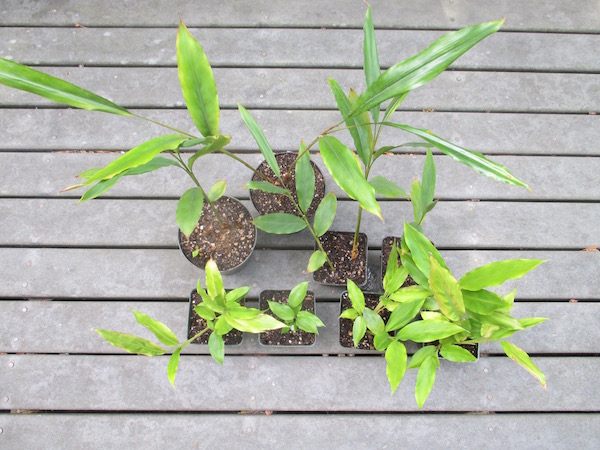 Alpinia Zerumbet; divided into 8 plants; photo by ALJ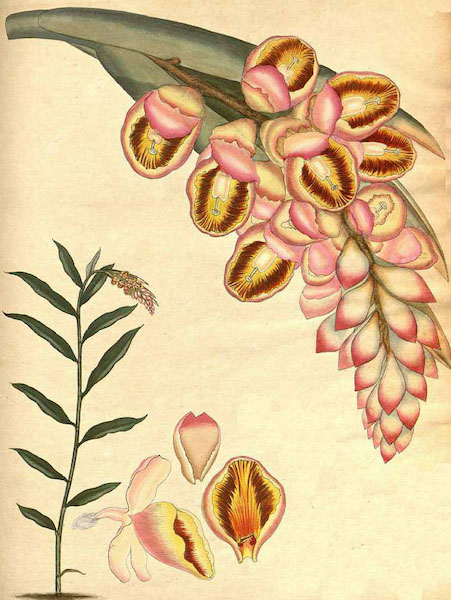 Alpinia Zerumbet; drawn by H.C. Andrews, from The botanist's repository 1803 - 1804