The South American genus Jaborosa consists of 23 or 24 species, mostly perennial herbs of the western Andes. Until recently I knew nothing about any of them. Now I know very little, here shared.
Two Jaborosa species are cultivated as ornamentals in Europe, according to the European Garden Flora.
1. Jaborosa integrifolia Lam.
Leaves simple, entire or toothed; flower 2 to 4 inches long, white, fragrant.
2. Jaborosa squarrosa (Miers) Hunz. & Barb.
Leaves divided pinnately; corolla only half an inch to three-quarters of an inch, dark purple black.
A third species is less often cultivated in Europe, and more so in the U.S.A. as a weird rather than beautiful hanging basket plant: Jaborosa sativa (Miers) Hunz. & Barb.
John Miers (1789 - 1879), in January 1825, discovered what he first described as Trechonætes sativa. It grew at an altitude of 11,500 feet elevation, in a very dry place. He wrote: "This plant, according to [John (or James)] Tweedie [1775-1862], is cultivated in Tucumán [province, Argentina], where it is used like mustard, from which may be inferred that the seeds have a pungent taste, for no part of the dried plant exhibits any such flavor."
In botanical Latin the word sativa means cultivated. An 1882 source says "the fruit of this herb is eaten in place of the true tomato." (Plantæ Diaphoricæ Floræ Argentinæ by J. Hieronymus in Boletin de la Academia Nacional de Ciencias en Córdoba, vol. 4(3 - 4) 1882)
From Miers or other more current sources, I learn that Jaborosa sativa is usually described as an annual or biennial plant, whereas most species in its genus are perennials. Most sources state that the flowers stink; at least one claims that the rubbed leaves do --but the photo shown is clearly another species. The plant grows in NE Argentina and S Bolivia, and names given by the locals include Hediondilla or Hedioncilla, and Tomato del Campo.
Looking at various photos on the internet called Jaborosa sativa shows such variation that doubtless some are mis-captioned. However, the plant does vary. A key distinguishing point is that it bears tiny flowers in dense clusters of up to 60. The flower corolla can be wholly greenish or spotted with brownish purple. The tiny flowers are followed by a drooping, squat, green berry that ranges from half an inch to nearly 1.25 inches wide, guarded by the enlarged calyx.
The precise Jaborosa sativa drawing below is reproduced from the online Flora of Argentina (www.floraargentina.edu.ar). The description at that website states in one spot: Hierbas anuales o bienales . . . and in another: Hábito: hierba perenne.
Specimens of the plant growing at the University of Washington Medicinal Herb Garden, are photographed below. They originated from seed in 2008 obtained from seed dealer J.H. Hudson. Inasmuch as they are perennial, they may be some other species --or Jaborosa sativa can in fact be perennial.
To figure for sure what species is what, one should consult Estudios sobre Solanaceae XXV. Revisión de Jaborosa in Kurtziana vol. 19 pp. 77 - 153 (1987).
The seed seller website www.rareplants.es states of Jaborosa sativa: "a fully winterhardy species from Argentina with a perennial rootstock and a rosette of undulated fresh green leaves and basal clusters of unreal looking green flowers with brown sprinkles followed by walnut-sized green fruits."
Back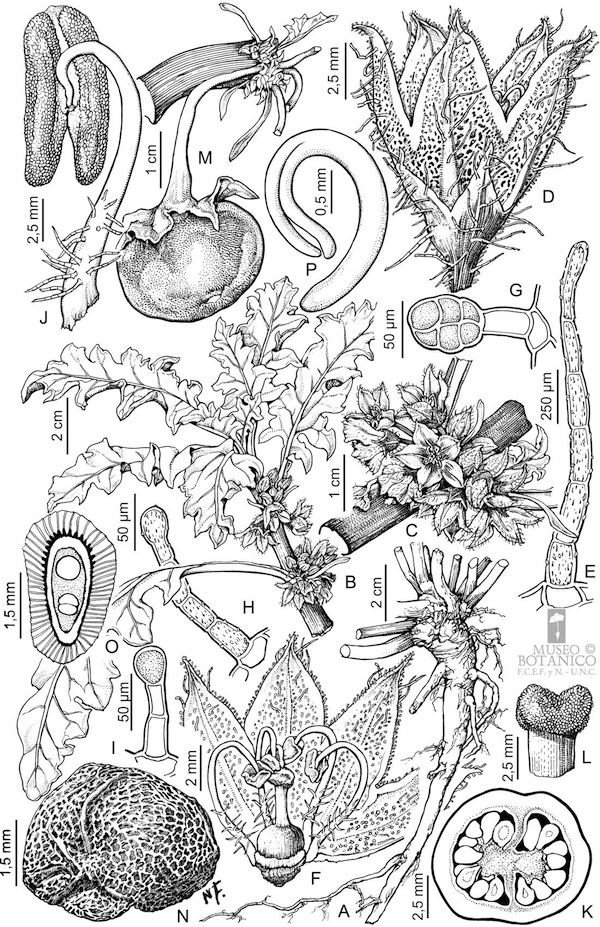 Jaborosa sativa drawing; drawing from www.floraargentina.edu.ar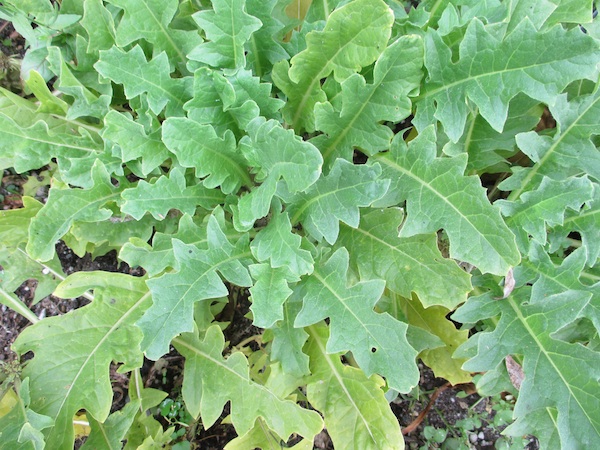 Jaborosa sativa foliage; photo by ALJ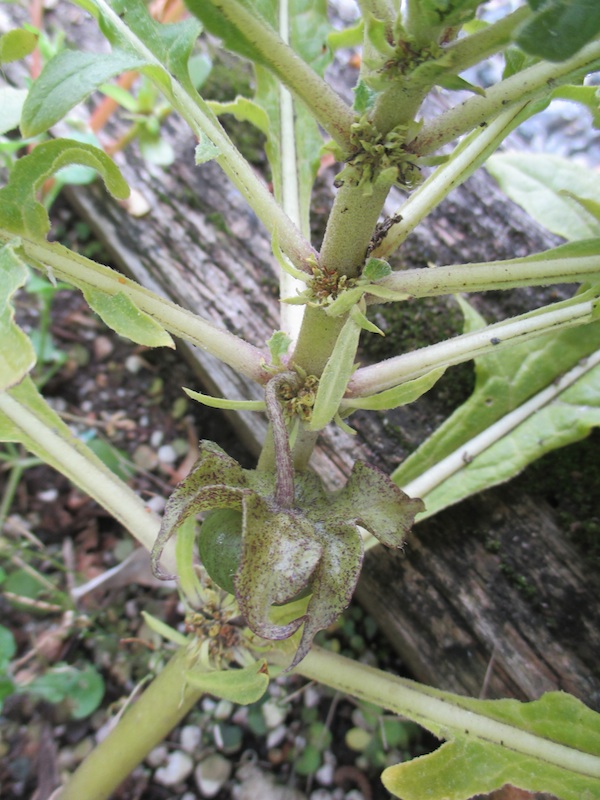 Jaborosa sativa flowers; photo by ALJ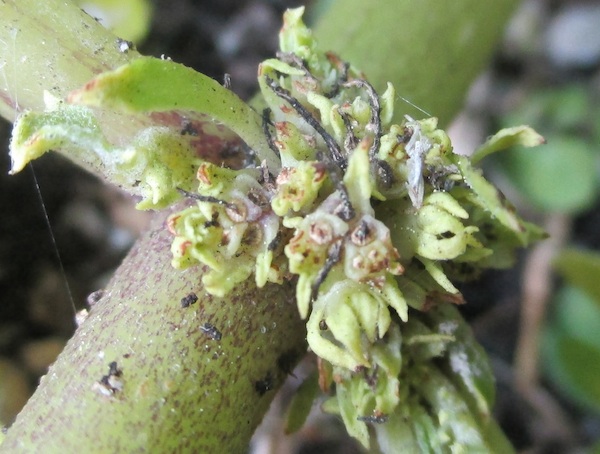 Jaborosa sativa flowers; photo by ALJ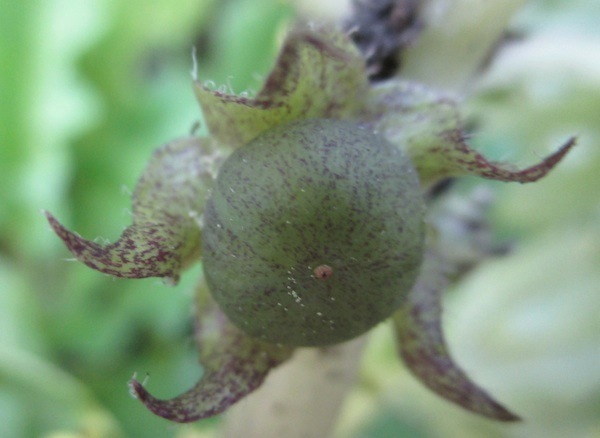 Jaborosa sativa berry; photo by ALJ