No tropical ornamental plant has more cultivated varieties than croton: many hundreds have been named. Since 2010, I have grown a few cultivars, eaten some, and learned things that herewith I share with you.
Though now cultivated throughout the tropics and subtropics, and grown as an indoor plant in frosty regions, the original home of the species is thought to be the Mollucan Islands of Indonesia.
All 6 to 17 Codiæum species are evergreen shrubs or trees of tropical forests from Indonesia and the Philippines to New Guinea and Australia. Related genera include Cnidoscolus, Jatropha, and Manihot.
The first species named, Codiæum variegatum, is the only one well known and cultivated widely; commonly called Garden Croton, Leaf Croton, Joseph's Coat, Bombay Laurel, South-Sea Laurel or Variegated Laurel.
Depending on the cultivar, the plant can be dwarf, medium or large --a small tree. Leaves vary astonishingly in shape, size and coloration. Look at the bright photos I provide below. The plant has an entire book about it, Dr. B. Frank Brown's 1995 A Codiaeum encyclopedia : Crotons of the World. Crotons are grown solely for their lovely leaves; their flowers are trivial.
In Florida, and similarly warm, humid places, crotons thrive outside as colorful, easily-grown shrubs. But as houseplants in the north, on the other hand, crotons are not pleased readily. They require more humidity than most rooms offer; in low light levels, their leaves lose much of their prized color, becoming largely green. Insect pests readily attack stressed plants. The best advice is: grow crotons outdoors all summer, and overwinter them indoors, giving them adequate water.
As for edibility, the safest course is to eat only immature leaves from cultivars that are yellow-variegated rather than red-variegated, and cook them lightly. Mature leaves, and many red-colored leaves even if immature, can be acrid, or purgative.
If you purchase a potted croton from a florist, or from a houseplant retailer, almost certainly the plant will be contaminated by pesticide residues. After several months, such residues ought to biodegrade, and the plant's newly emerging leaves should be free of any.
The plant's sap can cause dermatitis, and can leave stains on clothing.
In 1968, ethnobotanist Julia F. Morton wrote: "In Indonesia the young leaves are steamed, boiled or roasted as vegetables, or stewed with the addition of sugar. Protein content is about 5%. Red-leaved varieties are apt to be acrid raw. Pure yellow forms are mild and seem to me quite agreeably nutlike in flavor." (Tropical Fruit Tree and Other Exotic Foliage as Human Food --in Proceedings of the Florida State Horticultural Society.)
The 1979 book Wild Food Plants in the Philippines by Gregorio C. Lugod and Ludivinia S. de Padua, reports that young Croton leaves are blanched for salad; a nutty flavor especially the yellow ones.
The third (1998) edition of Edible Leaves of the Tropics by Franklin W. Martin et al., reports: "Young leaves, especially of yellow varieties, have a mild, nut-like flavor, but palatability varies with variety." (p. 29) Also, of the genus --not common name for Codiæum variegatum,-- Croton in the same plant family: "The leaves of most species of Croton, which are common, somewhat woody weeds of the tropics, contain a purgative oil of formidable strength. Especially well known of dry places, Croton are seldom taken as food or feed, but because of their ubiquitous nature, constitute a constant threat." (p. 85)
In my experience, Codiæum leaves are okay to eat before or when reach full size, but before they become firm and tough. I either stir-fry or boil them. The very young, actively growing leaves, eaten raw, do in fact remind me of hazel nut flavor.
A worthy project for someone would be to evaluate the different cultivars, selecting those that are most productive, nutritious and tasty. I advise not bothering with the small-leaved cultivars, or any with red coloration; the larger leaves, limited to green and yellow, are ideal.
Back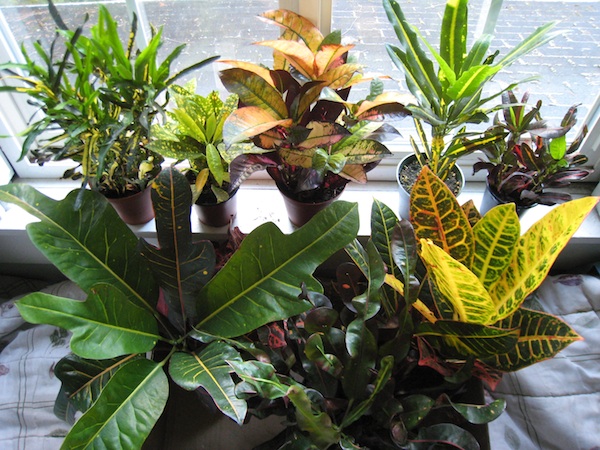 8 cultivars of Croton; photo by ALJ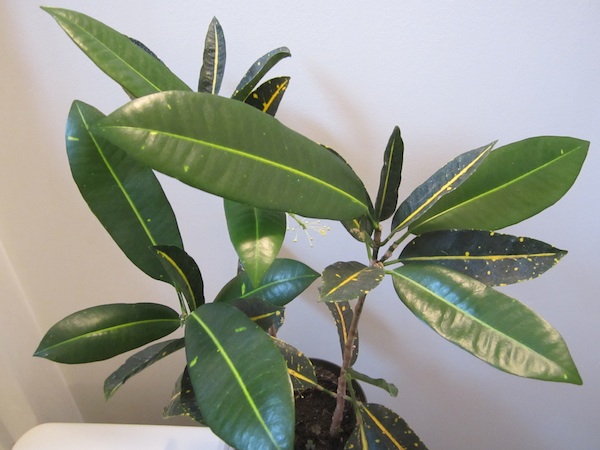 croton in low light (notice flowers in center of photo); photo by ALJ