The genus Styrax has about 130 species of widely distributed trees and shrubs. "Styrax" was the ancient Greek name of the Mediterranean species named by Linnæus in 1753 Styrax officinalis --in turn from the Arabic name Assturak. Gardeners prize various Styrax species mostly for their sweet-scented white flowers of early summer, as the fall color is usually ordinary yellow, and neither the fruit nor the bark and winter aspect are striking. Related genera include Halesia (Silverbell), Pterostyrax (Epaulette tree), and Rehderodendron (Rehder tree).
The species of Styrax called variously in English: Hemsley's Storax, Chinese Snowbell-Tree, and Hemsley Snowbell-Tree, is my present subject. This article was prompted not because I am promoting Hemsley Snowbell-Tree as an undeservedly rarely planted ornamental tree --but rather because I overlooked it when compiling my book Trees of Seattle.
This little known tree is native to central & west China (Kansu/Gansu, Kweichow/Guizhou, Henan, Hupeh/Hubei, Hunan, Shansi/Shaanxi, Szechuan/Sichuan, Yunnan): on relatively moist mountain slopes, in ravines and forest edges; from 700 to 2,700 m in elevation. Lao gua ling is the name cited in the Flora of China; seven other names include: He-si-li-ye-mo-li, Hui-mao-lao-gua-ling, Jin-shan-an-xi-xiang, Nan-chuan-an-xi-xiang, Ma-lin-guang, Mai-pao, and Mo-pao.
It was discovered in 1888 by Augustine Henry. Shortly thereafter it was introduced to Western cultivation in 1900 by Ernest Wilson, on his first plant-collecting expedition to China --one of 1,200 species of trees and shrubs he collected for Western cultivation. The tree was named after William Botting Hemsley (1843-1924), Keeper of the England's Kew Herbarium. It first flowered in June 1909 at Veitch Nursery. Overall, it is still exceedingly rare in North American cultivation, being found in few arboreta, major parks and private gardens. It is not as cold-hardy or strong as the widely grown Styrax japonicus, Japanese Snowbell-Tree.
It is a slender, slow growing small tree. It is closely related to and vaguely like the relatively common Styrax Obassia, but its buds are exposed rather than hidden (see photos below), orange to chocolate-colored; its flowers are upright to spreading rather than horizontal to drooping; and --above all-- it is more showy in flower and less dumpy looking. To me, the Styrax Obassia looks bluntish like the Pillsbury dough boy, or like a person encased in a straightjacket. Here is a link to some superb photos that show Styrax Hemsleyanus flowers: (www.tulaoer.org/3-Biology/P/StyraxH.html)
The charming white flowers appear at twig ends in May or June, attract bees, and smell sweet. The clusters are 8 to 15 (20)-flowered, 3 to 6 inches long. Each flower is up to about 1 inch long, and can be touched with a faint bit of pink. The ensuing fruit is up to five-eighths of an inch long, downy, and contains 1 or 2 brown seeds. An oil that can be extracted from the seeds is used for making soaps or for lubrication. The bark is dark brown and relatively smooth. The twigs are either hairy or hairless. The leaves are alternate, though sub-opposite on the oldest part of the twigs. They measure up to 9.5 inches long by 6 inches wide, and vary from hairless to downy. They are more pointed and less roundish than those of Styrax Obassia.
Some recorded heights and trunk circumference sizes (all the specimens I found reported in the wild are smaller):


46 feet tall
Holycombe House, near Liphook, Hampshire, England (1974)


39 feet tall; trunk 2 feet circumference
Wakehurst Place, Sussex, England (1989)


36 feet tall; trunk 2 feet 9 inches circumference
Bodnant, Gwynedd, Wales (1981)


33.25 feet tall; trunk 2 feet 1 inch circumference
Seattle, Washington (2009) #971-48


30.5 feet tall; trunk 1 feet 11 inches circumference
Seattle, Washington (2009) #804-60A


16.5 feet tall; trunk 3 feet 8 inches circumference
Windsor, Surrey, England (2000)


Seattle's Washington Park Arboretum obtained in 1948 seeds from W.J. Marchant Nursery of Wimborne, Dorset, England. A tree was raised, and transplanted from the nursery to its permanent location (in November 1956. For years, it was believed to be a hybrid of S. Hemsleyanus and S. Obassia. It is a splendid tree. It stands on a slope south of the parking lot at Rhododendron Glen (grid 11-7E). All around it are sprawling shrubby specimens of Ternstrœmia gymnanthera. To the tree's south is a large and prominent specimen of S. Obassia. Comparing the two species is thus easy.
In December 1960, the Arboretum obtained additional seeds from F.J. Williams of Caerhays Castle, Cornwall, England. Two trees from those seedlings survive (in grid 9-7E; 160 feet south of the big specimen; 8 feet from the Broadmoor fence). The northernmost one (#804-60A) is crowded but larger and healthier. South of it 57 feet is #804-60B, only 15.5 feet tall, unhealthy, surrounded by blackberries and buttercups. It is likely suffering from poor soil and more exposure.
The two larger of these three Arboretum trees have self-sown seedlings beneath them (see photo below). The seedlings can bear leaves far more strongly toothed than those borne on the twigs of adult trees.
A young healthy specimen, 13.5 feet tall, grows north of a brick former YMCA building in Seattle's University District. Since 1963, the building has been part of the U.W. and called Eagleson Hall. The address is NE 42nd Street, just west of 15th Avenue NE. I know of no other Styrax Hemsleyanus specimens in Seattle. If anyone else does, I will be pleased to learn about as much. (In August 2011 I found a street-tree at 1508 36th Ave; see photo below.)
Colvos Creek Nursery of Vashon Island, Washington has sold specimens. Heronswood Nursery of Kingston, Washington, listed it in 1999, 2000, and 2001 catalogs. In Oregon: Cistus, Forest Farm, Gossler Farms, and Greer nurseries have sold it.
As with Styrax japonicus --and much more so with S. Obassia-- this species is best in a garden that offers it woodland conditions: moist soil, ample humus, shelter from blasting sun and wind. Few of us can offer it as much. On the other hand, to grow it in an exposed site, and limit its summer water, will result in stunted growth and unattractive appearance. The north side of a tall building, if the soil is rich and kept moist, may allow healthy growth.
Back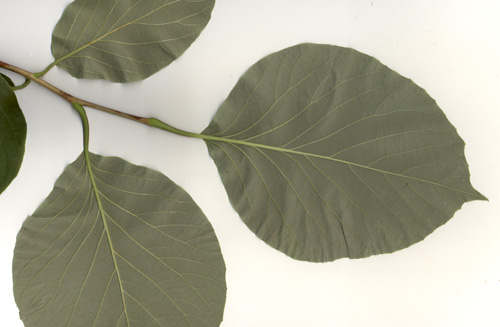 Styrax Obassia leaves with hidden buds; scan by ALJ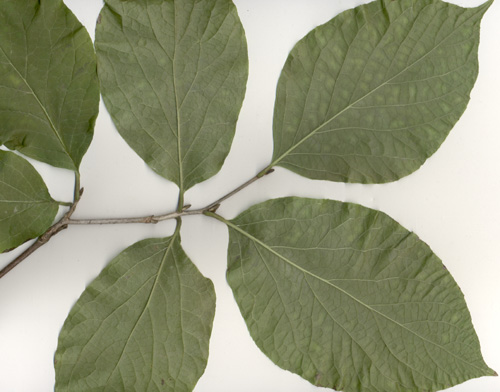 Styrax Hemsleyanus leaves with visible buds; scan by ALJ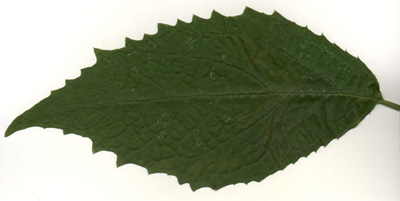 Styrax Hemsleyanus seedling leaf; scan by ALJ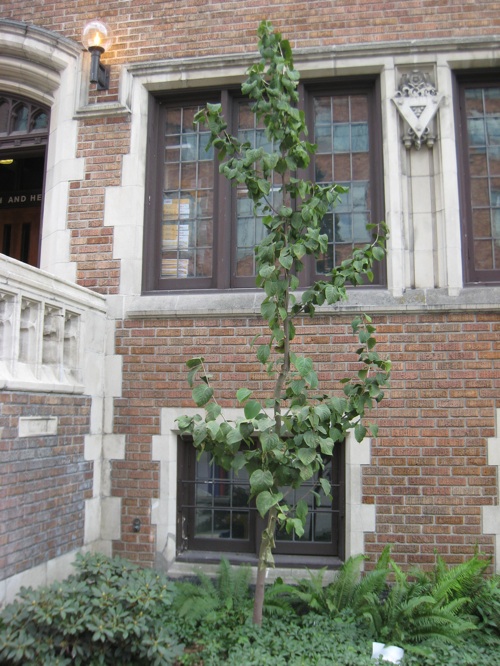 Styrax Hemsleyanus at Eagleson Hall; photo by ALJ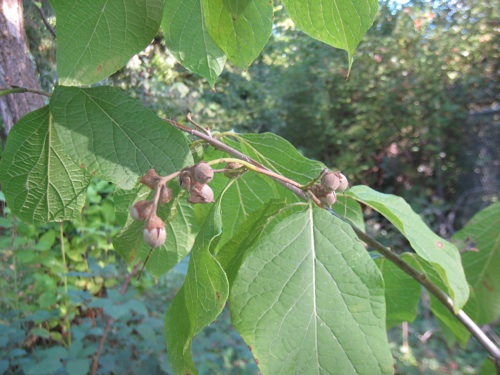 Styrax Hemsleyanus fruits; photo by ALJ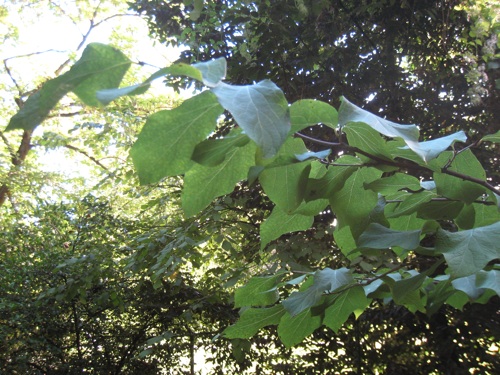 Styrax Hemsleyanus leaves on twigs; photo by ALJ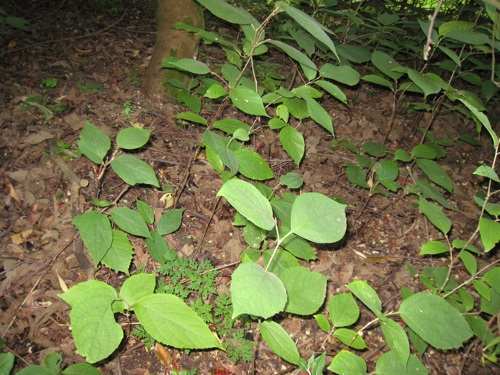 Styrax Hemsleyanus seedlings; photo by ALJ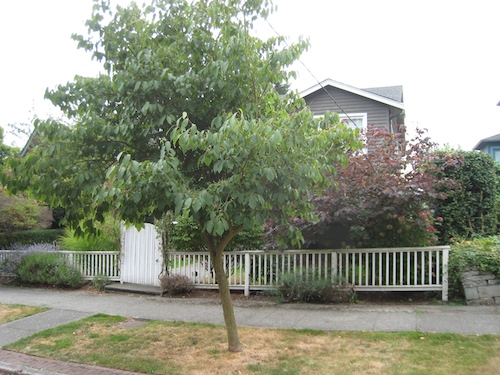 Styrax Hemsleyanus street-tree; photo by ALJ