Plant of the Month: September 2007
Daphne --in Seattle
THYMELÆACEÆ; Mezereum Family
About 50 species of Daphne exist, all Eurasian shrubs or very small trees. Gardeners value various species for their handsome foliage, sweetly scented flowers, and in some cases their extreme tolerance of shade. All this is good. On the debit side, despite the heavenly floral scent, Daphne wood and sometimes foliage can stink when bruised; they are poisonous, are difficult to transplant successfully, and sensitive to too much or too little water. The 1753 generic name Daphne was the ancient Greek name for what we now call bay laurel, Laurus nobilis. In this article I relate a bit about the several species of Daphne most common in Seattle. Normally I write about plants with which I am fascinated, or that I desire to promote, or about which I can relate little known data. But in the case of Daphne I do little more than a thumbnail sketch of the Seattle status of a few commoner species.
1) Spurge Laurel (Daphne Laureola L.). From S Europe, W Asia, and NW Africa, Spurge laurel was formerly grown in gardens, but has naturalized weedily in woods and other shady places, since birds such as robins relish its berries. Nowadays it is far more abundant wild in Seattle than as an intentionally planted entity. In fact it is a weed. Even most seen in gardens originated as wild specimens. Luxurious in shade, it loathes sun. In the sun it tries to shield itself, and the leaves are smaller, off-color, and often warped a bit. In the woods or shady yards it covers the ground just like sword fern or low oregon-grape does.
Spurge Laurel is a low, dense shrub, 2 to 4 feet tall and wide, growing in the shape of a little tree --recalling a Jade Tree. The stout twigs stink when bruised or cut. Leaves up to 4 inches long by 1 and an eighth inches wide are intensely dark green, thick, hairless, and toothless; they are whorled in alternate fashion around the shoots. Small, light green flowers (avocado-flesh color) with orange stamens open from the base of the leaves, in clusters of 2 to 10, between late January and the end of March (early April). They are fragrant only at night, attracting moths to pollinate them. I enjoy smelling their pleasing honey (some say Fruit Loops) scent when returning home at night in winter. Many people who have this shrub in their gardens do not even notice the flowers, because the leaves hide the flowers, and the fragrance is only at night. Poisonous black berries follow in tight clusters, ripening in June. Each berry is dull black, up to seven-sixteenths of an inch long, very juicy with one big seed.
I guess it was called Spurge Laurel because it has laurel-like leaves and spurge-like flowers --most spurges (genus Euphorbia) have greenish flowers. Other names --uncommon to rare-- are Wood laurel, Dwarf bay, Wood daphne, Sturdy lowries, and Fox poison. Some European names are as follows:
French: Lauréole
German: Seidelbast; Pfefferstranch
Dutch: Peperboompje
Italian: Laureola; Pepe montano
It has been used as a rootstock upon which to graft other exotic species. In the early 1800s, at least, chip hats were made from it in Switzerland. In Europe it was called the Male Laureola, while Daphne Mezereum (treated below) was the female version. A similar case is the Male fern (Dryopteris Filix-mas) being evergreen whilst the Lady Fern (Athyrium Filix-femina) is deciduous. And indeed the two common European species of Daphne can hybridize. In 1850 one such hybrid was described as a purple-leaf Mezereon by Louis Van Houtte, and a bit later was titled officially Daphne Houtteana Lindl. & Paxt.
2) Mezereon. February Daphne (Daphne Mezereum L.). Also from Europe, but unlike the others, this Daphne is deciduous, and slender, with screaming lilac-purple, neon pink (or white) flowers on naked twigs in late January, February or March --attracting both bees and butterflies and of deliciously potent fragrance --followed by thin, soft green leaves in summer and brilliant scarlet berries showy in September. Relatively few gardeners grow it in Seattle. It likes more sun than the other kinds, and needs summer irrigation to be content. Seriously toxic, it has been used in medicine sparingly. Syphilis, leukemia and more have been treated with it, and when there is a need to induce blistering it is infallible. But one must be most cautious; Dr. Louis Pammel, in his 1911 Manual of Poisonous Plants, wrote on its toxicity: "The symptoms observed in the recorded cases have been burning in the mouth, gastro-enteritis, giddiness, narcosis, and convulsions, ending in death." John Claudius Loudon reported in 1838 the names Mezereon and Mezereum are said to be derived from Madzaryon, a Persian name meaning destroyer of life.
3) Winter Daphne (Daphne odora Th.). From E Asia, named in 1784, grown in California by 1874, long widely planted in Seattle as a garden shrub --mostly in its gold-margined cultivar 'Aureomarginata' which I have never seen produce berries in Seattle; they are said to be red. It grows about 3 to 5 feet tall, wider still, and is best in part shade. Often, as with Sarcococca, it is planted near house entrances. The highly aromatic flowers are dark pink, mostly in March, but early as late January. Their sweet smell lasts for many weeks. In the coldest winters this shrub becomes deciduous, or even partly killed back. Roy Genders, in his book Scented Flora of the World, wrote of it: "The plant was called originally Shui Hsiang (Sleeping Scent) in its native China for there is a legend that a monk of Lu Shan discovered the plant growing high on a cliff, upon awakening from a nap and inhaling its spicy fragrance." I also found that Shui Hsiang is said to mean "lucky fragrance." In the Language of Flowers it signifies "Sweets to the sweet."
4) Rock or Garden Daphne; Garland Flower (Daphne Cneorum L.). A small southern European rockery plant of trailing form, blooming in late spring (May) or summer. Varied cultivars exist. The C in Cneorum is silent. Its hybrid Daphne x Burkwoodii 'Carol Mackie' is also commonly cultivated in Seattle.
There are plenty of rarer species and hybrids of Daphne, but I have next to no experience with them, so shall rest my case now
Back

Daphne Laureola photo by ALJ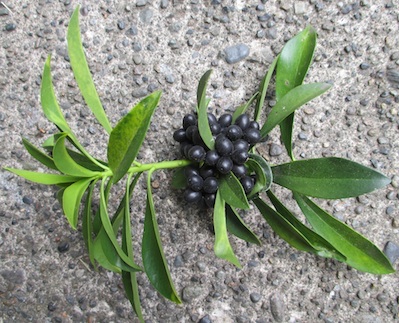 Daphne Laureola photo by ALJ

Daphne Mezereum photo by ALJ

Daphne odora 'Aureomarginata' photo by ALJ

Daphne odora 'Aureomarginata' photo by ALJ