Schefflera is the Ginseng or Aralia family's largest genus. The genus is very large, with over 900 species. Schefflera grows mostly in warm or tropical regions. Relatively recently, molecular studies have demonstrated that the genus consists of 5 separate clades, largely reflecting geographic distributions, with clades centered in Asia, the Neotropics, Africa & Madagascar, and two clades in the Pacific, one centered in Melansia, and a second smaller (but more broadly distributed) clade representing Schefflera in the narrow or strict sense (very few species) rather than as a broadly conceived genus.
The upshot of this is that plant scientists can and will either redefine Schefflera to enlarge it so as to accommodate certain other genera . . . or will break up Schefflera into some 5 smaller genera, that look quite similar to one another but have different DNA and mostly different geographic distributions.
Living in chilly Seattle, I have long --like most dwellers of the North-- known Schefflera as frost-sensitive houseplants on the order of Ficus. Yet in the last twenty years or so, at least ten more or less freeze-hardy Schefflera species have been sold by nurseries. At least 13 houseplant Schefflera species have been listed. And what is least known, is that 14 or more Schefflera species have been recorded as edible by humans.
Two of the most popular cold-hardy Schefflera species, that happen to be misidentified usually, and are edible, are Schefflera brevipedicellata Harms 1937 (or a nearly allied species), of far S China and N Vietnam . . . and Schefflera alpina Grushv. & Skvort. 1975 of N Vietnam; a Vietnamese name is Chân Chin. Both are evergreen shrubs or small trees, and both have been sold incorrectly as Schefflera brevipedunculata.
Schefflera alpina was introduced over ten years ago as a garden ornamental to the Western world. Crûg Farm Plants, a nursery in Wales, states that at several times from 2000 onward, seeds were collected (HWJ870) on Fan Si Pan [Fan Xi Pan, Phan Si Pan], the highest mountain in northern Vietnam, sometimes accompanied by Dan Hinkley. The Heronswood nursery 2005 catalog written by Dan Hinkley, under Schefflera alpina states that it was "one of several Schefflera species we collected at above 8,000 feet elevation on Fan Xi Phan in N Vietnam in autumn 2004."
Crûg Farm Plants, states that seeds of a species near ("affin.") Schefflera brevipedicellata were collected first in 2003 on Fan Si Pan [Fan Xi Pan, Phan Si Pan], the highest mountain in northern Vietnam. A second collection (KWJ12224) was made on the Hoàng Liên Son mountains in the north of Vietnam in 2007.
Since about 2009, Monrovia nursery of California has been selling Hinkley's Schefflera alpina and either Schefflera brevipedicellata or a species very near it, under the incorrect name Schefflera brevipedunculata. The wrong name Schefflera brevipedicellata is all over the internet. There was not, is not, and probably never will be a Schefflera brevipedunculata published scientifically. Ideally, it would only be an error for Schefflera brevipedicellata. But Schefflera brevipedunculata it seems has also been used incorrectly for Schefflera alpina.
As for edibility, both species are eaten. In Naban River Watershed National Nature Reserve, Xishuangbanna (far S China), the Dai, Hani, Lahu, and Mountain Han people boil Schefflera brevipedicellata leaves and eat them with chili sauce, or pickle them for about a week. Schefflera alpina leaves are eaten as a vegetable in Vietnam's Ben En National Park. I expect they use the relatively tender young leaves.
Below my photographs I chart the main distinctions stated between these two similar species:
I am grateful to Dan Hinkley for both introducing to the USA these Schefflera and for alerting me that the Schefflera brevipedunculata name is wrong; and to John Kugen for pointing out mistakes in my first version of this article.
My photographs show a Schefflera brevipedicellata (or nearly allied species) that I bought from Monrovia under the wrong name Schefflera brevipedunculata and planted in Seattle last May, and how it changed over the summer and autumn. Next year, I shall taste the leaves. The little black berries are spicy flavored.
Back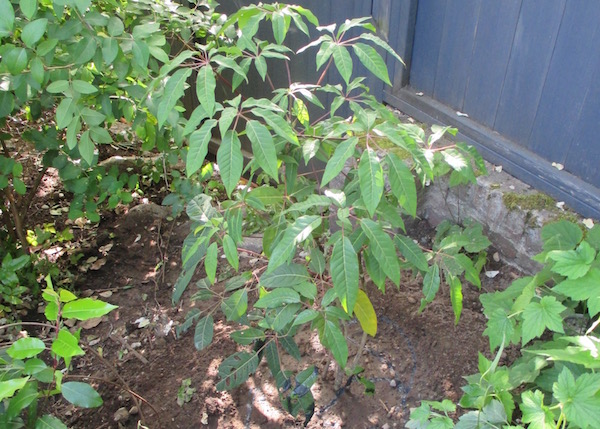 Schefflera brevipedicellata ; May 3 photo by ALJ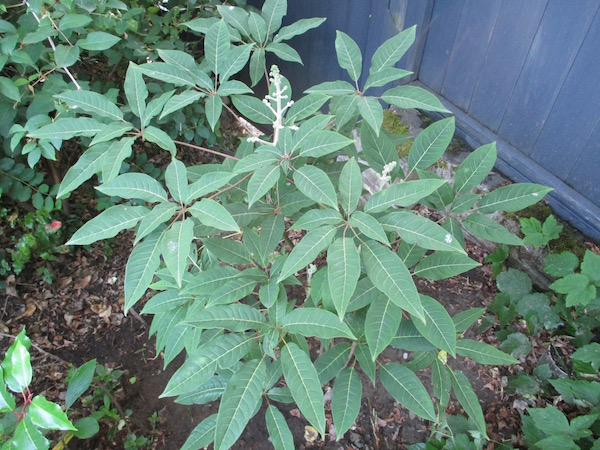 Schefflera brevipedicellata ; June 22 photo by ALJ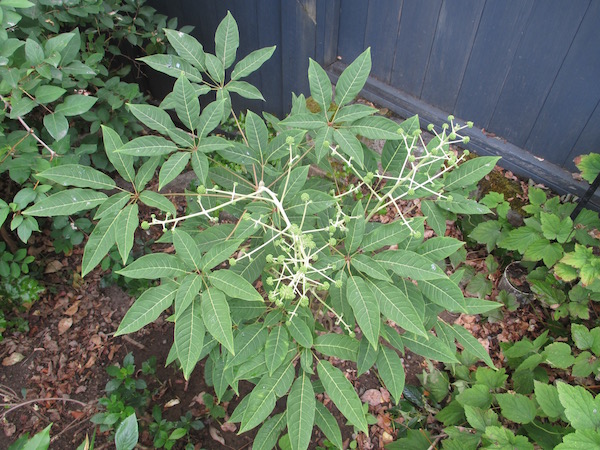 Schefflera brevipedicellata ; July 24 photo by ALJ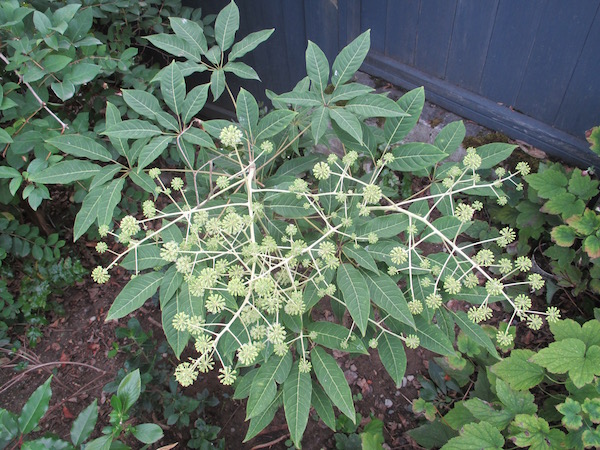 Schefflera brevipedicellata ; Aug. 25 photo by ALJ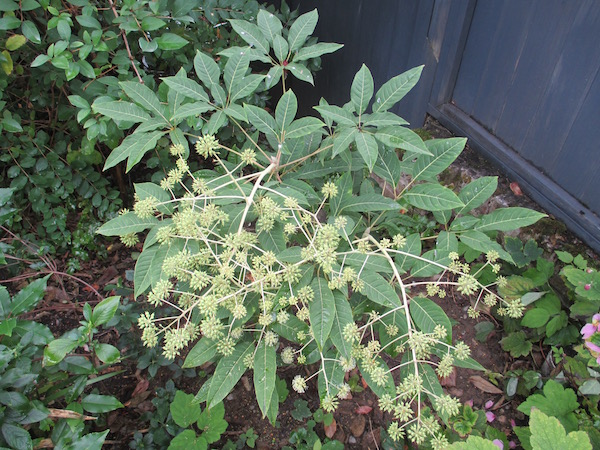 Schefflera brevipedicellata ; Sept. 13 photo by ALJ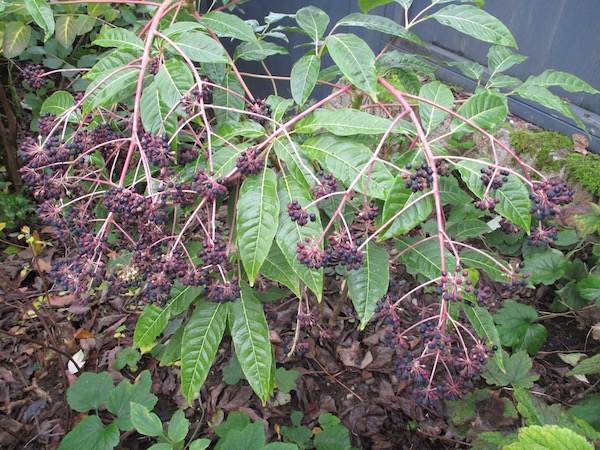 Schefflera brevipedicellata ; Nov. 29 photo by ALJ