Orchids are glamorous, numerous, romantic; and their flowers are prized highly. Understandably, many kinds have been cultivated indoors. Of the 12 to 22 Pleione species that exist, at least seven have been listed in houseplants books. Cited in at least five books is:
Pleione formosana Hayata
= Pleione Pricei Rolfe
In at least one book each, these six species:
Pleione bulbocodioides (Franch.) Rolfe
Pleione Hookeriana (Lindl.) J. Moore
Pleione humilis (Sm.) D. Don
Pleione Limprichtii Schltr.
Pleione maculata (Lindl.) Lindl. & Paxton
Pleione præcox (Sm.) D. Don
Pleione are epiphytic or terrestrial orchid species found from Nepal to Taiwan and Thailand. Their first cultivation in the West was in the 1800s. The genus itself was named in 1825, yet before then certain plants were grown under different names such as Cœlogyne (some of which are eaten in Nepal).
In 1894, Benjamin Samuel Williams wrote: "These plants are frequently called Indian Crocuses, since they throw up their flowers in autumn and winter, much after the manner of our common Crocus." Other English names include Nepalese Crocus, Himalayan Crocus, and Windowsill Orchid.
Horticulturist Jack Kramer wrote of them "This group of mostly deciduous orchids makes any window sing with color." For many of us, certain Pleione species can be grown outdoors year-round successfully. Most dislike heat and cannot stand dryness, and if indoors, are best in low-sun or sunless windows such as an east or north facing window. Ideally, the potted plants are kept outside in summer, in more or less shade. After blooming and the foliage dies down, the pots can be overwintered inside if they are kept cool, and neither allowed to dry out, nor drowned.
As for edibility, book reports are almost nonexistent. I have noted that of 53 orchid genera listed as being cultivated indoors in pots or terraria, at least 16 genera --almost a third-- have species reported as edible.
In the case of Pleione, the lone reference I know of is in the 1982 book New Plant Sources for Drugs and Foods from the New York Botanical Garden Herbarium by Siri von Reis Altschul & Frank J. Lipp, where on page 33 it is reported that in 1932, Joseph Rock collected a herbarium specimen of Pleione bulbocodioides in Yunnan, China, and noted on its label "roots edible." There are plenty of references to medicinal uses of Pleione.
Of Pleione bulbocodioides in the house, the 1998 book What Houseplant Where by Roy Lancaster & Matthew Biggs, advises that it "likes cooler conditions than most and is suited to a sunless windowsill."
The 2006 Cistus Nursery mail-order catalog says of Pleione bulbocodioides: "among the hardiest and easy in most garden situations. To only about 6" in height with long, strap-shaped leaves rising from what can only be termed as cute, green, pseudobulbs in clusters. Emerging in spring, the flowers are about the most orchidy for cold climates, resembling a small Cattleya in pink to nearly white and flowering for several weeks. Lovers of dappled shade, moist organic soil, and consistent moisture, although they can dry out in the summer --a bit. Tiny bulblets are produced each season from the tips of the pseudobulbs and should be saved and replanted. Average fertilizer. USDA Zone 6."
The illustration below is of Pleione humilis taken from the 1805 book Exotic Botany, vol. II, by James Edward Smith, engraved by James Sowerby. It shows the tuberous roots. I guess that Pleione bulbocodioides has similar tuberous roots. Few botanical drawings of the genus show the roots, just the swollen greenish pseudobulbs that poke above the ground. In some cases, orchid pseudobulbs are eaten. But in the case of Pleione bulbocodioides I guess that Rock refers to the tuberous roots.
Back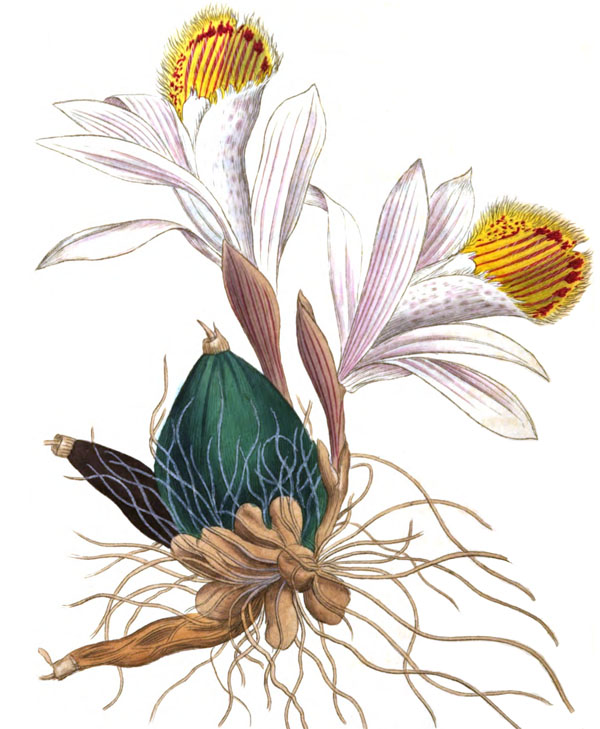 Pleione humilis (engraving by James Sowerby)