Incense Cedar is native in Oregon, California, Lake Tahoe in Nevada, and north Baja California. It has been cultivated since introduced to Britain by John Jeffrey in 1853. It is called Incense Cedar because the tree's oil contains an incense-like odor. The much used scientific name Libocedrus is from Greek libos, a drop or tear, and kedros, cedar --alluding to the resinous character of the tree, the tear-like trickling of its resin. Calocedrus is from Greek kalos, beautiful, and kedros, cedar.
Incense Cedar furnishes both valuable wood and sawdust said to be slug-repellent. Its wood has been used for such things as chests, cigar boxes, door and window frames, fenceposts, furniture, interior finish, railroad ties, shingles, telephone poles and venetian blinds.
ALL cedars are fragrant. It is one of their basic attributes --for one to be unscented would be as odd as a square ball. But this cedar has been singled out with the evocative, alluring name Incense Cedar. Why? John Muir, the illustrious mountaineer, exclaimed: "no waving fern-frond in shady dell is more unreservedly beautiful in form and texture, or half so inspiring in color and spicy fragrance." I must beg to differ. To me Incense Cedar is not markedly spicy in its fragrance: it smells exactly like pencil sharpener shavings. After all, its wood is used to make pencils. The amazing tangerine smell of Grand Fir, the potent, piercing Juniper odor that can persist on human skin for hours, the fruity resinous richness of Seattle's own Western Red Cedar --are all able to turn noses far more readily than can Incense Cedar.
Nonetheless, what Incense Cedar does have --as Muir said-- is a warm, rich bright green color that is especially heartwarming when contrasted with its equally striking cinnamon-red bark. So, in color and in its sentry-like shape the tree is most notable. It is definitely among the best ornamental conifers for planting in our area. Unlike the Western Red Cedar, it has two advantages: it is more tolerant of dry sites, and is narrower, so requires less room to grow.
It is common planted in Seattle, and reseeds freely in sunny dry places near older specimens. It grows compact, dense, notably columnar (whether broad or narrow), with rich green scale-like foliage sweeping up from its cinnamon trunk, the bark thick and deeply furrowed. The cones are narrow, like duck bills, about half an inch to an inch long.
Incense Cedar in the wild grows large, after many centuries. It can live 1,000 years. Two record trees are:
225 feet tall by 16 feet 3 inches circumference (Umpqua National Forest, OR; 1965)
165 feet tall by 39 feet circumference (Marble Mountains Wilderness, CA; 1997)
Seattle's Ravenna Park has 40 planted in the 1930s in a grove in the ravine; the tallest (in 2005) were 110 feet by 8.5 feet circumference and 112 feet by about 10 feet circumference.
Bagley School (7821 Stone Avenue N) has one in the SW corner 91 feet tall by about 12 feet circumference, and at 44 feet wide, is unusually broad.
South Seattle Community College Arboretum has a young cultivar 'Berrima Gold' (bright gold foliage) on the east side of the Cœnosium Rock Garden.
A second cultivar, 'Aureovariegata', was described in 1896. I do not know of any in Seattle, but young specimens likely exist here. (I welcome reports to this effect.) This cultivar is distinguished by irregular patches of golden-yellow or bright yellow sprays mixed in with a bluish-green dominant color.
I share five photos below.
Back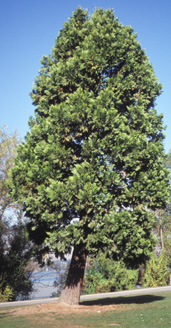 Incense Cedar at Green Lake (photo by ALJ)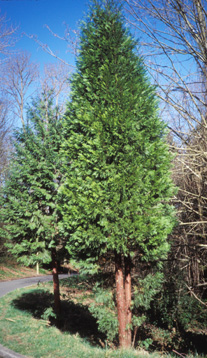 young Incense Cedars (photo by ALJ)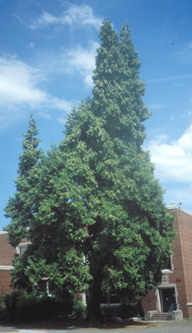 broad Incense Cedar at Bagley School (photo by ALJ)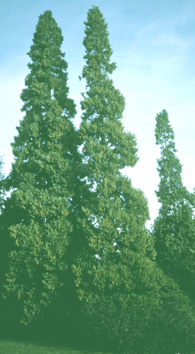 Incense Cedars by SR-520 (photo by ALJ)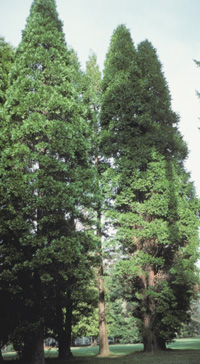 Incense Cedars at Lincoln Park (photo by ALJ)