Plant of the Month: November 2007
Dog Rose
Rosa canina L.
ROSACEÆ; Rose Family
The Rose is called the world's most popular flower. From a Euro-centric perspective it clearly is. How ironic, it being a sticker bush whose thorns cause pain and draw blood. The original species roses, too, including the lowly dog rose, lack the voluptuousness that modern people visualize upon hearing the word rose.
You could fill a small library with books about roses, including volumes that address not the plants directly, but their role in literature and romance, in movies and on Hallmark cards. And to think that back at some time long ago, these thorny sprawling bushes were viewed as ordinary. Such is the power of compound affection and adulation over the centuries.
It occurs to me (a student of history) that there is a parallel of the plain old fashioned wild dog rose versus the modern hybrid tea rose industry, with Jesus of Nazareth and the modern hierarchical empire of organized Christianity. Namely, a gradual development from plain and simple to grandeur, of not opulent excess.
Gardeners who like subtly charming flowers, and shy from --if are not revolted by-- puffed-up versions, will enjoy dog roses. On the other hand, the evanescent nature of the dog rose flowers, and their weak scent, will bother gardeners who like a plump, richly fragrant rose that blooms all summer long, and can be cut and enjoyed in a vase. Thank God we can all choose our preference. Just like with men who can choose to savor women who have naturally small breasts or those with implants to make them look as large as bowling balls. To each his own.
Since Dog Rose is my topic you can guess that I like it. Actually, its 2-inch wide single flowers are too pale and fleeting to please me. They open from late May into early July in my Seattle garden. The pink buds unfold to palest pink, then the petals gradually bleach, and soon fall, practically white. They litter the ground like confetti as they wither. I would grow this rose, however, even if the flowers were microscopic and green, because of the fruit that ensues.
Around Halloween and Thanksgiving, the urn-shaped, formerly hard, green and shiny fruit, called rose hips, gradually become soft, scarlet, and full of delicious pulp. As the leaves turn yellow and drop for winter, the hips make an attractive show. I take the most plump and lovely hips, and gently squeeze them, as one would a tube of toothpaste. This way the pulp oozes forth, while the hairy little seeds stay in the skin. I have eaten dozens of different kinds of rose hips. The dog rose, Rosa canina, is an easy first choice in this regard. The over hyped Rosa rugosa has huge hips, but they are relatively mealy. The best clones of Rosa rugosa are not to be sniffed at, but I prefer dog rose in my garden.
Besides pleasant looking flowers, and mouth-watering hips loaded with vitamin C, the dog rose has a few other characteristics I shall cite. One is that it gets no blackspot, a fungal disease that disfigures most modern hybrid tea roses. Second, it has, at least in my clone, few thorns. This is desirable, although the thorns it has can do plenty of damage to human flesh. Another thing I like about my dog rose is that it attracts leaf-cutter bees, who neatly slice away leaf pieces, recalling human bites from a sandwich.
The plant is native in Europe, SW Asia and north Africa. It has been cultivated for a long time in North America. It is still a widely used rootstock to graft upon. I first noticed an old unlabeled specimen at Washington Park Arboretum. Loving its hips, I took two hardwood cuttings; both grew in my garden. They grew just fine in part shade, without irrigation. They grew too much, in fact, making canes sometimes 11.5 feet long in one summer. So I gave one to the nearby Montlake Elementary School, and it is still there, at 22nd Avenue E & E McGraw Street.
I prune my dog rose, lest it scramble 30 feet into my pine, and overwhelm my evergreen dogwood. Besides which I want to be able to reach the hips. Mine makes seedlings now & then. For a non-native rose, it is common wild in Seattle, perhaps most specimens seen having originated as rootstocks that overwhelmed the scions. Maybe in the long run it will be a weed here.
Linnaeus named this plant Rosa canina in 1753. According to L.J.F. Brimble's 1944 book Flowers in Britain it "was called dog-rose because since the days of the ancient Greeks and Romans it was believed to cure the bite of a mad dog, as mentioned in Pliny's Natural History." Gary Lockhart elaborated on this in his unpublished book The Fighting Herbs: "Sixty years after the birth of Christ, Pliny recorded the first treatment of rabies. A Roman woman dreamed she was to send the roots of the rose to her son serving in the Roman army in Spain. Just before the package arrived, the soldier was bitten by a mad dog and contacted rabies, and a tea of the roots cured the disease. Linnaeus immortalized the story of the 'dog rose' by giving it a corresponding Latin name Rosa canina. French scientists tested the plant, but they found no evidence of antiviral activity. Perhaps, it was a different rose."
In various places, the hips are used to make "jams, syrup, soups, wine, tea, liqueurs and jellies," as Stephen Facciola writes in his 1998 book Cornucopia II. He adds that "The flowers are eaten in salads, and are also candied, preserved, crystallized, added to vinegar, honey, brandy, etc." I also toss a few flower petals into my salads, and as if that were not enough, the very tender plump young shoots are edible, too.
Back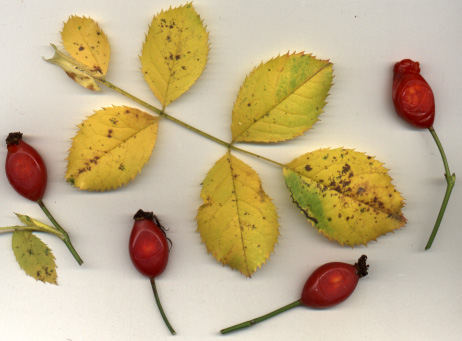 Rosa canina hips photo by ALJ
---
---
http://www.arthurleej.com
all content and graphics herein
are Copyright © 2001