Plant of the Month: May 2017
Hosta
Hosta Sieboldiana (Hook.) Engl.
ASPARAGACEÆ ; Asparagus Family
Hosta is an east Asian genus of herbaceous perennial plants, that gardeners prize mostly because of the lovely leaves; the flowers are not especially fetching. Most Hosta grow best in shade. There are only perhaps 40 species, and yet over 4,000 cultivars. The leaf colors, shapes, sizes and textures are remarkable. The species I feature this month is a bit more resistant to slug damage than many others; also it grows the largest, excepting some of its hybrids such as 'Empress Wu' (leaves can be more than 2 feet long--61 cm). Hosta Sieboldiana is native in Japan. Like other species, its young tender leaves of April or May are edible, raw or cooked. So are the flower buds and flowers. Sometimes the leaf stems are pickled. The flowers appear in June, are white, and so minor compared to the ample foliage that some gardeners cut them away. If you let the plant be, it makes seedpods. I tasted an immature, fresh green seedpod. It was slimy, slightly astringent and acrid, the flavor recalling hazel or walnut. Boiling them lightly is apt improve them.
The flavor is mild. I eat only the very young, still coiled leaves, as shown in the photo. Someone with more time than I, as well as diverse Hosta selections, may test if any can be harvested, and then grow enough new leaves, that several crops can be harvested each year.
Back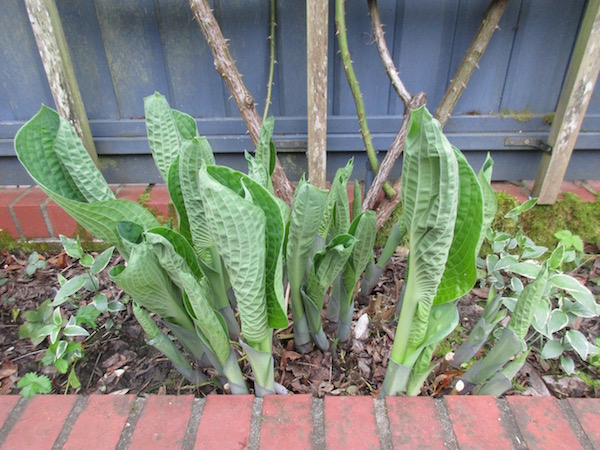 Hosta Sieboldiana ; young leaves to eat ; photo by ALJ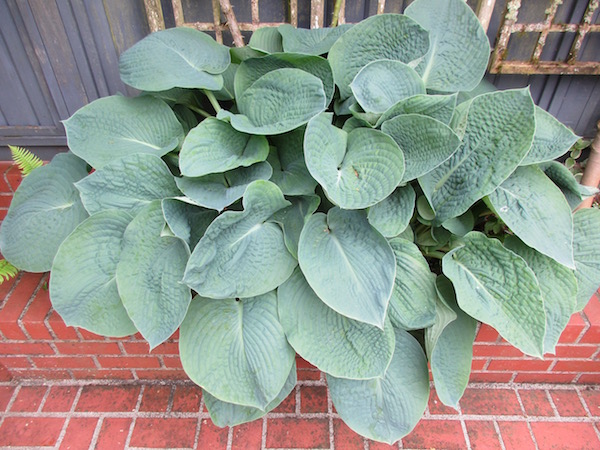 Hosta Sieboldiana ; mature leaves ; photo by ALJ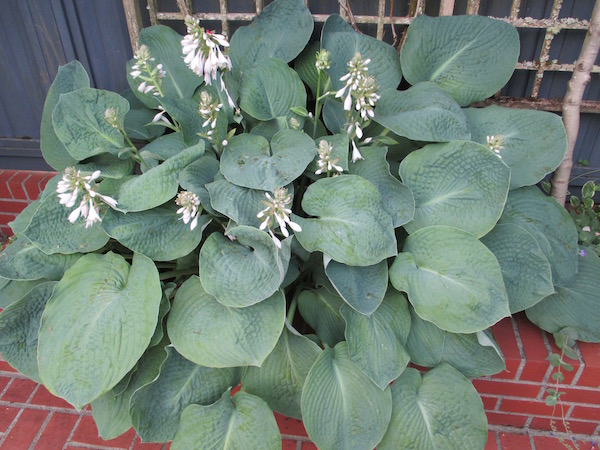 Hosta Sieboldiana ; flowers ; photo by ALJ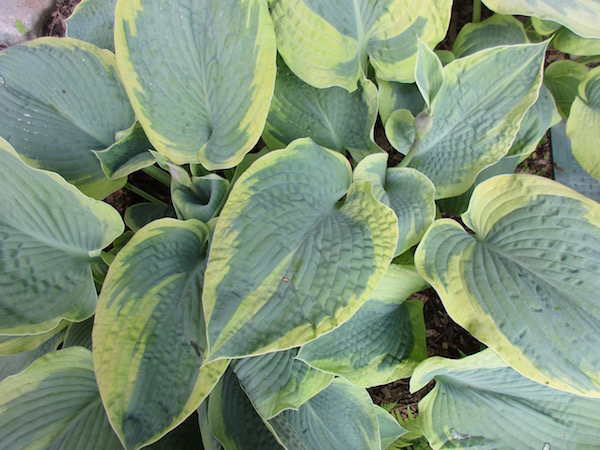 Hosta Sieboldiana ; 'Frances Williams' ; photo by ALJ