Colorful tropical plants are sometimes prized for their foliage more than their flowers. Caricature Plant is an example. In the tropics and subtropics, it is cultivated widely as a hedge. In frosty climates, it is overwintered in greenhouses or even used rarely as a houseplant.
Native in New Guinea, it was first made known to Western science in the 1700s, via India. Its first scientific name was in 1763: Justicia picta. It was being grown in England before 1780, in John Fothergill's garden.
In Latin, picta/pictum means painted, and refers to the leaves' colorful patterns. The 1832 generic name Graptophyllum translates from Greek as written or inscribed leaf.
The English name Caricature Plant was in use by 1829, as noted in this quote: "The variegation of the leaves may, like the red coals of a glowing fire, be easily fancied, by an ingenious observer, to resemble the features of a distorted human countenance, on which account the Caricature plant has become its name." (Edwards's Botanical Register, or, Ornamental Flower-garden and Shrubbery 15 no. 1227; 1829)
Other names used include: Joseph's Coat. Jamaican Croton. Rorschach-test Plant. Café con Leche. Calico Plant. Picture Plant. Painted Plant. Face-leaved Plant. Smiling Leaf.
Genus Graptophyllum consists of 14 species of shrubs or small trees native in NE Australia (4) and the SW Pacific region (3 in Fiji, 3 in New Caledonia, 3 in New Guinea), and one way over in SE Nigeria and Cameroon: G. glandulosum Turrill. Only the species Graptophyllum pictum is cultivated very widely and well known.
The drawing reproduced below shows two different color forms of Graptophyllum pictum. The paler green rather than purplish form was the first described by scientists, so is the nominally "typical" version. In places such as Indonesia and the Philippines, the greenish and purplish forms are given their own names. [Drawing by L. Guerrero in Flora de Filipenas 1875 by Manuel Blanco]
In cultivation, Caricature Plant can grow in shade or sun, so long as its needed warmth and humidity are sufficient. However, it is roundly agreed to appear most attractive in partial shade. It can be kept as short as 3 feet tall, or allowed to become 20 feet in height. The leaves are borne in opposite pairs, measuring as much as 9 inches long and 5 inches wide. The flowers are red-purple and may attract birds. Outside of New Guinea, it makes seed capsules rarely.
It is easily grown in greenhouses but moderately difficult as a houseplant, due to its sensitivity to dry air. Also, it ought not be allowed to go under about 50 degrees F.
Medicinal uses exist for it, but I am more interested in its use as a vegetable. The young tender leaves are eaten in New Guinea and parts of India. Its fruits are reported as eaten by the Ayta people in New Guinea. The fruits are presumably eaten immature while still green and tender, as they become dry and split open to release the seeds.
The following 11 cultivar names are encountered. Certainly some (e.g., Tricolor) are misapplied sometimes. Almost certainly some are synonyms. The descriptions are from various sources; not my own.
'Alba-variegatum' (leaves green & white)
'Albo-marginatum' (leaves variously dark to milky green & gray, variegated white)
'Aurea Marginatum' (1. leaves green with yellow edge of irregular width; 2. leaves golden with green central area which varies)
'Bronze' (leaves solid dark bronze, almost chocolate colored)
'Chocolate' (leaves mottled burgundy & bronze with pinkish-cream marbling & deep pink midribs)
'Igneum' (leaves splashed red)
'Eldorado' (1. leaves smaller, almost entirely golden yellow; 2. leaves dark green with a large irregular, yellow margin that is bright golden yellow in high light or yellow green in low light)
'Lurido-sanguineum' (leaves flushed purple, veins crimson)
'Tricolor' (leaves purplish green variegated with yellow & pink; midrib & stems flushed red)
'Tricolor Aureo-medium' (leaves green with deep yellow & cream center)
'Waimea' (leaves dark green, blotched yellow & pink)
The leaves are bland flavored and slimy textured, but have much protein. It would be interesting to sample different cultivars to learn if any taste better, or if any are easier to grow as houseplants. Several color forms are sold mail-order by Kartuz Greenhouses of California. The plants are raised easily by cuttings.
Back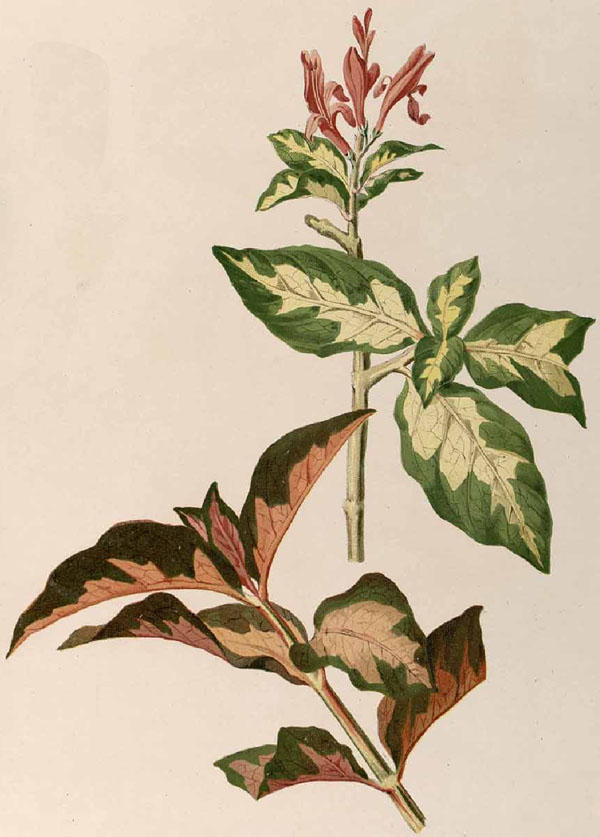 Graptophyllum two color forms; drawing by L. Guerrero in Flora de Filipenas 1875 by Manuel Blanco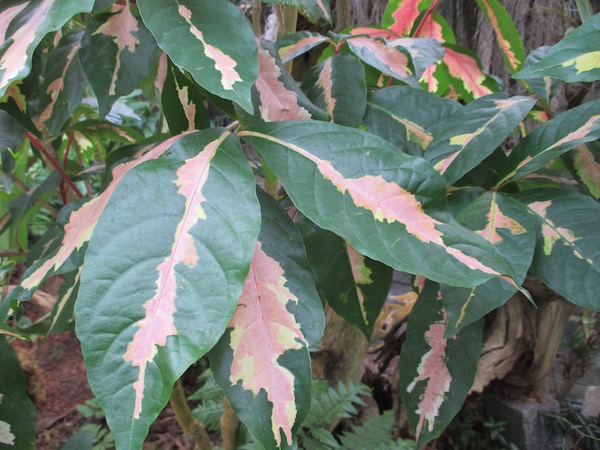 Graptophyllum greener, brighter color form; photo by ALJ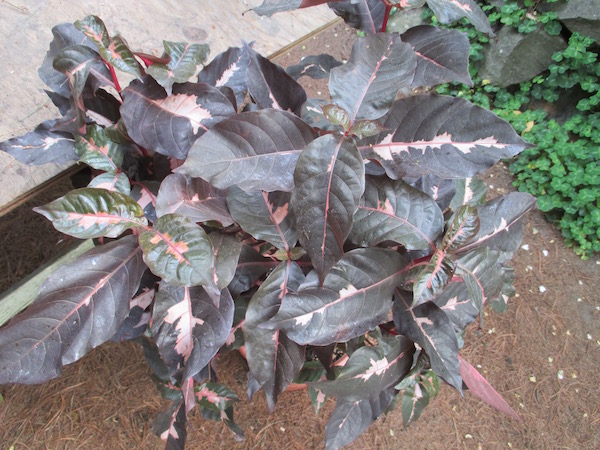 Graptophyllum purplish, darker color form; photo by ALJ