The genus Ficus consists of more than 800 species of tropical and warm-temperate regions around the world. They vary from immense trees to little groundcovers, and though most are evergreen, some are deciduous. Few tolerate frost. The fruit borne by these shrubs and trees are termed figs. A great many Ficus species bear fruit consumed by humans. This fact is relatively well known. Most commercially important is the commonly cultivated orchard fig tree of the northern hemisphere, Ficus Carica L., thought to have been grown since at least 4,000 BC. Its fruits are eaten fresh or dried. They are sweet and are rich in carbohydrates.
Little known in contrast, is that at least 58 species of Ficus have had their leaves reported eaten by people. (I have tasted 13 additional species with no ill effects). Usually it is the tender young growing shoots, that are relatively high in protein, and need only brief boiling to be rendered palatable. Their flavor is usually mild, even bland; rarely bitter slightly (like dandelion greens, as in F. abutilifolia ), sweet (as in F. Storckii ), or sour (as in F. virens ). They are mostly astringent eaten raw, but boiling them a few minutes eliminates that objection. In some cases the leaves contain 20% protein.
Curiously, some of the species with sandpaper-like texture are not astringent, such as F. coronata. It seems that as a defense against herbivory some species are hairy; some are astringent; some are bitter; some bear harsh-textured leaves. As long as rapidly growing young leaves are selected, and cooked to soften them and make them easier to digest and more palatable, these defenses are futile against humans. Over a dozen species of Ficus leaves are even eaten raw, such as in salads.
Some Ficus species have their immature fruit eaten, or their latex chewed as gum, or their leaf scales, or their aerial roots, eaten. But at the moment, leaves get my focus. In food markets of tropical places such as Indonesia, Senegal and Thailand, one can find Ficus leaves for sale.
As part of my edible houseplant study, I test species. One I prize because of its huge leaves is Ficus auriculata aka F. Roxburghii. The leaves can be 17 inches wide (45 cm) --even sometimes 24 inches (61 cm). It is native in India, China, and SE Asia. Sometimes called Elephant-Ear tree. It is used for fodder as well as being eaten as a vegetable, and grown as an ornamental. I obtained some seeds and will sow them this summer.
Bear in mind that some people will be allergic to Ficus and moreover, some plants that a person may sample from, might have been treated with harmful pesticides. Ficus sap can be irritating on one's skin. So be cautious if you experiment.
Back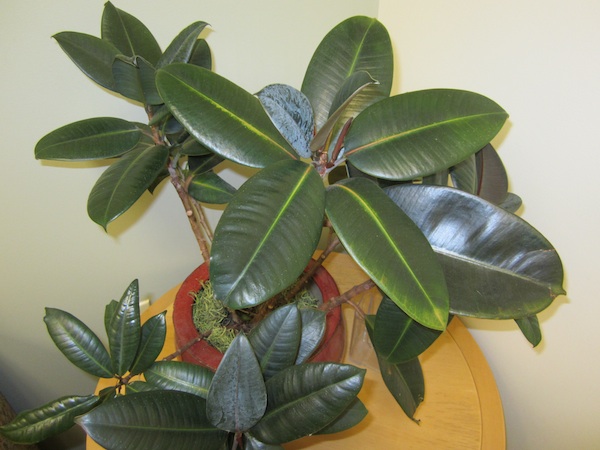 Ficus elastica; common houseplant; young leaves edible; photo by ALJ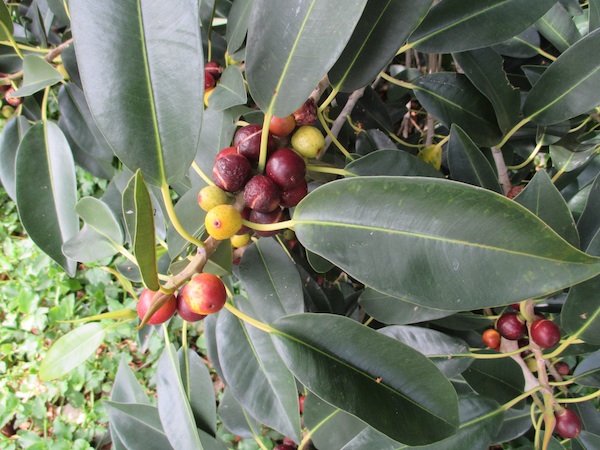 Ficus microcarpa ripe fruits; photo by ALJ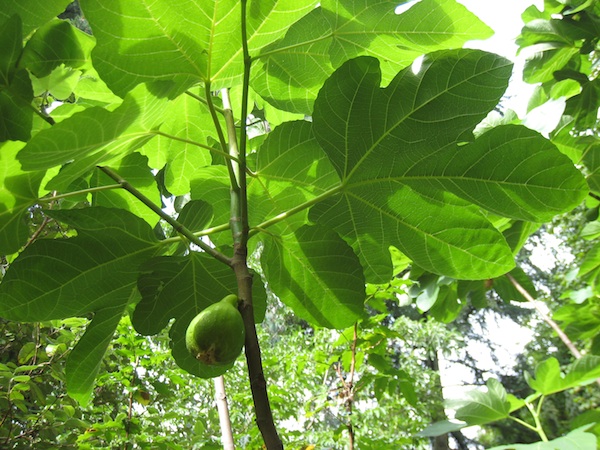 Ficus Carica showing a ripe fruit; photo by ALJ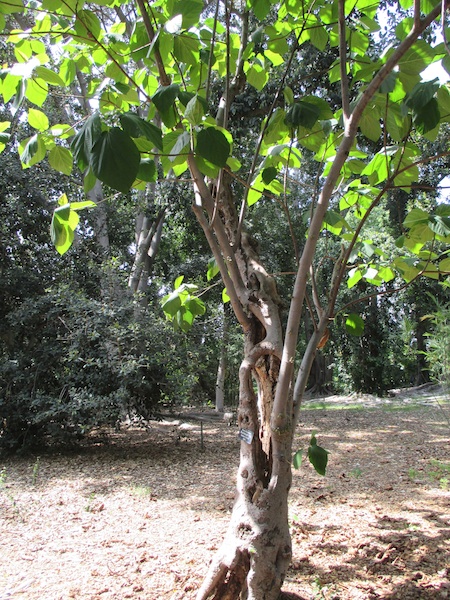 Ficus auriculata in April at Los Angeles Arboretum (leaves not full sized yet); photo by ALJ