Plant of the Month: May 2009
Mrs. Davidson's Photinia
Photinia Davidsoniæ Rehd. & Wils. 1911
= Photinia Bodinieri H. Léveillé 1907 --in 2003 Flora of China
ROSACEÆ; Rose Family
In 1821 botanist John Lindley named the genus Photinia --from Greek photeinos, shining or bright, alluding to lustrous leaves of some species. Until recently, when Photinia was determined by microscopic genetic analysis to be not generically distinct from the 1789 genus Aronia of 3 species, it consisted of 50 to 60 species of shrubs or trees, evergreen or deciduous; mostly in E Asia and Mexico. They are characterized by small white flowers in clusters which give rise to colorful berries. Related genera include: Amelanchier (Serviceberry), Cotoneaster, Cratægus (Hawthorn), and Sorbus (Mountain ash). Until the 1980s, the genus Stranvæsia was also considered distinct from Photinia.
These days, when most of us hear the name Photinia we visualize the widely planted, versatile, colorful and beloved hybrid called Photinia x Fraseri, commonly known as Redtip. Its young spring foliage of bright shiny red contrasts handsomely with the old dark green leaves. It is planted as a tree, as a screen, as a clipped hedge, and is objected to by few people --and mostly only because it is so tiresomely common: too much of a good thing!
There are other Photinia species, and this month I feature one that is among the least known in this country, likely the largest growing, and certainly deserving of more testing to definitively determine its limits of cold hardiness. If it can tolerate frosty winters, it ought to be more planted in Seattle and similar climates. If --alas-- it is altogether cold-tender, then at least my article serves as a good account of its role in North American horticulture.
Photinia Davidsoniæ is its widely used name dating from 1911. But the 2003 Flora of China unearthed a 1907 name that has priority: Photinia Bodinieri. Because virtually all the references in print or the internet describe this species under the familiar but now incorrect Davidsoniæ name, I will, too --united we stand in our wrongness. The Flora of China states that this splendid species grows in "forest margins, thickets, valleys, rocky slopes." It is widespread in China; also in Myanmar (Burma), Thailand, and N Vietnam.
Seeds of it were introduced to The West from W Hupeh (Hubei), China, in 1900 by the famous plant explorer Ernest H. Wilson for Veitch nursery of England. Wilson, much admiring the tree, wrote: "One of the handsomest evergreen trees in central China. Named for Mrs. Henry Davidson of the Friends' Foreign Mission, Chengtu, Szechuan [Sichuan], as a mark of esteem and in grateful remembrance of services rendered after my serious accident in the autumn of 1910. The name 'Tung-ching' (winter-green) is sometimes applied to this tree, but this name properly belongs to Xylosma racemosa." Some other Chinese names transliterated are: gui zhou shi nan (yuan bian zhong); lo mu; and yu-la shu. A Vietnamese name is: Sên Dào.
From Wilson's book, Aristocrats of the Garden, page 160: "The Japanese Photinia glabra and the Chinese Photinia serrulata are much-esteemed evergreen shrubs in California and the former is a valuable hedge plant. The new Photinia Davidsoniæ is superior to either. This shapely evergreen tree growing from forty to fifty feet tall with dark glossy leaves which are reddish when young, and white flowers borne in broad flattened heads and followed by masses of scarlet fruits. It is a great favorite among the Chinese and in central China is commonly planted round shrines and tombs."
Overall, Photinia Davidsoniæ has remained exceedingly rare in North America --despite Wilson's enthusiastic praise. Whether Wilson's seeds were sent to North America soon after reaching England, I do not know. The U.S.D.A. Bureau of Plant Introductions made seeds available to growers in 1928, 1934 and 1936. Likely some of these seeds resulted in specimens planted and still alive today in San Francisco at Strybing Arboretum of Golden Gate Park. By 1956 it was "commonly spontaneous" there. Every specimen that I have observed has been in California, and on public property. The species was perhaps not in commerce until the Saratoga Horticultural Research Foundation promoted it around 1975 to 1979. In the late 1970s and early 1980s Colvos Creek nursery offered seedlings for sale in the Seattle area. From 1993 to at least 2003 it was wholesaled by Piroche Plants nursery of Pitt Meadows, B.C. The Piroche Plants' stock might be more cold-hardy than the earlier introductions, because Piroche Plants' catalogs assigned the species cold-hardiness U.S.D.A. zone 7, while most books and nursery catalogs state U.S.D.A. zone 9 (Sunset zone 15-24)
Photinia Davidsoniæ is closely related to the well known P. serratifolia (= P. serrulata), but has larger flowers (nearly half an inch wide) appearing a bit later in spring; larger berries (about a third of an inch wide, and orange-red rather than red); and smaller leaves (up to 6.25 inches long by 1.75 inches wide, less strongly toothed; the stem is usually short but up to 1.25 inches long). Also P. serratifolia is smaller, the tallest being about 50 feet. Another distinction is Photinia Davidsoniæ seedlings and strong young branch growths are more or less spiny. And finally, Photinia Davidsoniæ is less cold-hardy than P. serratifolia.
Photinia Davidsoniæ grows larger than any other cultivated Photinia. At Eastwood Hill Arboretum, New Zealand's most extensive collection of trees and shrubs, one planted in 1928 measured 84 feet tall as of February 1990 --cited in 1991 IDS Yearbook p. 32. In San Francisco at Strybing Arboretum, in 1994 one of perhaps 7 measured 75.5 feet tall, 52 feet wide, with the largest of its trunks 7 feet 8 inches around. But when I re-measured the trees there in April 2009 the tallest was only 73 feet; the stoutest trunk 7.5 feet around. Possibly some specimens had been removed in the intervening years. In Anhwei, China, one was measured 65.5 feet tall, its trunk 6.5 feet around (1925). One at the Berkeley Botanic Garden is 64.5 feet tall, 5-trunked (mislabeled for decades Stranvæsia Davidiana; 46.0702). One at the University of California Berkeley campus measured 55 feet tall, 45 feet wide, and the largest of its four trunks was 4 feet 9.5 inches around in 1993. By April 2009 it was 61 feet tall. It is at the NE corner of Morgan Hall, and had been moved there in 1962 from the Landscape Design trial garden. In San Francisco, a smaller specimen is across the street from 1898 Fell Street in Golden Gate Park's "panhandle."
It is necessary to highlight the nominal confusion between Photinia Davidsoniæ and Photinia Davidiana. The latter is the former Stranvæsia Davidiana and is extremely common. Some people, for example at the Berkeley Botanic Garden, and the University of Delaware College of Agriculture & Natural Resources, confuse the two species. Photinia Davidiana (Decne.) Cardot is from China, Vietnam, with a variant in Taiwan. Its specific epithet honors Jean Pierre Armand David (1826 - 1900), a Basque who discovered this species in 1869. Usually it is a shrub; but a small tree if pruned into one. The leaves are narrow and toothless, the berries bright red, borne in abundance and persisting all winter. A 1998 photo below shows the largest specimen I have encountered, in the wonderful Dereen Garden at Lauragh, Kenmare, County Kerry, Ireland.
In closing, my question is: if you know of a Photinia Davidsoniæ in a colder-climate, such as has frosty winters, will you please inform me? I especially seek data on the Piroche Plants introductions dating from 1993 into this millennium. A 1993 accession at J.C. Raulston Arboretum, Raleigh, North Carolina, might be of this origin. If you want to buy a Photinia Davidsoniæ, Sonoma Horticultural Nursery of Sebastopol, California, has offered it. The wholesale Lawyer Nursery of Plains, Montana, has sold seeds, as do various seed vendors. I know of no mail-order nurseries selling plants.
Back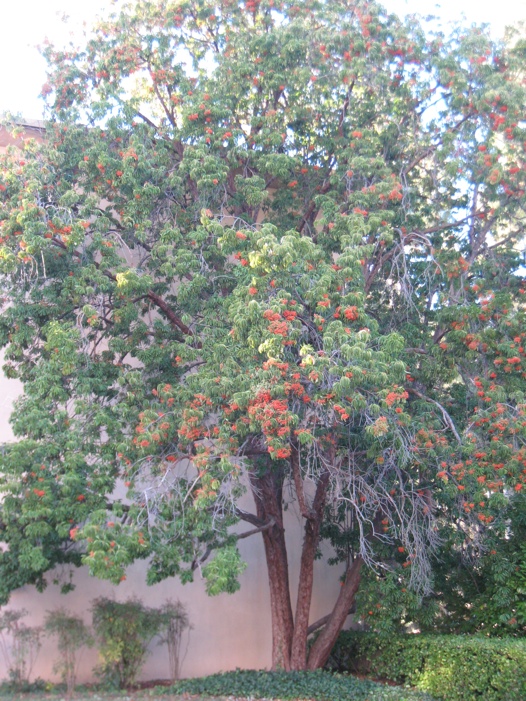 Berkeley Campus Photinia Davidsoniæ January 2009 (photo by ALJ)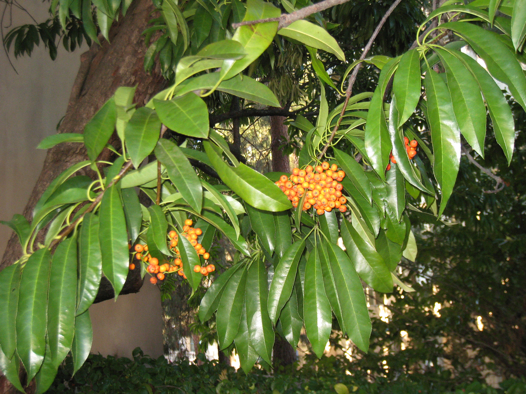 Berkeley Campus Photinia Davidsoniæ January 2009 (photo by ALJ)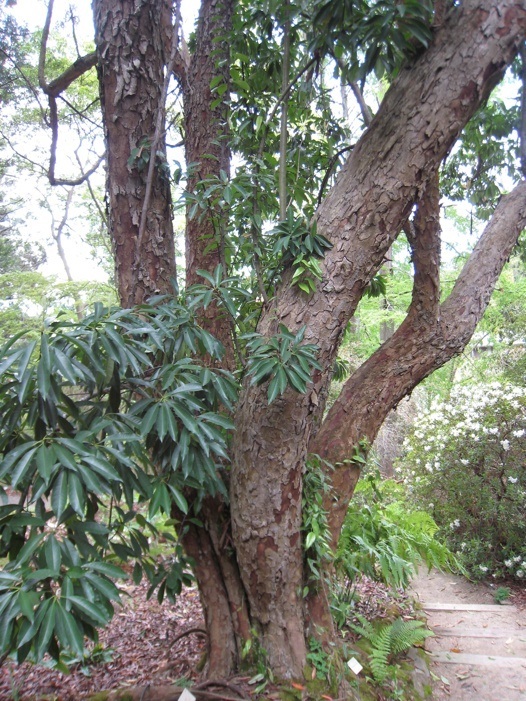 Berkeley Botanic Garden Photinia Davidsoniæ (46.0702) trunk close-up (photo by ALJ)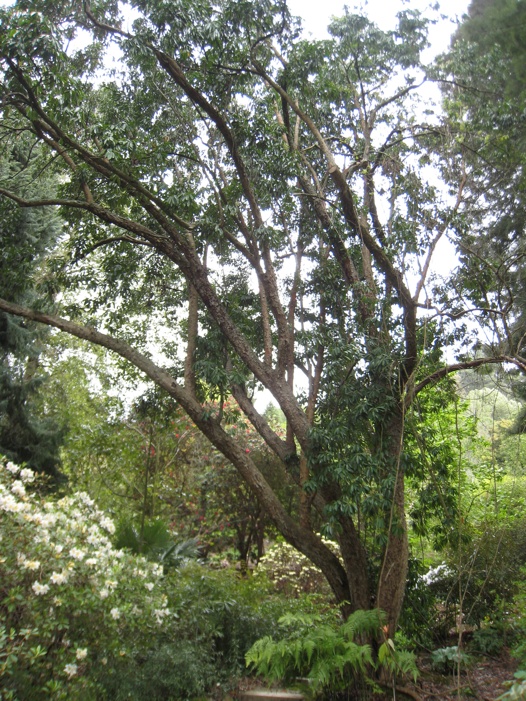 Berkeley Botanic Garden Photinia Davidsoniæ (46.0702) whole tree (photo by ALJ)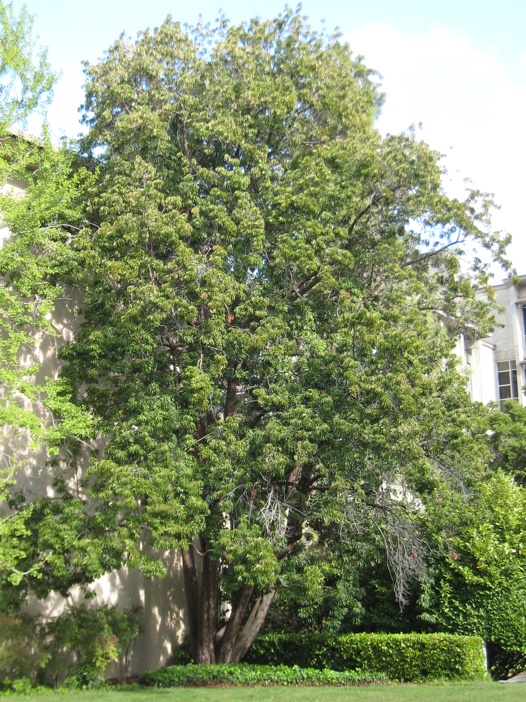 Berkeley Campus Photinia Davidsoniæ April 27th 2009 (photo by ALJ)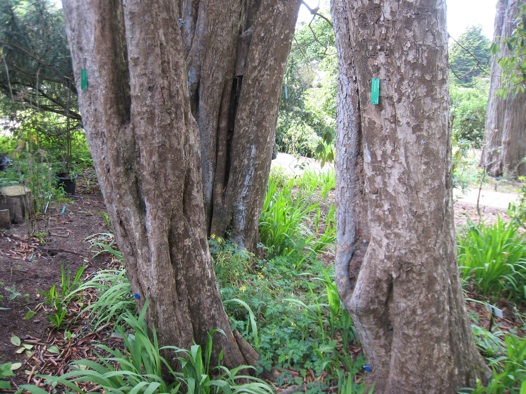 Strybing Arboretum Photinia Davidsoniæ trunks photo (photo by ALJ)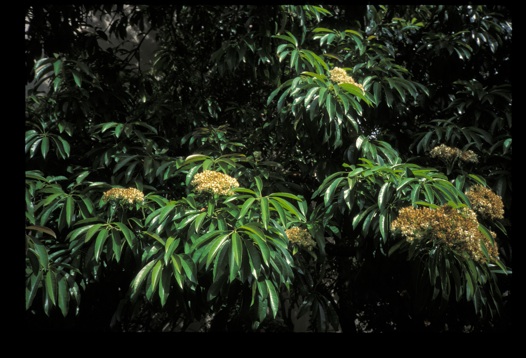 Photinia Davidsoniæ May 31st flowers photo (photo by ALJ)




Photinia (Stranvæsia) Davidiana Dereen Garden 1998 photo (photo by ALJ)