Many and diverse species and hybrids of thymes are cultivated for their beauty and fragrance, but this is among the rarest. Finding it worthy, I give here its story.
Savory-Scented Thyme (the English name I give it) grows from east-central and eastern Europe to southwest Asia and the Caucasus. The 1779 epithet pannonicus means from Hungary. In 1882 it was named for Friedrich August Marschall von Bieberstein (1768-1826) of Germany, later Russia.
Compared to most thymes this one is distinguished by the relatively large size of its leaves (up to seven-eighths of an inch long; to one-quarter of an inch wide), and its strikingly strong savory flavor. From mid-May into June it blooms, with pale pink flowers.
It first came to my attention in the 1980s. I was volunteering at the University of Washington Medicinal Herb Garden. One day, while weeding, I found a seedling in the path. There was no other specimen; it was all by itself. Nobody there knew what it was. So we planted it in a bed. It grew, and eventually--thyme marches on--covered the entire bed, a rectangle 6.5 feet by 8 feet. It spread as a loose mat, and was remarkably reluctant to layer. When it did send down roots from a branch, I gave starts to friends. I grew a specimen in my garden for many years. But it --as well as the parent plant-- died eventually. I missed it dearly. It had been my favorite thyme --and I had grown two dozen different kinds over the years.
By and by, and with pains, I determined what species it was. Thymes are difficult to identify; there are many species (more than 300), the plants are small, references are scarce, and hybrids occur readily in cultivation. So I had a hard time. My determination was not certain; I knew the mystery thyme might be really T. glabrescens Willd. or T. dimorphus Klokov & Schost. (of SE Ukraine & Russia).
In 1999 Digging Dog Nursery of Albion, California, offered Thymus pannonicus, but the plants I ordered and received were different from the Medicinal Herb Garden specimen. I have a hunch the Digging Dog plants might have been what has been called Thymus 'Linear-Leaf Lilac', a name proposed in 1982 by Thymus monographer Harriet Ballard Flannery. As a synonym Flannery cites T. pannonicus Hort., non All., and T. Marschallianus Hort., non Willd. In other words, Flannery states that at least through 1982 the plants sold or grown in North American horticulure as either Thymus pannonicus or Thymus Marschallianus were not really correctly named. Flannery wrote that the clone circulated under those names was possibly referrable to T. striatus Vahl or T. glabrescens var. Urumovii (Velen.) Jalas. In any case my Digging Dog T. pannonicus plants got a fungus and died.
At the Berkeley Botanic Garden I saw some plants labeled T. pannonicus, collected in Czechoslovakia, that looked more like what I have grown as T. Loevyanus Opiz--what Flannery refers to as T. 'Long-leaf Gray'. So, in short, the Medicinal Herb Garden plant I have called T. pannonicus is by no means the only plant so called. Moreover if one conducts a taxonomic search on the Internet, it becomes clear that some botanists prefer the name Thymus Marschallianus instead of T. pannonicus.
In January 2000 I was delighted to see that wild-collected seeds of T. pannonicus were offered through the seed exchange of the International Dendrology Society. I ordered some immediately, sowed the packet, and many seedlings came up. Now I have about 20 plants in my garden. I say about because some came up close together and it is awkward to count every individual. They match the Medicinal Herb Garden specimen. The seeds had been collected in 1999 by Mr. Grennady Firsov, in the Volgograd region. In time I may select the specimen with superior flavor, or growth, or floral beauty, and root cuttings to distribute. Because of its zippy flavor, and its large leaves, it is superb added as a garnish to salads or pizza.
To grow this, or any other kind, give it well-drained soil and full sun. Do not overwater it. Do not fertilize it.
Back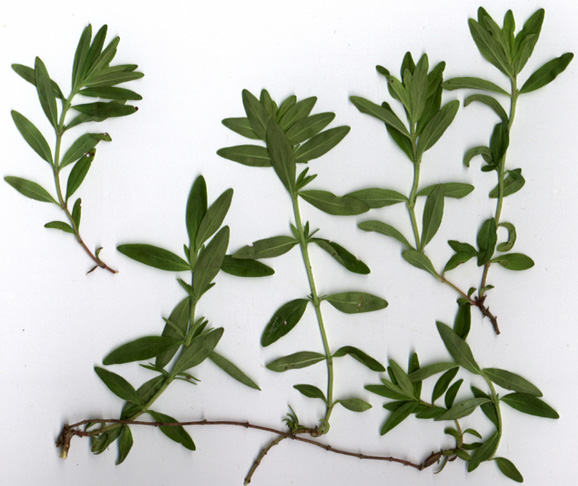 Thymus pannonicus leaf scan by ALJ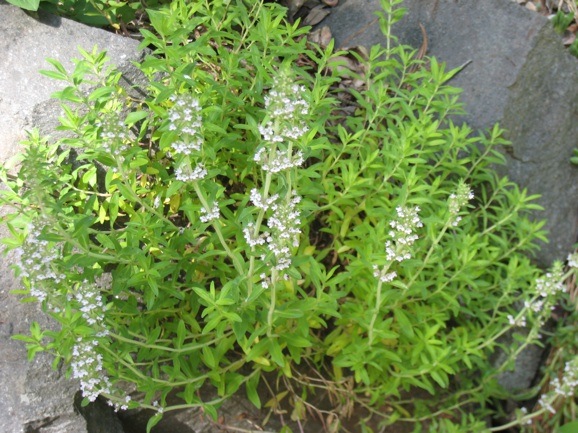 Thymus pannonicus pannonicus flowering photo by ALJ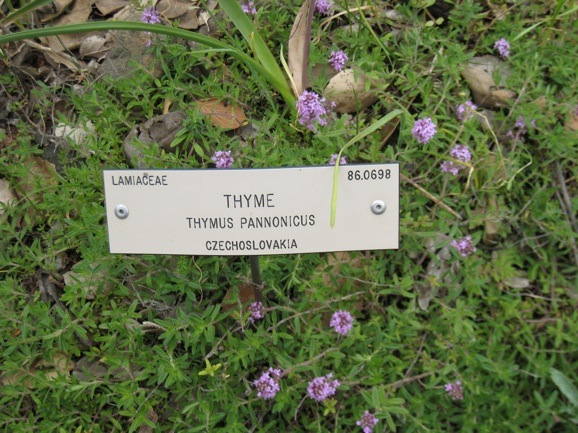 Thymus pannonicus in Berkeley photo by ALJ