Plant of the Month: May 2003
Coast Redwood
Sequoia sempervirens (D. Don) Endl.
CUPRESSACEÆ; Cypress Family
formerly: TAXODIACEÆ; Redwood Family
The world's tallest trees are coast redwoods, native to the foggy coast of California, and extreme southwest Oregon. More than twenty-five individual specimens are known over 360 feet tall; none are 370 feet. It seems that the trees reach a certain height, then say "okay; enough." Or the tip dies each year after a certain height. Since the redwood forests of pioneer days were logged very heavily, it is possible that long-gone trees were once taller; certainly some were stouter in trunk than any known today.
Since 1840 coast redwoods have been cultivated beyond their native land. One that I see from where I live in Seattle was planted I guess between 1900 and 1920. Now it is the tallest non-native tree in Seattle, and the tallest coast redwood known in Washington State: 159.5 feet (165.5 feet after the 2004 growing season; 174 after 2012; 180.5 after 2016). In 1989 it was only 141 feet. The tree was topped many years ago, yet regrew. Topping is generally a bad practice. The tall tree also stands on a dry ridge --and coast redwood is a moisture-loving species. In Ravenna Park, two and a half miles to the north, 11 younger coast redwoods are growing more rapidly, in a moist shady ravine, and will eventually overtake the current record-holder (155 feet after the 2004 growing season).
As ornamental trees coast redwoods are best grown in a grove. Their cousins the dawn redwoods (Metasequoia glyptostroboides), and Sierra redwood (Sequoiadendron giganteum) are far superior as isolated specimen trees, but can also look splendid in a grove. An isolated coast redwood is apt to be awkwardly long-limbed, and its handsome reddish-brown trunk will be hidden by the dense foliage. It looks sort of like a beautiful woman wearing a dress far too large for her.
The foliage color varies from clone to clone, and nurseries can provide dark, medium or light green, as well as powder-blue. Raising new trees from cuttings is easy. But in the long run, cutting-grown trees (or at least those originating from branch rather than terminal cuttings), may be apt to grow undesirably wide, be more prone to suckering, and have brittle branches. By the long run I mean many decades. Redwoods can live more than 2,000 years.
Redwoods were logged much because their wood is valuable. But did you know that their tender young needles of early summer are edible raw, and tasty added to salads? They are mild, faintly piney with a sour edge. Dawn redwood needles taste like carrot greens.
Back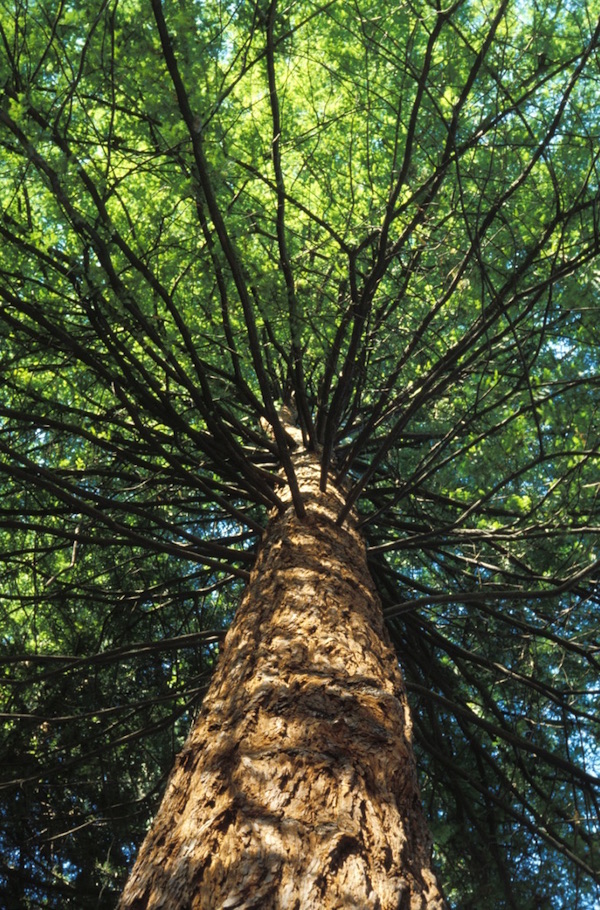 Sequoia photo by Garth Ferber