This plant has few common names, essentially Santa-Cruz Island Ironwood, Catalina Ironwood, or the contrived Lyon Tree, after William Scrugham Lyon (1851 - 1916), the Los Angeles horticulturist and forester who collected it on Santa Catalina Island in 1884.
The tree is little known, and likely undeservedly rare in plantings outside California. It is the only species in its genus, and grows native on islands off the coast of southern California. Six to eight million years ago, Lyonothamnus grew throughout the western USA.
It is an evergreen shrub or small tree that is remarkable for its shredding bark and floral abundance. Bees find the small white flowers irresistible. After the flowers appear in June or early July, the brown seed-clusters are persistent and unattractive. Some people cut them off.
The peely ribbons of bark, reddish and gray, remind me of a South African relative called Oldwood, and of the Rosa Banksiæ. The dark green, ferny foliage reminds me of a Sweetfern (Comptonia) yet devoid of that plant's lovely fragrance.
Catalina Ironwood was left out of my 1996 book North American Landscape Trees because it was both extremely rarely cultivated, and --I thought-- too frost-tender. Well, one in Seattle is sufficiently old and winter-proven that it proves at least some of the specimens are cold-hardy to Zone 8.
Also, it turns out the the Seattle specimen is perhaps of notable size. The current data supplied on California's champion-size trees reports that a Catalina Ironwood in Woodside is 45 feet tall, its trunk just over 5 feet circumference. The Seattle tree pictured below is also 45 feet tall, its trunk 4 feet 10.5 inches circumference. At this writing, the American Forests Big-Tree Register lists no specimens. In February, 2010, I measured a specimen in Strybing Arboretum 55 feet tall.
Both the Woodside and Seattle trees are the more graceful and preferred cutleaf / fern-leaf version of the species, called in science aspleniifolius. It was first cultivated in 1894. The tallest recorded were 75 feet. In a drier site it is apt to be a mere shrub, but given more moisture it becomes strongly upright and treelike. In either case, often multiple ascending trunks give it a candelabra shape. If fire or freeze kills the top, the stump resprouts. Weighing some 50 pounds per cubic foot, the wood is very heavy, dense and hard, accounting for its Ironwood name.
Since the tree needs more people to test its cold hardiness, and observe its growth rate in moisture places than its native land, I encourage its cultivation. It can handle dry summers, and at least some freezing. It appears on lists of deer-resistant plants. It can be kept as a shrub, or encouraged to be a tree. On the other hand, it is messy, inedible, and the flowers smell unpleasant to some people.
It is sold by many California nurseries. Yet few national USA mail-order sources exist, such as --now & then-- Cistus, and Forest Farm.
The Seattle tree pictured below was likely planted in the 1990s; at the latest early in the 2000s. The whole tree, trunk, and leaf close-up photos were taken by me this month; the flowering photo was taken by Michael Lee last year in early July. Curiously, after 42 years of running a retail plant nursery, Michael was so disappointed that his beautiful Lyonothamnus trees were not selling, that it was a convincing factor for him to close his Colvos Creek Nursery.
Back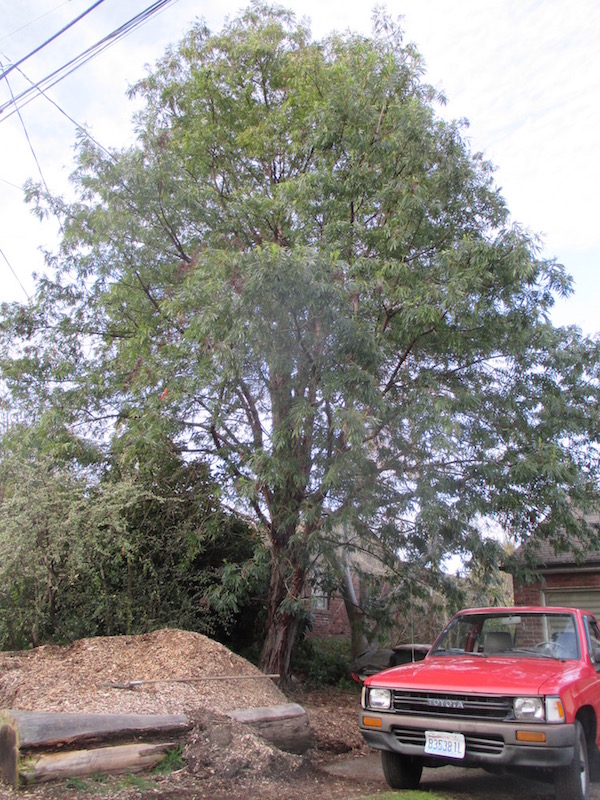 Lyonothamnus whole tree in March; photo by ALJ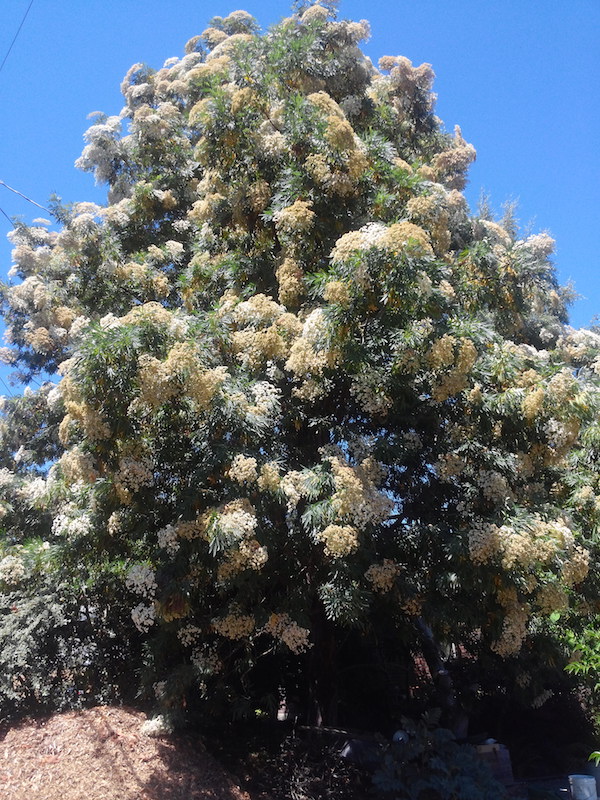 Lyonothamnus whole tree on July 3rd; photo by Michael Lee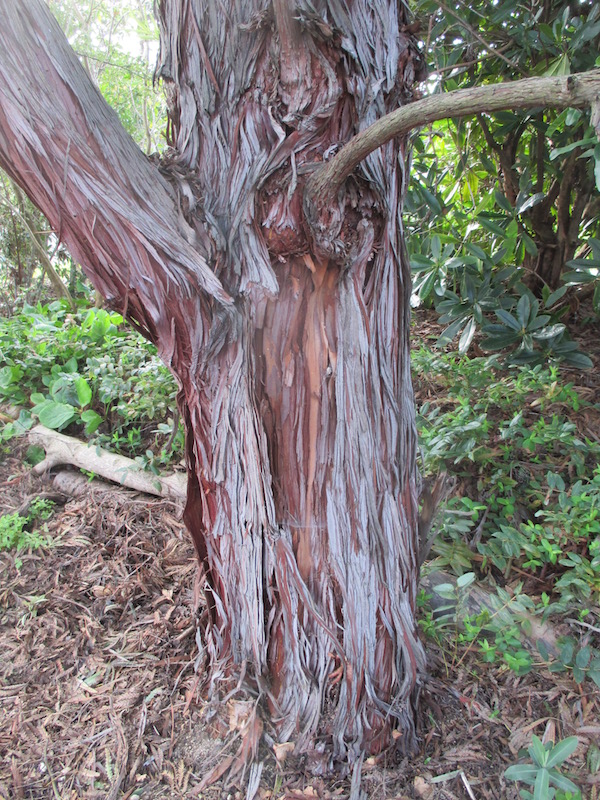 Lyonothamnus; bark; photo by ALJ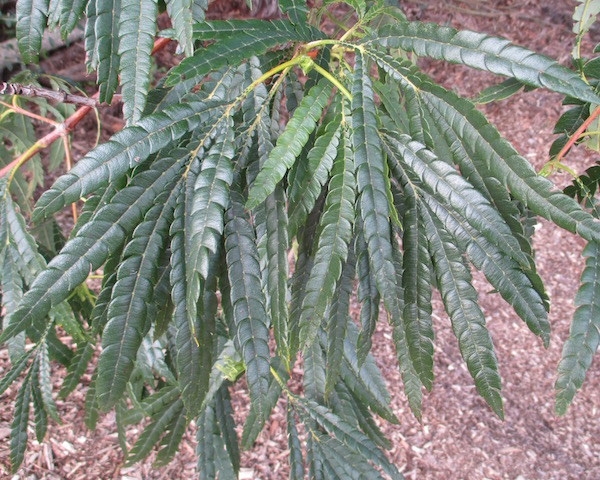 Lyonothamnus; foliage; photo by ALJ