For two reasons, I here write about Dipteronia sinensis. 1) Recently I measured what may be the largest specimen ever recorded of this tree. 2) Dipteronia was undeservedly left out of the 2nd edition (2006) of my book Trees of Seattle. To announce the "big tree" measured, and to cite 3 specimens well established in Seattle, is the intent of this simple article. I most certainly am not advocating additional planting of Dipteronia. After all, it is weak; awkward in branching habit; merely adequate in fall leaf color; and its attractive seeds are not superior to those of many smaller trees or shrubs which also provide other compelling features that Dipteronia sinensis lacks.
(In Mabberley's Plant Book, 3rd edition (2008), Dipteronia is silently subsumed into synonymy within genus Acer. Thus far, I have read no accounts elsewhere that echo this judgement.)
Dipteronia sinensis was discovered in 1888 by Augustine Henry --a famous Irish doctor, forestry professor, and author who explored in China. Dipteronia is native in central-west China. A Chinese name is jin qian feng. It lacks an English name other than Chinese money maple. A French name is érable d'or et d'argent --gold & silver maple. I guess these vernacular names allude to the winged seeds, which are roundish and thin, like coins.
It was introduced to Western cultivation in 1900 when plant explorer Ernest Wilson sent it to Veitch nursery of England. It was in the United States by the 1930s, but still remains little known and rarely planted. At present I know of no mail-order nurseries offering it --but several have done so in the past --and by July 2010, Colvos Creek should have seedlings ready to sell. A few will be for sale on April 16th & 17th at the Childrens Hospital Plant sale.
The name Dipteronia is from Greek di, double or two, and pteron, a wing or feather --each seed has apparently two wings, not one as in the closely related genus Acer. Aside from fossil species, at present only two species of Dipteronia are known: Dipteronia sinensis, and the rarer, shrubbier, larger-seeded D. Dyeriana. Dipteronia prefers, if not requires, summer rainfall or irrigation, woodland conditions, and absence of severe winter cold. An isolated specimen can set viable seeds.
For two qualities, it is prized ornamentally. First, the foliage is pleasingly elegant, the pinnately compound leaves exquisitely toothed and laid out with telling points. But the same can be said for many other plants. The seeds, especially when purplish-red in late summer, are a wonderful visual treat. If the flowers were also showy, and the plant less clumsy in habit, it would be an All Star. But the flowers are tiny, greenish-white, in loose clusters from mid-May into June-July. And the plant is half shrub, half tree, and all gawky since it branches and suckers crudely. Its winter mien has all the gracelessness of a giraffe trying to figure skate. Its fall leaf color is usually a washed out, even ghostly yellow. Another drawback is its susceptibility to verticillium wilt. Nonetheless, there is nothing to prevent somene from selecting an ornamentally superior seedling, or producing a hybrid, that can elevate its ornamental merit mightily.
The opposite leaves measure from 8 to 18 inches long, and consist of 7 to 11 (17) toothed leaflets. The wafer-like seeds, borne in generous clusters, measure about five-eighths of an inch, to an inch, and recall very well --their warm color aside-- those of an elm tree (Ulmus) or of Ptelea trifoliata. They are fully ripe by October.
In the wild, Dipteronia sinensis has been recorded as tall as 16 meters = 52.5 feet. Below are the tallest and stoutest-trunked specimens measured in cultivation in the UK:
37 feet tall; trunk 3 feet in circumference
Hergest Croft, Herefordshire, England (1969 --now it is a shrub)
33 feet tall; trunk 2 feet 9 inches in circumference
Crathes Castle, Aberdeenshire, Scotland (1981)
The "champion" specimen that I measured recently, is in the garden of George Pinyuh, in Kent, Washington. The age and origin of this tree are not recorded --but likely it dates from the 1980s. It is in crowded woodland conditions in a 1-acre garden, and extremely difficult to measure or to photograph. The height is at least 43 feet tall (likely more), its branches extend 44 feet wide, and its trunk is 4 feet 3.75 inches circumference, below where it forks (as is seen in my photos) (In 2012, it was 42.5 feet tall and wide, its trunk 4 feet 5 inches circumference --a huge section had been pruned off, after breaking in an ice storm). If the tree in Scotland is remeasured, it may now be larger than the tree I just measured. (By the way, the Pinyuh garden also boasts an Embothrium coccineum 57 feet tall (the top broke, so it is only 39 feet in 2012), a Hamamelis mollis 35.5 feet tall (it grew to 39 feet in 2012), and a rich array of other trees exceptional for size or rarity.)
The three Dipteronia specimens located in Seattle --that I am aware of-- are as follows. Washington Park Arboretum has one, accession number 500-70A, in grid 26-B. In 2005 it stood 40 feet tall, its trunk 1 foot 11.5 inches crcumference. But its top died back, so now it is only 33 feet tall, its trunk 2 feet 2.25 inches crcumference. At Childrens Hospital, one is northeast of the employee parking garage. Seattle University has a smaller tree, 27 feet tall, two-trunked, near 10th Avenue and E Cherry Street; with 5 incense cedars and a Sierra redwood. If any readers know of others in Seattle, I will be grateful to be informed about them.
For the most complete account of this tree, consult the International Dendrology Society Yearbook 1998, published in spring 1999. On pages 12 to 31 is an exhaustive article by Susyn Andrews titled "Tree of the Year: Dipteronia sinensis." I am a member of the IDS. For this web article, I borrowed a few items from Susyn's lengthy printed account.
Back


Dipteronia ; January 2010 photo by ALJ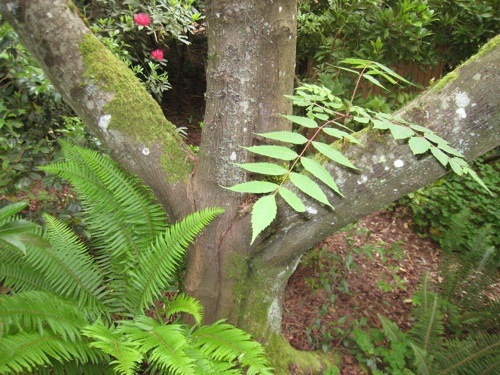 Dipteronia ; June 2009 photo by ALJ




Dipteronia ; June 2009 photo by ALJ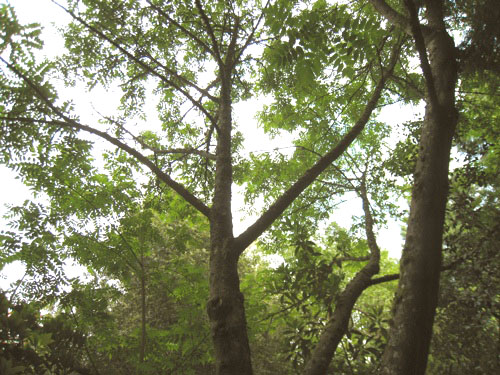 Dipteronia ; June 2009 photo by ALJ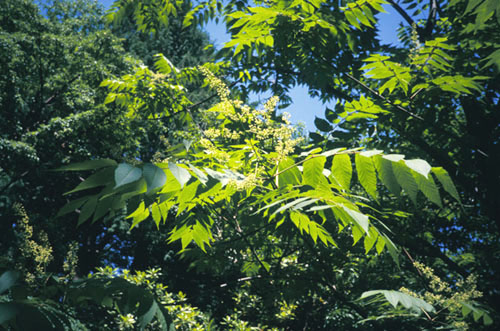 Dipteronia flowers ; photo by ALJ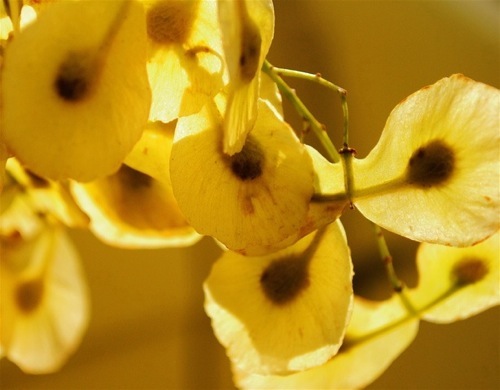 Dipteronia seeds ; close-up photo by Lisa King