South African bulbs, perennials and annuals are common in northern hemisphere cultivation; but shrubs and trees are not --they are usually too cold-tender. There is, however, an extremely rarely cultivated species that has survived in Seattle since 1986; it has even made wild offspring here. So I write about it this month.
Oldwood is a shrub or small tree of the higher elevations in SE Africa, roughly from 3,500 feet elevation (1,067m) to 7,000 feet (2,134m) --even 8,200 feet (2,500m), mostly in moist places such as along streams or in wet meadows. It is accustomed to severe frosts. It grows fast, as long as it has sufficient moisture. Usually just a shrub, it can become a small tree to about 40 feet (12m) tall.
Though its foliage is reminiscent very strongly of some northern hemisphere plants such as salad burnet (Sanguisorba), and some species of Potentilla, Agrimonia and Geum, it is considered sufficiently dissimilar as to merit being in its own genus. Hence it was called in 1836 Leucosidea sericea. Derived from the Greek leukos, white, and sidus, stary, the generic name refers perhaps to the whitish-yellowish flowers, and the Latin sericeus means silken, referring to the copious soft hairs on the foliage.
The English name Old Wood is a mere translation of the Afrikaans Ouhout or Oudehout. Why call it Old Wood? K.C. Palgrave's 1977 book Trees of South Africa states: "The common name Ouhout may refer to the old gnarled twisted trunks, or to the fact that the wood burns slowly as if it were old and rotting." The wood weighs 38 pounds per cubic foot, and is used for fenceposts and fuel mainly.
It grows in every province of South Africa, in Lesotho; is rare in Swaziland; Mozambique; east Zimbabwe. Some African names are as follows: isiDwadwa (Xhosa); umChichi (umTshitshi; umTyityi) (Zulul); tjhetjhe (S Sotho); mosino (N Sotho); munyong-atshifumbu (Venda). In Afrikaans it is also called Cheche.
It is usually multi-trunked, covered with shaggy reddish-brown bark. The evergreen foliage is soft and silky, strongly scented, and unpleasant to the taste. The resinous flavor reminds me of that of goldenrod leaves. The flowers appear in the wild from August to September (December). In Seattle it blooms about April into June. The flowers are subtly beautiful, rather than obviously so. The leaves, up close, are also handsome. They are composed of from 7 to 13 leaflets, each jaggedly toothed and prominently veined.
In the South African Journal of Botany 2004, 70(4): 509Ð511, it was reported: "The leaves of Leucosidea sericea are used medicinally by some indigenous South African people as a vermifuge and astringent." A study showed that "the plant has antimicrobial activity against Staphylococcus aureus, Bacillus subtilis and Candida albicans."
I tried to learn if anyone has cultivated it in the northern hemisphere before 1986 when specimens raised by botany professor Art Kruckeberg were set out in Seattle. One such, at the University of Washington (on the west side of Johnson Hall), is 16 feet (5m) tall. (Until it was savagely hacked back by someone with a saw in about January 2009.) A larger one (20.5 feet tall; 6.25m) is near the restrooms at the Carl S. English, Jr. Gardens at the Hiram Chittenden Locks in Seattle. These are the largest woody plants from South Africa cultivated in Seattle. The most similar plant, botanically and horticulturally, in the northern hemisphere may be Catalina Ironwood (Lyonothamnus floribundus), native to islands off southern California, and also a cold-tender broadleaf-evergreen.
Leucosidea was in the RHS Plant Finder in 1999, and is in British cultivation. You can buy seeds from B & T World Seeds (www.b-and-t-world-seeds.com). Though I found a seedling wild at the University of Washington, I saw none at the Locks. I am guessing that without pollen from another individual, Leucosidea has low fertility. Kruckeburg Botanic Garden has two specimens north of the gate, outside the fence. They may make viable seeds more freely.
Back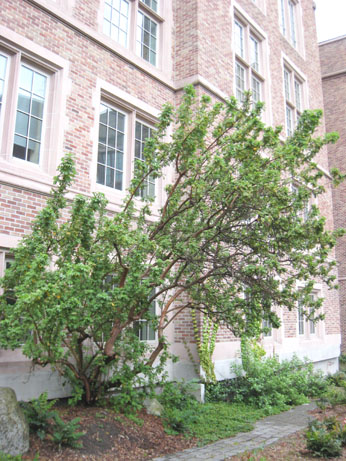 U.W. Leucosidea sericea (photo by ALJ)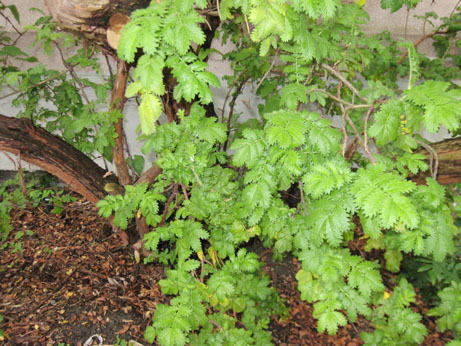 U.W. Leucosidea sericea close-up (photo by ALJ)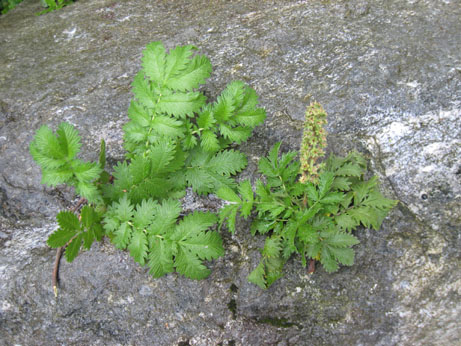 Leucosidea sericea flower close-up (photo by ALJ)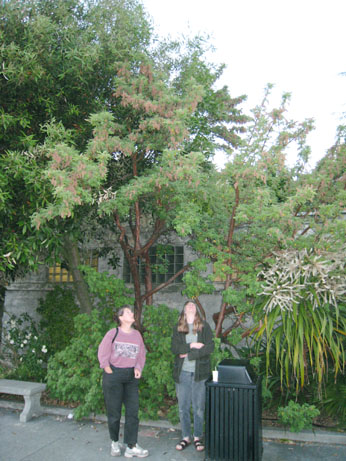 Leucosidea sericea at Locks; size photo (photo by ALJ)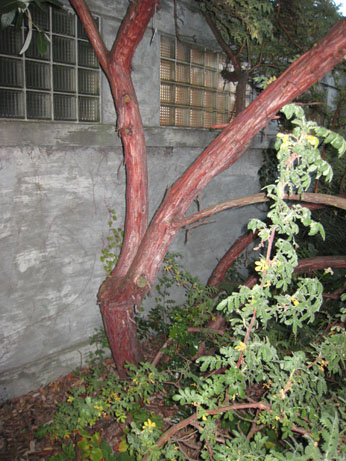 Leucosidea sericea at Locks; bark photo (photo by ALJ)