Scarlet Runner Beans are notable among the world's many beans for several reasons. Unlike most beans the plant is perennial, albeit it is usually killed to the ground --or totally-- by winter frosts. Also it is among the most productive of all beans. Glenn Riley once grew about 60 different kinds of beans near Port Angeles, and reported that Scarlet Runner out yielded all of the others. Third, it is the only edible bean grown extensively as a mere ornamental, because of its gorgeous scarlet flowers. The flowers are large (an inch or more wide), and are clustered like those of sweet-peas. They contrast beautifully with the plant's bright green foliage. So even if the big bean pods were not produced, or were inedible, this plant would be valued for its looks. It has been called the Flowering Bean. The old name multiflorus alludes to its multitudes of flowers. The name coccineus means scarlet in Latin.
The Scarlet Runner Bean is native in highlands of Mexico, Costa Rica, El Salvador, Guatemala, Honduras, and Nicaragua. It has been cultivated there for thousands of years. By the 1600s it was being grown in England and the eastern United States. It is one of about three dozen species of Phaseolus, all New World natives. It is not among the most economically important species of beans. Various other better known beans include:
1) Phaseolus vulgaris L. is the Common, French, or Kidney Bean
2) Phaseolus lunatus L. is the Lima Bean
3) Cicer arietinum L. is the Garbanzo Bean or Chick Pea
4) Glycine Max (L.) Merr. is the Soy Bean
5) Vicia Faba L. is the Broad or Fava Bean
6) Vigna radiata (L.) R. Wilczek is the Mung Bean
Scarlet Runner Beans do not do yield highly in hot areas; they also dislike freezing; warmth suits them best. They perform admirably in Seattle. It is a very good, easy crop for here. Get some seeds, plant them about an inch deep in late April, May or June, (even early July) in loose, rich soil. They will sprout --or most will-- and those seedlings uneaten by slugs or snails will grow and produce until frost in November. Some roots may survive over winter and re-sprout in spring. I plant more than I need, knowing that some will get eaten by slugs, and some will not bear as well as others. This year I have 27 that made it out of about 40 seeds sown in early June.
Because the vines elongate a great deal, it is desirable to plant the seeds where you can erect poles or wires. Or --as I do-- grow them into shrubs and small trees, or on fences or trellises. I place cut bamboo poles to direct the young vines into my shrubs such as tall Oregon Grape. If you prefer to grow them in an open patch of ground, just construct a free-standing teepee. Make sure it is large and strong enough to support the heavy weight of copious green bean pods. The vines can easily grow 10 or 15 feet, and the pods vary from about 5 inches to nearly 2 feet in length.
All summer long the pods are picked and eaten as they attain full size but before they become stringy and tough. You can munch some raw in the garden, though most people cook most of their crop. Letting some pods ripen seeds enables use as a dry bean, as well as saving the beautiful big seeds to grow more next year.
The original Scarlet Runner Bean has remained a perennial favorite for hundreds of years, but other similar cultivars exist. 'Scarlet Emperor' and 'Best of All' look nearly identical. 'White Dutch' is one of at least 7 equivalents bearing white flowers and seeds. 'Painted Lady' (also called 'Bicolor' or 'York and Lancaster') bears red and white flowers. 'Sunset' has soft pink flowers. Stephen Facciola's 1998 book Cornucopia II lists 27 Phaseolus coccineus cultivars, including dwarf ones that do not need poles, and stringless ones.
I like adding the brilliant flowers and young pods to my salads. I have not yet tried eating the cooked leaves or fleshy roots. The dried seeds are very lovely and fun to carry around in one's pocket for show and tell. They are marbled black and purple-red --though vary in cultivars. If you eat them, cook them, as heat destroys a toxin called hæmagglutin or lectin.
Back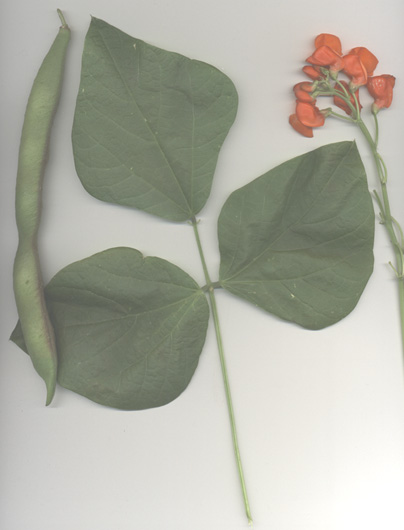 Scarlet Runner Bean scan by ALJ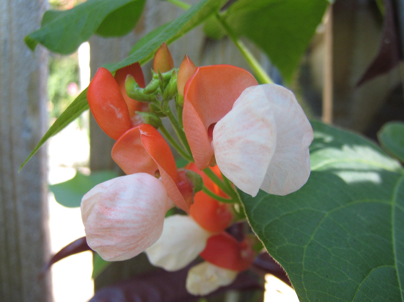 'Painted Lady' Scarlet Runner Bean photo by ALJ