Plant of the Month: June 2003
Fairy Crassula
Crassula multicava Lemaire
CRASSULACEÆ; Stonecrop Family
Fairy Crassula is also known as Pitted Crassula (from its leaf surface), Mosquito Flower (someone fancied its flowers recalled mosquitoes), London Pride (some Australians were reminded of the English Saxifrage so-called), and a coined, stupid USDA name is Cape Province Pygmyweed (it is neither limited to Cape Province nor a pigmy).
It is a South African succulent perennial that was named in 1862, and is one of the more common Crassula species in cultivation. In April 2000 when I visited a nursery in Fort Bragg, California, this plant carpeted the ground weedily. Knowing nothing about it, thinking it handsome, being curious, and having no fear, I asked "what is this?" The proprietor answered: "It is a weedy saxifrage that grows in either sun or shade." She let me take a piece home to Seattle. It has since lived through three winters outdoors in my Seattle garden, and I have learned a bit about it, hence this short article shares my findings with you.
First, about the genus Crassula in general. There are 150 to 200 species, most of which live in South Africa. Most are succulent perennials, but some are shrubby or even treelike, and others minute annuals (the pigmyweeds). Crassula leaves are always borne in opposite pairs. Related genera in the CRASSULACEÆ (Stonecrop Family) include Echeveria, Kalanchoe, Sedum and Sempervivum. More than a dozen species of Crassula are prized as garden ornamentals or houseplants. Many bear strikingly bold foliage; a few possess excellent flowers; fewer still are fragrant. Medicinal value is negligible. No Crassula species are known to me to be listed as either edible or toxic. The best known member of the genus, at least in the United States, is doubtless the Jade Plant.
Several Crassula species are weedy, even noxious. But in Seattle the only weedy one is a dwarf spring annual Crassula Tillæa Lest.-Garl., called Mossy Stonecrop or European Pigmyweed. It is indeed mosslike, and turns flamboyant red in late Spring (May) before drying and reseeding.
The name Crassula is Latin diminutive of crassus, thick, in reference to the plump leaves of many members of the genus. The name multicava refers to the leaves' many little holes (Latin multi, many, and cava, hollow, hole or cavity). Two synonymous names are Crassula quadrifida Baker and Septimia multicava (Lem.) P.V. Heath.
The first photograph reproduced below, taken on May 30th 2003, shows my Seattle specimen, right after a rain shower. It is just over a foot high, wider still, and currently has 8 flowering stems. The foliage is an unthrifty pale green --as if it resents the cold or needs fertilizing. The whole plant is hairless, inodorous and succulent. Each leaf measures at most an inch and a half long, is dull, looking pitted like the surface of an orange peel; it is untoothed, but notched a bit at the apex; the short-stemmed leaf base clasps the plant stem.
The second picture shows a plant on a San Francisco rockery, flowering in January.
The leaf, tasted raw, proved bad: weak flavored, chewy, astringent and acrid. The loosely clustered flowers are winsome, up to a half inch wide, of four slender petals that are dark pink outside and pale pink or white inside. These flowers are petite, charming little stars that suggested the names Fairy Crassula and Mosquito Flower. I have noted no seedlings. To propagate itself the plant lets its stems send down roots. Also if a leaf breaks off, it too can root, making a whole new plant.
Though sources I checked claim that this species will not survive below 41 degrees Farenheit, mine has lived through killer frosts. I have also noted that it is a weed in San Francisco at Strybing Arboretum, and it has escaped cultivation in other places as well. It can endure growing under blue gum eucalypts in California, and so has been classified as a Garden Thug. Therefore it (or at any rate some of its genetic stock) is clearly more robust and cold-tolerant than is common in the genus Crassula, and this information may prove interesting to gardeners.
Aside from its role as an ornamental flower in gardens, the only economic use of the species that I am aware of is the use of its flower essence to treat "excessive use of the will; unthinking devotion to a cause; inability to understand any other point of view; negative ego." Such a treatment can be most useful should it really work, and those people who need it being willing to try it.
Back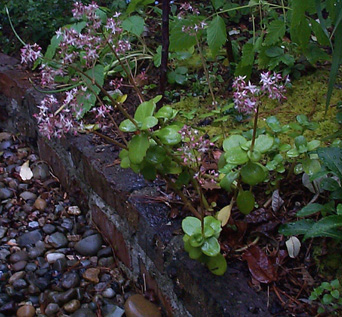 Crassula multicava photo by Emenke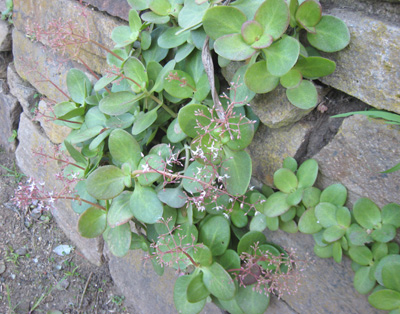 Crassula multicava photo by ALJ