Plant of the Month: June 2002
Banana Shrub; Michelia Figo>
The Banana Shrub (Michelia Figo) must not be confused with the Banana Plant -- from which we obtain the well known fruit. The two species are utterly different. This article features the shrub variously called Michelia Figo (= Magnolia Figo, Michelia fuscata = Magnolia fuscata), the Port-Wine Magnolia or the Brown-flowered Magnolia. It is a broadleaf evergreen 20-foot-tall shrub from SE China, and is cultivated for its richly aromatic floral perfume.
The genus Michelia was named by Linnæus to commemorate the Florentine botanist Pier Antonio Micheli (1679-1737). Some 40 to 80 species exist, all in SE Asia, India or Sri Lanka (Ceylon). They are all broadleaf evergreen shrubs (rarely) or trees (mostly). The genus is related closely to Magnolia, but differs in bearing its flowers along the leafy twigs, not at the ends of the twigs. Technical floral details also separate the two genera. Figo is an adaptation of one of its native Chinese names. Another Chinese name, Han Hsiao Hua, means Smiling Flower.
The Banana Shrub was introduced to English cultivation by 1789. It was introduced to the United States by 1865 if not earlier. In the South it has long been popular and common. In the North it has been prized as a greenhouse subject. I bought a specimen in 1986 from Gossler Farms Nursery (Springfield, OR) and planted it in my Seattle garden. It has proved cold-hardy and is 9 feet tall, so I believe more of us in cooler regions should try growing it outside. Mine is 7 feet wide, but I have pruned it or it would be wider still. It grows in part shade and is given some summer watering. More than one clone of this species is cultivated; I shall describe mine. It almost certainly is the one sold as 'Port Wine' that has dark flowers unlike typical M. Figo.>
Its leaves are dark glossy green on top, paler and dull underneath. When they emerge in spring they are coated lightly underneath with brown hair, much of which falls away upon maturity. The leaf base is notably short-stemmed, and the apex notably pointless or bluntly pointed. Most leaves are wider above their middles. The largest leaf is 6 inches long and 2 7⁄16 inches wide (153 x 61 mm). Most leaves are 4 inches or less long. The twigs are green and coated with brown hairs. When the twigs and leaves are crushed only a faint fragrance is released.
From April or May until at least late August if not well into autumn, the shrub produces one flower after another. The individual flowers present little to admire visually. Each consists of 6 tepals (that is 3 sepals and 3 essentially identical petals), rich creamy yellow on the outside, the inside similar yet heavily mottled dull murky maroon. The stamens are similarly dark. The female floral organs smack in the middle of the flower contrast vividly -- being rich green. The tepals are erect, but flare slightly to make a flower 1 1⁄2 inches wide. My shrub never sets seeds. It has never been bothered by pests or diseases. Snow has broken branches from it.
It is for fragrance that I keep the shrub. The plant is not remarkable to look at, it tastes horrible, and I know of no medicinal value. But the floral fragrance is glorious. It is very rich. It makes me inhale deeply, savoring it. When the atmosphere is ideal the fragrance is noticed 50 feet away. A single flower put in a bowl of water will scent a room. The aroma varies from clone to clone, and has been described by various people as: spicy bananas, port wine, paint thinner, pear drops, or Jasminum Sambac.
The species has been used in hybridizing, so maybe some of its offspring will bear more showy flowers, or prove more cold-hardy, or be treelike, or otherwise notably different. It has been crossed with Michelia Doltsopa and Magnolia acuminata, perhaps also with other taxa. The Banana Shrub is easily raised from hardwood cuttings. About its cultivars 'Mixed Up Miss' and 'Touch of Pink' I know nothing.
Back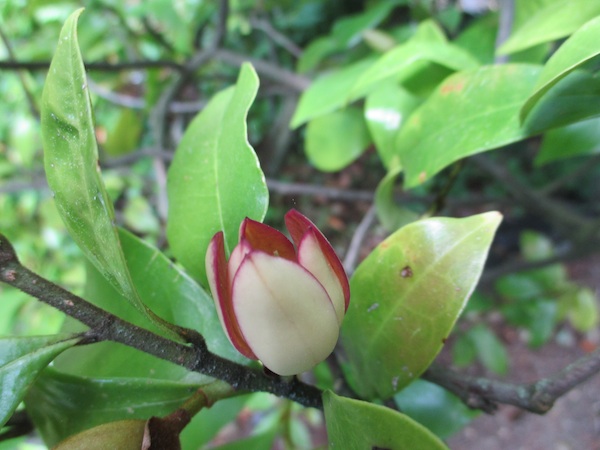 photo by ALJ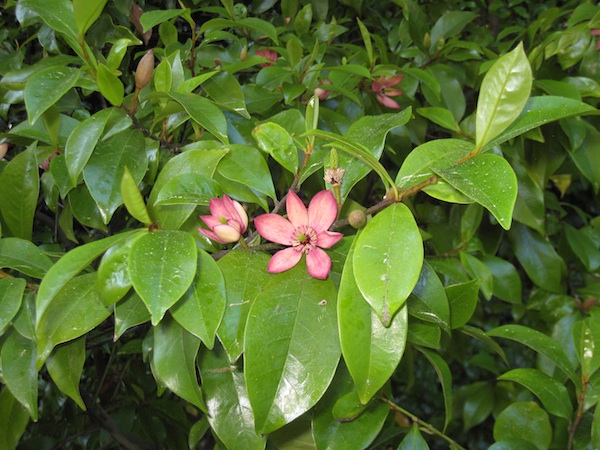 photo by ALJ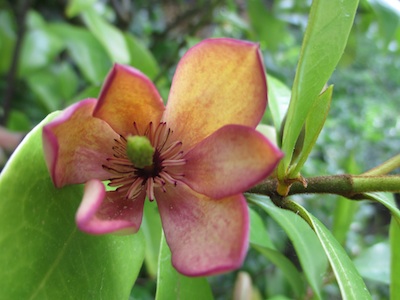 photo by ALJ