Plant of the Month: July 2017
18 fruits in my garden in July, photographed.
As I post this, it is July 14th. Being too busy to write an article, I am sharing a photograph that shows 18 kinds of edible fruits in my garden. Since I host an Open Garden later this month (the 22nd & 23rd), it seems appropriate.
The largest is the green Jalepeno pepper. Below its stem end is a Black Olive pepper. The tiny, shiny red berry next to it is a red currant; next a larger red huckleberry; then an unidentified small black pepper and a bumpy pink-red wintergreen fruit. On the left, from top to bottom are bramble berries: Raspberry, Marionberry, Dwarf Mulberry (Issai), Black Mulberry, White Mulberry. In the middle, the blue berries from left to right are: Salal (dark & hairy), Oregon Grape (dull blue) and Blueberry Lily. The bottom row has a glossy red Goumi berry, a small European red strawberry, larger native red strawberry, and a white European strawberry. Note that many of these are small specimens, the better to fit near one another for the photograph. My garden has other fruits that are not ripe yet, including 3 kinds of plums; pears; grapes, fig, and so forth.
>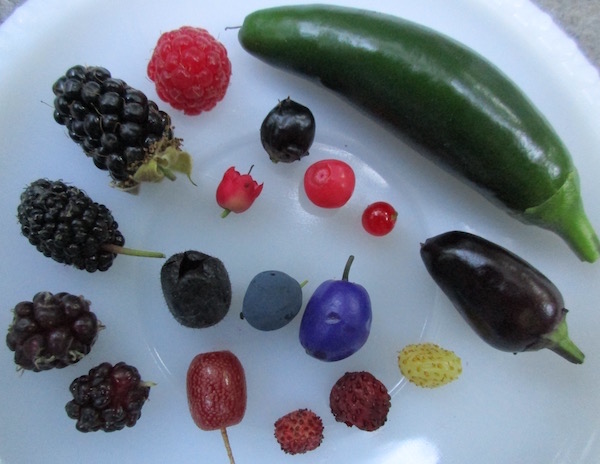 18 kinds of fruit in ALJ garden in July ; photo by ALJ

Back