Plant of the Month: July 2006
Eucalyptus Dalrympleana
Eucalyptus Dalrympleana Maiden
MYRTACEÆ; Myrtle Family
My February 2002 plant-of-the-month column treats cold-hardy Eucalypts in general. This month I single out a eucalypt that is less cold-hardy and less familiar, but grows far larger than the well known, much grown "Snow Gums."
Eucalyptus Dalrympleana was named in 1920, after Richard Dalrymple-Hay (1861-1943), the first Commissioner of Forests in New South Wales. This tree is native in Australia: in S Queensland, SE New South Wales, E Victoria, and Tasmania. It is called variously: Mountain gum, Mountain white-gum, Broadleaved ribbon-gum, Broadleaved kindling-bark.
It has been grown in North America since at least 1930 --the year it was made available by the Bureau of Plant Introductions. It was in the British Isles by 1942. Washington Park Arboretum in Seattle first tried it in 1950. It was being sold sparingly in the 1950s in the United States. It has been planted in cold climates nowhere as much as some of its smaller-growing cousins such as E. pauciflora (including ssp. niphophila), E. Gunnii (& E. Archeri), E. Perriniana, E. parvula (incorrectly called E. parvifolia). During the 1990s and this millennium various mail-order nurseries in Washington and Oregon have offered specimens now and then, such as Burnt Ridge, Cistus, Colvos Creek, Forest Farm, and Heronswood.
The main appeal in cultivating this eucalypt in frost-prone regions is its comparatively large size. Of the species that are usually attempted in frosty northern hemisphere gardens, this one is the largest. (The scarcely grown E. delegatensis grows still larger.) In the wild, Eucalyptus Dalrympleana has been measured 197 feet (60 meters), its trunk up to 20.5 feet in circumference. In 2004, one at Dana Point, California, was said to be 72 feet tall, its trunk 13 feet 1 inch in circumference, and its branch spread 60 feet. One planted in 1945 at Mount Usher Gardens, Ashford (south of Dublin), County Wicklow, Ireland, was 92 feet tall, its trunk 9 feet 2 inches in circumference as of 1989.
I planted one in Seattle in July 1992, obtained in a milk carton from Burnt Ridge Nursery; it is now 76 feet tall, the first live branch 22 feet from the ground; its trunk 2 feet 11 inches in circumference. Some elsewhere in Washington, and in British Columbia, are worth measuring, but all that I have to share with you at present are a few 2005 heights from some other Seattle specimens cited in my book Trees of Seattle: (that includes 26 kinds of eucalypt) 7206 29th Ave NE has a 4-trunked 62.5 feet tall street-tree north of a small E. Moorei. 224 30th Ave E has one 60 feet tall against the N fence, flanked by 2 smaller E. Gunnii. Two are at 5829 16th Ave S, the taller 36.5 feet tall.
It can be confusing trying to distinguish this species from some that are similar and closely related: E. viminalis, E. rubida and E. nobilis. Also, hybrids with species such as E. Gunnii and E. viminalis occur --and some are even being offered for sale (as by Fraser's Thimble Farms Nursery, Salt Spring Island, B.C.). A tree at the Carl English Gardens (the Locks) in Seattle has been called Eucalyptus Dalrympleana for decades, but more recently it was called a possible hybrid of Eucalyptus Dalrympleana and E. Nicholii. Compared to my purebred Eucalyptus Dalrympleana the Locks specimen leaves are smaller, darker green, with a more piercing odor.
In general Eucalyptus Dalrympleana is a large tree, its trunk whitish and smooth, inviting a caressing touch; its foliage willowy in heavy tresses. The twigs are usually reddish. The young leaves of early summer are attractively bronze-red colored. The juvenile leaves measure from 1.5 to 4.75 inches long x 1.25 to 2.75 inches wide; adult leaves measure from 3.5 to 11 inches long x .5 to 2 inches wide; they are slightly curved, usually green and semi-glossy at length, sometimes remaining dull gray-green. The flowers are small, white and not especially showy.
On my specimen the outer bark darkens, dries to brittleness and sloughs off like old peeling paint in July and August as the trunk expands, leaving a smooth, pale, fresh thin bark that photosynthesizes. When the bark is wet it is green; when dry it looks white. The old leaves also turn yellow (or pink) and fall at this time. I have not noticed a phenomenon described in Wales at Treborth Botanic Garden on July 30th 2000: "Then came a real highlight, as the hot, breezy afternoon meant that the Eucalyptus Dalrympleana was transpiring vast quantities of water from its roots to its leaves. Being thin-barked, the water-conducting vessels of this tree lie just under the surface, and, on days such as these, the water can literally be heard gushing through the pipes and up the trunk. A remarkable plant!"
Along with E. parvula (incorrectly called E. parvifolia), Eucalyptus Dalrympleana is noteworthy for being relatively tolerant of chalky or alkaline soils. In England it received an Award of Garden Merit in 2002. Its oil is anti-viral.
For some photographs of cultivated specimens, here is a link to some posted by Washington State Eucalyptus enthusiast Ian Barclay: www.angelfire.com
I will try to update this page periodically with new height measurements for my specimen. (93 feet as of September 2010. The winter of 2010-2011 was brutal, killing the very top. By October 2011 it had grown back and was 94 feet tall. By late July, 2013, over 101 feet. By late October 2013, 104 feet --photo below. By July 2014, 107 feet) And, inevitably, will sooner or later report its being damaged badly or killed totally by a severe winter freeze. But meanwhile, it is a lovely, impressive tree, growing over 5 feet per year (some cold-tender eucalypts in frost-free climates can grow 8 feet per year). When my tree dies I will have plenty of exotic firewood. Already I have had freezes kill 6 of 10 eucalypt species grown in my garden. It is only a matter of time . . .
If you are tempted to plant one, please keep in mind that depending on where precisely in its native range the seeds are collected from, it will vary in cold hardiness. Also, beware of potbound specimens; try to plant a very small, very young seedling.
Back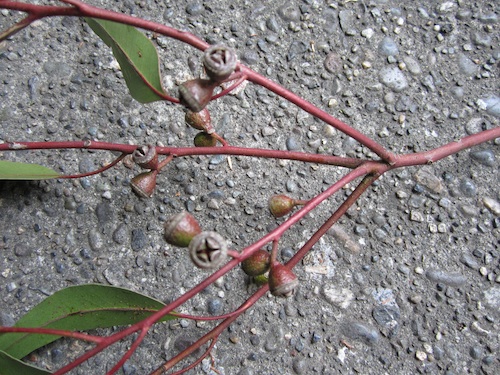 Eucalyptus Dalrympleana seed capsules; photo by ALJ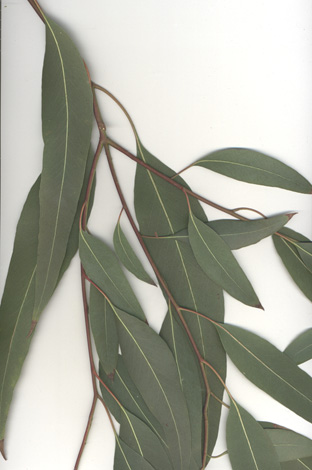 Eucalyptus Dalrympleana scan by ALJ




my Eucalyptus Dalrympleana two photos put together by ALJ, Oct. 2013




Davis, CA Eucalyptus Dalrympleana photo by ALJ