The well known, world famous peanut, is Arachis hypogæa. Whole books exist about it. Varied scientists work with it full time. It is a billion-dollar crop. But it is only 1 of over 80 Arachis species. So, here are a few words about some of its relatives.
All Arachis species hail from South America originally. They are frost-tender, low-growing (<4 feet high) perennials (mostly), biennials or annuals, with two pairs of leaflets, sometimes trifoliate. Oddly, the orange or yellow flowers set their seeds (nuts) underground. Botanists find that "the most significant [distinguishing] characters of Arachis [species] lay in their underground structures, including their fruits, rhizomatous stems, root systems and hypocotyls."
The common peanut is also called: Groundnut. Earthnut. Monkey Nut. Grass Nut. Goober. Pindar. Portuguese: Amendoim. Spanish: Maní. Cacahuete.
Two Arachis species are grown in subtropical zones as ornamental groundcovers, and may prove worthwhile as hanging basket plants. Here are brief notes on them:
Arachis glabrata Benth.
(Perennial Peanut. Golden Ornamental Peanut. Rhizoma Perennial Peanut. Rhizoma Peanut. Tropical Lucerne)
SE Brazil, Argentina, Paraguay. Grown for forage and as an evergreen groundcover in frost-free areas. Very variable. Cultivars exist for both ornamental and pasture uses, and vary in height from about 5 to 16 inches high. Leaflets are hairless or sparsely hairy. Flowers measure up to 1 inch wide, yellow, soft orange to brilliant orange. Few nuts are made, and they are small, in pods about three-eights of an inch long and a quarter inch wide. I find two sources noting the flowers as good to eat: Marie Harrison blog post Jan. 8 2010: "flowers add a nutty flavor and crunchy texture to salads and stir fries." Edible Landscape Plants of Florida by Jean Lindsay (2012): Flowers edible and taste "peanutty."
Arachis Pintoi Krap. & Greg.
(Pinto Peanut)
Central Brazil. Grown for pasture and as a shade-tolerant groundcover --'Golden Glory' especially. Leaflets fringed with hairs. Flowers about half an inch, and thus smaller than those of common peanut's; the seedpod 1 (2) seeded, the seeds (nuts) only about three-eights of an inch long. The illustration of it below is from Taxonomia del Genero Arachis (Leguminosae) by Antonio Krapovickas & Walton C. Gregory in Bonplandia 8(1-4): 1-186 (1994)
The following 5 Arachis species are recorded as having their nuts edible in Brazil:
Arachis monticola Krap. & Rig.
Arachis prostrata Benth.
Arachis Rasteiro A. Chev.
Arachis stereosperma Krap. & Greg.
Arachis villosulicarpa Hoehne
Certainly other species than those cited are edible, it's just that people favor the well known common peanut which has been grown for thousands of years. The other species have variously smaller nuts, or fewer, and are not even tested for the edibility of their foliage. A small per cent of people have peanut allergy. Nuts may get infected with fungal molds Aspergillus flavus & A. parasiticus. These molds can produce carcinogenic toxins called aflatoxins. Eating peanut foliage as a cooked green vegetable is a practice that is undeservedly scarce. Protein content (4.1 - 5.5% fresh weight basis) is higher than in the greens of sweetpotato, collard, mustard, red beet, and turnip (2.7 - 3.6%, fresh weight basis).
If I am able to, I desire to test eating the cooked greens of various "groundcover" peanut cultivars. I also think they should be tried in hanging baskets.
Back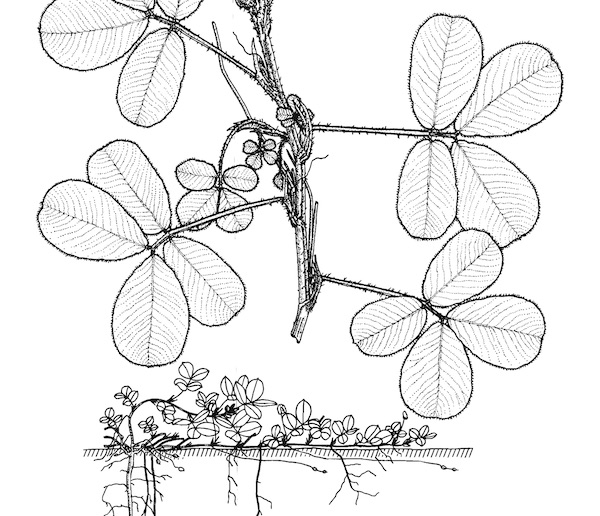 Arachis Pintoi ; drawing