In the tropics, June Plum trees can attain 80 feet in height. But a dwarf version is cultivated easily in pots indoors, and is attractive, as well as edible.
The original native home of Spondias dulcis is uncertain because it is cultivated so widely in the tropics. Maybe New Guinea and Indonesia. Around the world the tree has numerous common names including: Ambarella. Jew's Plum. Hog Plum. Great Hog Plum. Golden Apple. Vi Apple. Tahitian Apple. Wi-Tree. Otatheite Apple. Polynesian Plum. Yellow Plum.
There are 17 other species in genus Spondias. At least 14 are also reported edible. But this month I write about only one of them, because it is the one I have in my Seattle house.
The dwarf version is sold mail-order by various nurseries. It is described as remarkable for its ability to fruit while still young and small. In fact, it can fruit itself to death. It can be evergreen or (usually) deciduous in winter. The leaves are pinnately divided like an ash tree, with 7 to 13 (25) elegant, shiny, toothed, slender leaflets. The flowers are whitish and not showy, yet are fragrant; apparently self-fertile. The fruit ripen golden yellow, 1.5 to 4 inches long, with juicy agreeable flesh around a spiny pit.
The young tender leaves are eaten raw or cooked, affording a pleasantly sour salad addition. Julia Morton notes that the leaves cooked with meat help tenderize it. The fruit can be eaten still green and crunchy, or when fully ripe.
The plant is tropical, or at best subtropical. It may be able to survive as low at 28 degrees F. I keep mine indoors, at 50% humidity, between 63 degrees F and 80. In these conditions it is evergreen and growing even in the dead of winter.
My photographs show a young specimen in a green pot. I bought it five months ago, in August 2016. When it flowers and fruits I will share more photos.
The exquisite drawing is from a 1798 book.
Back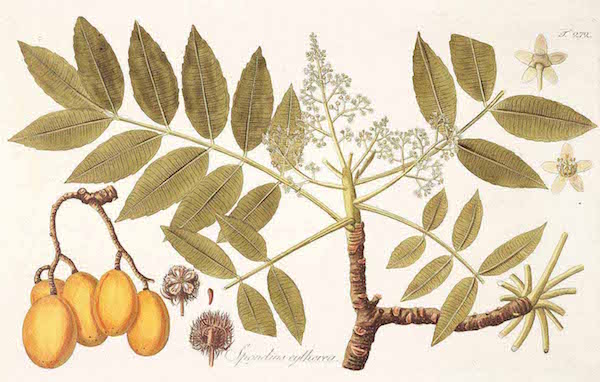 Spondias dulcis 1792 drawing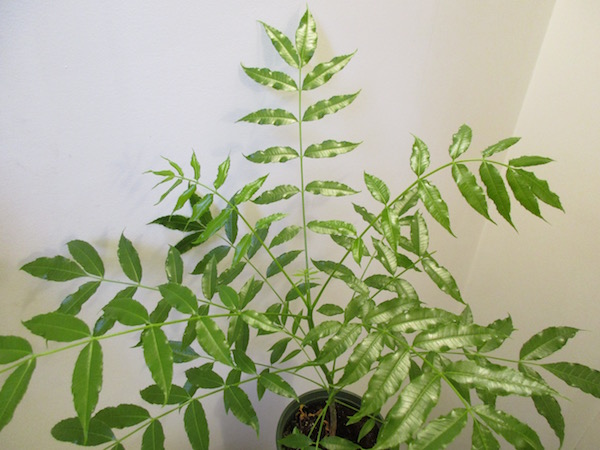 Spondias dulcis; photo by ALJ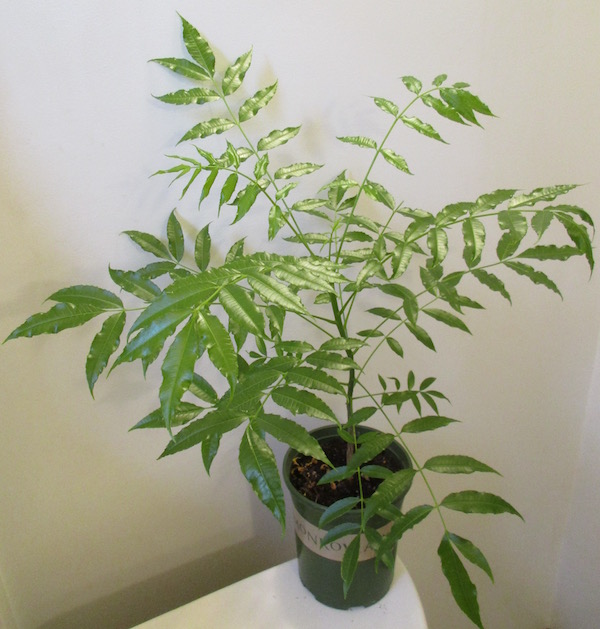 Spondias dulcis; photo by ALJ