The plant genus Solanum is very large and diverse. According to the 3rd edition of Mabberley's Plant-Book, it has some 1,250 species, tied for 8th place with the orchid genus Dendrobium. The largest genus of all is Astragalus with 2,500, followed by Bulbophyllum 2,000; Euphorbia 1,900; Psychotria ca. 1,850; Carex 1,800; Peperomia 1,600; Begonia ca. 1,400.
If one uses estimates from another source, such as The Plant List, the "top 10" genera will vary. For example, The Plant List accepts 1,199 Solanum. But Mabberley includes within Solanum Lycopersicon and Cyphomandra.
When genera are so large, describing the characteristics and distribution of each species and hybrid is daunting. Hence, all scientists can do is make estimated guesses.
Solanum is widespread, actually subcosmopolitan. The species grow in the tropics, subtropics, warm- and cold-temperate regions, from rainforest conditions to desserts. There are trees 40 feet tall, shrubs, vines and wimpy annual herbs. Some plants are wholly devoid of any hairs, others densely fuzzy. Some are spiny. There are many edible and poisonous species.
Almost 200 Solanum species have been recorded as eaten by people --including 9 of the 11 species I see cited in houseplant literature. Of the edible Solanum species, the six most important in global agriculture are:
S. Lycopersicum L.
= Lycopersicon Lycopersicum (L.) Karst.
= Lycopersicon esculentum Mill.
(Tomato. Love Apple)
W South America & Galapagos.
S. Melongena L.
(Eggplant. Aubergine)
Wild in Burma-Yunnan.
S. muricatum Ait.
(Melon-Pear Shrub. Sweet Cucumber)
Peru: cultivated since 4,200 BC.
S. nigrum L. complex
(Black Nightshade)
Allied species treated similarly (greens eaten as vegetables and ripe berries eaten) include S. americanum Mill., S. lanceifolium Jacq., S. nigrescens Mart. & Gal., and S. retroflexum Dunal.
S. sessiliflorum Dunal
(Indian, Apple, Peach or Orinoco Tomato)
Domesticated by pre-Columbian Amerindians. Brazil, Peru, Colombian Amazon & Venezuela.
S. tuberosum L.
(Potato)
Domesticated in the Andes of S Peru ca. 10,000 y. ago.
Some Nightshades are well known as being poisonous. Many contain steroidal glycosides with different alkaloids. These can cause gastro-intestinal and neuro-muscular syndromes. But most of the toxins are poorly absorbed and are rapidly detoxified after ingestion. Often the quantity is too small to hurt people seriously; frequently cooking detoxifies the food. Because there are so many and diverse species, the edibility or toxicity must be considered on a species by species basis rather than with any general rules of thumb. In some cases, given cultivars are eaten while the wild versions may be deemed unsafe.
The most macabre Nightshade species story I have encountered involves a cultivar of Solanum viride:

S. viride G. Forst. ex Spreng. 1807, non R. Br. 1810, non Schur 1866

This species is from Oceania, Polynesia, New Zealand, and called variously: Green Nightshade, Garland Berry. Necklace Pepper. German Boro-dina.
A cultivar of it with larger leaves and fruit called the Cannibals' Tomato ('Anthropophagorum'), was, in ancient Fiji, eaten with human flesh. Both the leaves and fruit!
Back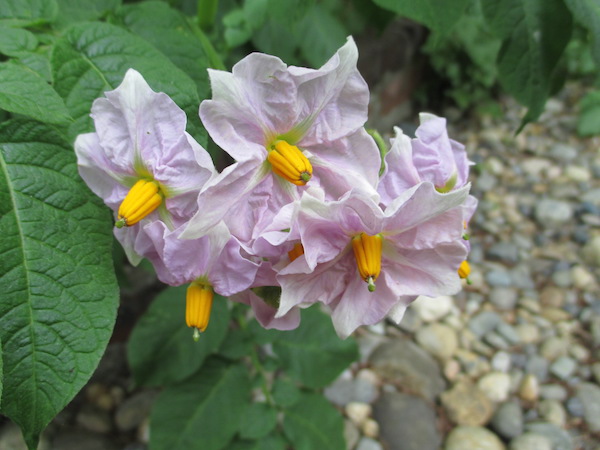 Solanum tuberosum (potato) showing flowers; photo by ALJ