The genus Callitris was named in 1808, from the Greek kallos (beautiful), and treis (three), alluding to the leaves and often cones being whorled in trios. There are 17 Australian species and 2 in New Caledonia. Most grow in semi-desert habitats, on sandy or stony soil. Compared to most southern hemisphere conifers, Callitris may be relatively tolerant of freezing.
I have almost no firsthand knowledge about the genus Callitris, but since several specimens of one species have survived for over 10 years in a place near to Seattle --yet much colder-- I sought to learn more about them, and hereby share my findings with you.
Callitris oblonga is a Tasmanian endemic species, discovered in January 1804 by Robert Brown at Port Dalrymple, and on the banks of the South Esk River, Launceston. Besides northeast Tasmania, it has two rare subspecies named in 1998 in New South Wales.
It is threatened in the wild by habitat loss. As a result, the last remaining significant population was preserved in the South Esk Pine Reserve, of nearly 7 hectares. The Australian Government Department of Agriculture, Fisheries and Forestry issued an Australian forest profile on Callitris that states: "Callitris oblonga is the only member of the genus adapted to riverine habitats, but it can also grow on very dry sites." Thus it has broad ecological amplitude --valuable for cultivation.
Various English names used for Callitris oblonga include: South Esk Pine, Esk River Cypress, Native Cypress, Dwarf Cypress-Pine, Pigmy Cypress-Pine, Pigmy Pine, and Tasmanian Cypress-Pine.
Seeds of it were imported in 1859 to California by San Francisco nurseryman William Walker, and living plants by Stephen Nolan (of Oakland) in 1871. Later introductions have also been made. In England, it received an Award of Merit in 1931. But even in California, it has remained rare and little known. It is represented in some California arboreta and botanic gardens.
Forest Farm nursery of Williams, Oregon, has sold specimens since at least 1988 and well into the 2000s. Cistus Nursery near Portland, Oregon, also has sold Callitris oblonga. And Colvos Creek Nursery of Vashon, Washington, has sold it.
Around 1997 to 1999, several were planted at Lake Washington Technical College, 11605 132nd Avenue NE, Kirkland --across Lake Washington from Seattle. Unirrigated all these years, the tallest there is now 11 feet; I show a photo of one below. They have formed dense, narrow, elegant, pale-blue colored shrubs that recall slender, pale, upright, fine-foliaged junipers. Their branching is naturally fastigiate. I noticed no cones. Some twig ends died in the cold winters.
According to what I read, Callitris oblonga cones should measure 20 to 24 mm long (three-forths to 1 inch long), and on average they contain 33 seeds, which are not released usually until a branch dies or fire occurs. Even after patiently waiting decades in the thick-scaled closed cones, the seeds can remain viable. The foliage can be bright green instead of bluish, but is always more or less glaucous. Cistus Nursery has sold both a green and a blue color variant.
In the wild, it is a shrub usually, rarely a small tree growing from 5 to 10 meters (16.5 to 33 feet), with a trunk 10 inches thick. Only two other Callitris species are smaller. Other Callitris species that are almost certainly fully as adapted to the northern hemisphere, are emphatically treelike.
Callitris in general should be planted in lean soil, not rich, and must have good drainage. But Callitris oblonga is more tolerant of poor drainage than most. It is also less brittle, and more flexible than most. It may dislike strongly alkaline soils. It can be sheared, and made into a hedge.
On the whole, though it perhaps offers no single feature superior to certain northern hemisphere juniper cultivars, Callitris oblonga deserves to be better known and tested in cultivaton. I will appreciate learning from people who have tried this species in the north.
Back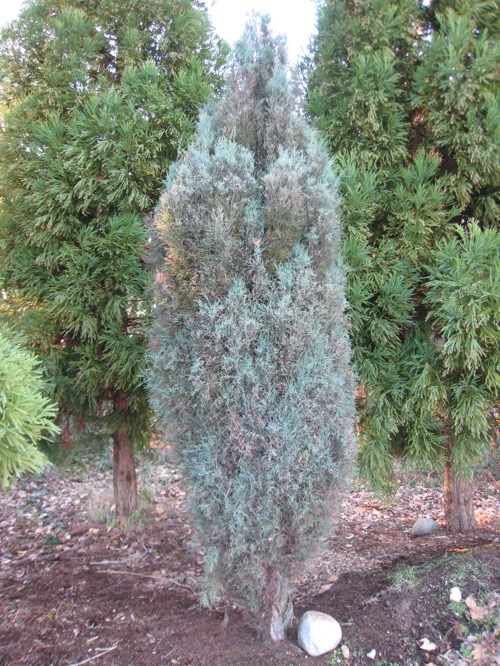 Callitris oblonga at Lake Washington Technical College; photo by ALJ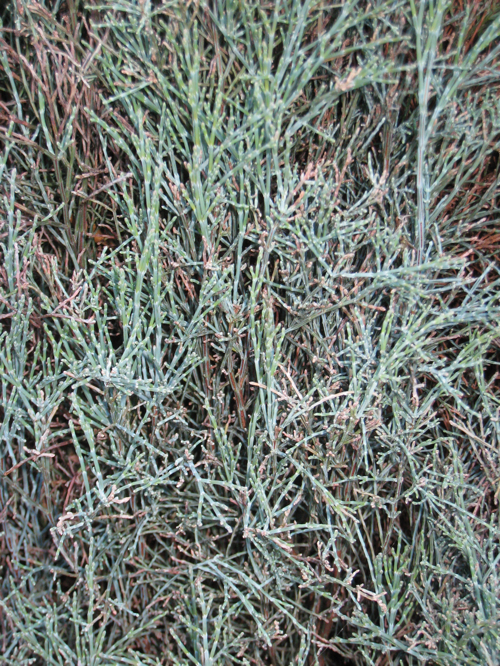 Callitris oblonga; foliage photo by ALJ