The Pipli Tree is a name I coined, combing the Bengali name Pipli and English word tree. I believe the name pipli is pronounced peeplee. This species is also known as Malayan Poplar, and Evergreen Aspen. It is extremely little known in The West. When I first saw it, my jaw dropped; I caressed it, and desired it. Now that I have learned much about it, I share its story with you. More of us should grow it. I just ordered one for my Seattle garden . . .
It is a moisture-loving broadleaf evergreen tree of the witch-hazel family, and grows in Nepal, N India, Bhutan, Tibet, S China (Yunnan, Guangxi, Guizhou), Myanmar (Burma), Thailand, Laos, Vietnam, Indonesia and W Malaysia. Most trees that grow in such countries cannot endure much frost. The Pipli tree --at least sometimes-- is surprisingly frost hardy. In all countries it is valued for its wood; in some it is grown in plantations. It is also used as an ornamental. Though its flowers are utterly inconspicuous, the bold leaves are both highly unusual and attractive. Western observers have likened the tree to an evergreen aspen or poplar. Usually aspens and poplars are prized for their fluttery leaves that dance in the breeze, and turn cheerful yellow in fall. The Pipli tree, being evergreen, lacks fall color. Yet its young leaves are pleasingly reddish.
Notice the 5 synonyms its scientific name has above. The generic name was first (in 1832 by Robert Brown) Bucklandia, to honor the Rev. William Buckland (1784 - 1856), a distinguished English geologist and paleontologist: (www.nndb.com/people). Unfortunately, unbeknownst to Brown, in 1825 the botanist Presl had already employed the name Bucklandia for a fossil cycadoid genus. This conflict slept quietly, undiscovered until 1946, when the inelegant but necessary name Exbucklandia was published. In 1952 the name Symingtonia populnea was proposed --to honor C.F. Symington, the first forest botanist at the Forest Research Institute of Malaysia. In many eastern Asian tree and botany books this name is still used. The name populnea means "like a poplar." Gerok is the common Malaysian name for the tree and timber; in China a name is Ma Ti He; in Vietnam it is Chap Tay.
The 3 - 8 inch leaves are relatively thick and dark glossy green, with 3 to 5 (7) major veins that all arise from the leaf base. Sometimes the leaves have three points. The leaves are silky when very young, but soon wholly hairless. The petiole is 1 to 3 inches long, round and stout; often red. The twigs bear unusually large stipules, that hide the bud and developing leaf blade. The flowers are either unisexual or bisexual, small, in little round clusters, and appear during different months.
The Pipli tree leaves look almost identical to the monotypic and endangered Chunia bucklandioides H.T. Chang 1948 from wet valleys and rain forests at 300-600 m elevation in S Hainan, China.
Different sources describe Pipli wood as "reddish-brown, moderately hard and fine grained, durable and does not warp." "The sapwood is lighter in color but not sharply differentiated from the heartwood, which is deep red-brown with a purple tinge." "Pinkish gray, rather good." It weighs 45 pounds per cubic foot, and is used for plywood, construction, interior works, flooring, planking, door and window frames, beams, rafters, and general carpentry.
There are only two other species in the genus Exbucklandia:
E. tonkinensis (Lecomte) H.T. Chang 1959
of S China, Laos, and Vietnam
E. longipetala H.T. Chang 1959
of montane evergreen forests; about 1500 m. elevation, in N Guangxi, S Guizhou, China
The source I found with the most information about the Pipli tree is Troup's The Silviculture of Indian Trees Vol. V revised and enlarged by H.B. Joshi 1984 (pages 13 - 19). In this volume the tree is stated to grow as tall as 45 m (147.5 feet); a photo shows one in the Darjeeling Hills 43 m (141 feet) tall with a trunk 6.86 m (22 feet 6 inches) in trunk circumference. It is said to withstand minimum temperature -.6 C to -5.0 C (about 20-25 F). It prefers a moist climate, with annual rainfall 2-4,000 mm (6.5 to 13 feet). It is slow from seed, and seedlings are frost sensitive. Stem cuttings in July root about 50% of the time.
You might think it is too cold-tender. But note, in the Himalaya mountains it grows from 5,000 to 8,000 feet (1,700 - 2,800 m) elevation --and seeds collected from colder regions will result in more cold-hardy progeny. People in USDA Zone 8 should try it. Trees from the Malay Peninsula high mountain forests at 5,000 feet elevation will not be as cold hardy.
As for the history of this species in Western cultivation, I have little information. One source credits its introduced to Cornish gardens in 20th century by George Forrest (1873-1932). The U.S. Bureau of Plant Introductions recorded 7 attempts to the U.S. between 1914 and 1928.
In the last 10 years, I know of at least the following nurseries that have carried it in the United States: Sonoma Horticultural Nursery, Cistus, and Heronswood (in 1999). At present the only source I know is Woodlanders Nursery of Aiken, South Carolina; a 1-gallon tree is listed for $18 plus shipping, though the minimum plant order is $25: (www.woodlanders.net)
In January, 2009, I purchased two small trees from Woodlanders. After a few years, I gave one to Dan Hinkley to grow at Windcliff, and in November 2015 gave the other to Seattle University to be grown on its campus. In 2016, a research article in Journal of Ethnobiology and Ethnomedicine stated that ethnic communities of Manipur, northeast India, eat Exbucklandia tender young shoots and leaves raw in singju (traditional salad), or cooked as vegetables or in making chutney.
Various California botanic gardens and arboreta have specimens. The photos I show were taken this month at Berkeley Botanic Garden. The tree there, a 1974 accession, is 44 feet tall, and multiple-trunked --suggestiong that possibly it once died back to the ground and re-grew. I saw only male flowers, which are in my third photo.
Back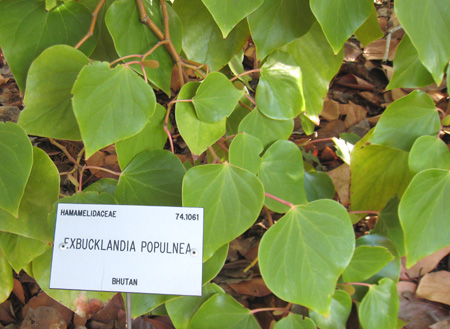 Berkeley Botanic Garden Exbucklandia populnea foliage (photo by ALJ)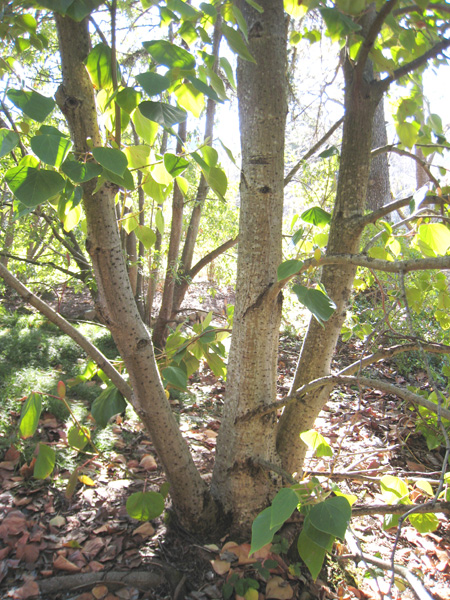 Berkeley Botanic Garden Exbucklandia populnea trunks (photo by ALJ)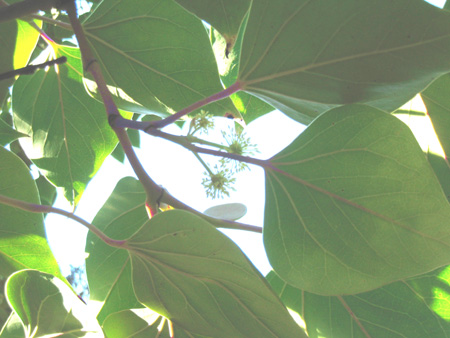 Berkeley Botanic Garden Exbucklandia populnea male flowers (photo by ALJ)