Plant of the Month: January 2007
Douglas Fir
Pseudotsuga Menziesii (Mirb.) Franco
= P. mucronata (Raf.) Sudw.
= P. taxifolia (Lam.) Britt. ex Sudw.
= P. Douglasii (Lindl.) Carr.


PINACEÆ; Pine Family
Seattle owed its early economic health to this tree. Settlers in the 1850s were met by a dense unbroken evergreen forest composed mostly of fir. Clearing the fir-clad hills gave Seattle the room to expand, as well as wood to build with and to export. Douglas fir is still the city's most abundant conifer, largest tree, and a contender for the title of oldest as well. This species also made Washington "the Evergreen State." It coats the hillsides and valleys of millions of square miles in the maritime Pacific Northwest. Uses for its wood seem to be endless --even its bark is now a well known feature of the urban landscape. No other species has such a hold on the commercial Christmas tree market --since 1955 it has been the major Christmas tree. Its visual role in the Pacific Northwest landscape is so omnipresent that it symbolizes the area. Not surprisingly, it is the State Tree of Oregon.
In December 2006, a rain- and wind-storm hit western Washington State, causing unprecedented power outages to people. More than a million people lost their customary electricity. Most of the power outages were caused by power lines disconnected by falling tree trunks or limbs. Most of the trees that caused this were Douglas firs. To be fair, since the fir is more common than say, cottonwood trees, one cannot thereby claim that Douglas fir is more troublesome to power lines than are other tree species. In this article I explain about Douglas fir, with emphasis on its role in Seattle and nearby areas. I conclude that it is a horrible urban tree after it grows to a certain size; it is not a good suburban tree; it is only ideal in a forest or away from roads, power lines, buildings, parking lots and the like. This is an article about Douglas fir; not a comparison of it to other native trees.
Before addressing the tree's role in human-built places, I will describe it as a forest tree. It is a coniferous (cone-bearing) evergreen, a cousin of such trees as spruces, hemlocks and pines. Of all the approximately 220 species in the pine family, Douglas fir has been recorded as the largest in wood volume (up to 18,190 cubic feet), the tallest (up to 415 feet in height), and the stoutest in trunk (18 feet thick) except for Sitka spruce. Though 1,350 is a conservative maximum age, the oldest may live for as long as 1,500-2,000 years, although the vast majority do not reach half that age. Coast Redwoods of greater trunk size abound, and some might have grown taller once --but no records exist to that effect (the tallest presently are over 370 feet). Currently, because of logging, fires and wind storms, the remaining old-growth Douglas firs are few. Giant trees in places such as Olympic National Park measure as tall as about 320 feet, the thickest trunk almost 16 feet in diameter. For readers skeptical of or incredulous about these size figures, I suggest the following books:


Forest Giants of the Pacific Coast by Robert Van Pelt
Seattle: University of Washington Press, 2001 (224 pp.)


Forest Giants of the World, Past and Present by Al C. Carder
Markham, Ontario: Fitzhenry & Whiteside, 1995 (224 pp.)


Giant Trees of Western America and the World by Al C. Carder
Madeira Park, B.C.: Harbour, 2005 (152 pp.)


As to Seattle sizes of Douglas firs, currently, O.O. Denny Park had a Douglas fir 255 feet tall with its trunk 8½ feet thick, but this tree broke off at 91 feet from the ground. The tallest specimen alive there now is 235 feet, the stoutest trunk over 6½ feet thick. Trunks over 6½ feet thick are also at Lincoln, and Seward Parks, and on Blake Island. Heights of 160 - 180 feet are easily found but the number of trees near or over 200 feet is small, though many were once taller before windstorms or lightning broke their towering tops.
Douglas fir grows in a diverse range of environments through much of western North America from British Columbia to Mexico, from sea level to 6,000 feet elevation in California mountains. The natural history of Douglas fir makes it an ideal wood producer, since the goal of the wood industry is to form forests of tall, straight-trunked trees that are easily logged and turned into lumber. It has been the most important timber tree in the United States --even the world. Economic supremacy aside, Douglas fir is the dominant tree presence in Pacific Northwest ecology.
Two characteristics of the mature tree stand out: First, at least in forests, the trunks tend to be straight like telephone poles. They lack low branches and are covered with thick, dark, corky bark that protects them from fire. The bark can be 20 inches thick on very old trees. Second, the trees are dark, due to the density of their inch-long needles.
Douglas fir can be killed by logging, lightning, wind, fire, insects, and fungal organisms such as Phæolus Schweinitzii. The main ecologic factors in its life history are its relatively wide adaptability to soils and rainfall, and its shade intolerance. It reproduces wonderfully after disturbances such as forest fires or clear cut logging. If young specimens become shaded, however, they become pale, grow slowly, and may perish.
The tree can be identified by its slender branches bearing needles ¾ - 1½ inches long, and its pitchy, pale brown, hanging, cones, 2 - 4½ inches long, bearing conspicuously protruding narrow, 3-forked bracts. These are easily distinguished from hemlock, spruce, or pine cones. The cones dangle and in late summer or autumn release tiny winged seeds. The cones gradually blow off the trees; they litter the ground for a few years before rotting away. In contrast, most trees called firs are in the genus Abies: their cones stand upright on the branches rather than dangling, and they break up to scatter their seeds.
So, in terms of kindred, Douglas firs are genetically more closely related to hemlock trees (Tsuga species), hence the scientific name Pseudotsuga given in 1867, deriving from the uncouth combination of a Greek word (pseudes; false) with a Japanese one (tsuga; hemlock tree), indicating the relation of these trees with the hemlocks. The specific epithet Menziesii commemorates Archibald Menzies (1754-1842), Scots physician and naturalist, who discovered the species in 1792-3 on Nootka Sound. In 1825, another Scot, plant explorer David Douglas (1798-1834), rediscovered it and in 1826-7 sent seeds to England. Douglas fir has since then proved popular as a landscape tree. Now over 50 cultivars exist.
But here is the problem. At least in its typical or coastal version, and in an area where it grows rapidly, Douglas fir ultimately grows large enough to pose significant problems in cities and wherever people live. Once tall and old enough it ceases to merely drop twigs and cones, it sheds big heavy branches. My father planted a "living Christmas tree" decades ago, perhaps around 1970. It is now 90 feet tall, and in this past December windstorm it snapped its first branch. It will do so more and more. Over the years I have gradually cut off its lowest branches to allow more sunlight into the garden; currently the tree's lowest branch is 23 feet above the ground.
Because of their size, branching habit and wood structure, Douglas firs usually can be counted on to eventually be prone to branch breakage. Now and then we find an odd individual specimen showing relatively little breakage. Also, in drier rain-shadow places such as Sequim and Victoria, the firs do not grow so large and are apt to be stronger. Genetically, specimens of the subspecies glauca (Beiss.) E. Murr. are likely to prove smaller, stronger and safer in Seattle. Such trees are called the Blue Douglas Fir, Rocky Mountain Douglas Fir, Interior Douglas Fir, Inland Douglas Fir, or Colorado Douglas Fir. This subspecies differs from the typical or coastal race of the species in being relatively cold-hardy, short (rarely 200 feet tall) and broad, with bluer or more glaucous foliage, more prominent cone bracts, and different bark.
Due to a surge in popularity of planting native trees, more and more Douglas firs are being planted in and near Seattle. For example, many line the I-90 freeway on Mercer Island. Dozens were planted at Woodland Park Zoo. These young "politically correct" trees will grow up to shed branches and cause big messes. In new housing developments, old wild Douglas firs are often protected, allowing the new houses to fetch higher prices. Yet such preserved trees, due to a combination of factors such as loss of shelter, construction root-damage, altered water levels, or disease flare-ups, all too often prove likely to blow down; even if they do not, they will shed branches regularly as they grow ever taller.
Douglas firs are native to forests, and in or near human-built things they usually --if only from sheer size-- become high-risk trees. Preventive pruning can minimize such risk. Most arborists who prune Douglas firs only clear out the dead and broken branches, and often leave long branches instead of carefully shortening them. My advice for people who desire large coniferous evergreen trees native in or near Seattle, is to plant western red cedar (Thuja plicata). It is the most wind-firm, rot resistant, strong branched and insect-free of the big coniferous evergreens. It is far better than grand fir (Abies grandis), western hemlock (Tsuga heterophylla) or western white pine (Pinus monticola). However, if your site is notably dry, the cedar will not thrive so well.
If you insist on planting a Douglas fir, realize that the typical or coast form will likely be safe only for about the first 30 or 40 years. The non-native Rocky Mountain subspecies will prove far better behaved. As a bonus, some of its cultivars are as pretty a baby blue as any blue Colorado spruce. To some people, the somber darkness of typical Douglas fir forests is depressing; the lighter color of the Rocky Mountain firs can be uplifting. It is true that in some moister sites the Rocky Mountain trees may get hurt badly by Rhabdocline needle cast fungus. Douglas fir, either its coast or inland subspecies, ought not be planted in relatively damp or shady sites.
Some people object to "species profiling." They point out that any given tree is an individual, and that both its genes and its response to environmental factors as well as human impacts, determine its size, appearance and safety. I agree, but believe there is value in well founded generalizations, such as: it is safer to locate a daycare next door to 3 golden retrievers than to 3 pit bulls. Blanket blacklisting is bad, but so is "situation ethics" run amok with trees. In the southeastern U.S., where both swamp laurel oak (Quercus laurifolia) and upland laurel oak (Quercus hemisphærica) are planted, the latter consistently proves more apt to be heaved by hurricanes. The sad fact of the matter is, Seattle has but few species of native trees --33 by my count-- and none are good urban (downtown) street-trees; every one can be okay in a given residential yard, at least for a certain number of years and with proper siting and care. And all have a legitimate role in swamps, forests or certain parks or greenbelts. What bugs me and prompted this article is the naive belief so prevalent lately that native species are the default preferred choice for planting. If people take a bio-centric view of life, that would be the logical conclusion. But if most of us are going to cluster in congested human-built environments we call cities, then we will do better to broaden our choices to suit our needs for the greenery, beauty and other benefits trees confer.
Back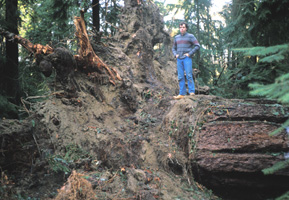 fallen Douglas Fir photo by Ron Brightman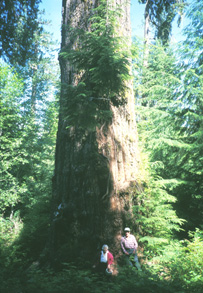 giant Douglas Fir photo by ALJ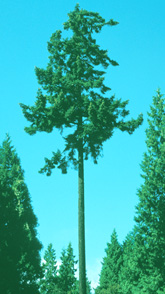 typical Douglas Fir photo by Joy Jacobson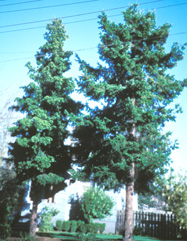 pair of Douglas Firs photo by ALJ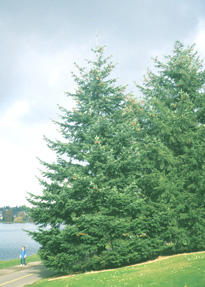 young Douglas Firs photo by ALJ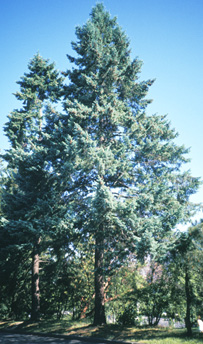 Rocky Mountain Douglas Fir photo by ALJ