Some weeds are relatively common in southern U.S.A. nurseries and greenhouses. One could say that is their prime or preferred habitat. So, when a person such as myself in Seattle buys plants from mail-order nurseries, seeds can and do "hitch-hike" in the potting soil, and sprout to become weeds --or free plants, depending on one's opinion. Here I mention five and feature one of these five species that popped up in my house. At first, I had no idea what species they were. But eventually, I learned.
1) Delta or Pacific Maidenhair-fern
Adiantum Raddianum C. Presl
2) Shield Flower
Dorstenia foetida (Forssk.) Schweinf.
3) Mascarene Island, Tender, or Longstalk Leaf-flower
Phyllanthus tenellus Roxb. 1832, non Benth. 1846
4) Grassy or Grassleaf Spurge
Euphorbia graminea Jacq. 1763, non Schltdl. & Cham. 1830
English names of my featured plant are: Mulberry Weed. Watersnake Hemp. Snake Hemp. Foolish Weed. Hairy Crabweed. Clammyweed. A Chinese name is Shui she ma (Water Hops).
The genus Fatoua was published in 1830 by French pharmacist and botanist Charles Gaudichaud-Beaupré (1789 - 1854). Unfortunately, Gaudichaud supplied no explanation as to the meaning of the name. The 1999 CRC World Dictionary of Plant Names suggests that Fatoua probably refers to one of the southwest Pacific languages. Though various people in France were named Fatou, the genus is scarcely one that anyone would have been flattered to be remembered for. David Hollombe kindly informed me that "since Gaudichaud-Beaupré was a pharmacist in the French navy, it seems likely that he named Fatoua after Jean Baptiste Ambroise Fatou (1786 - 1858), another pharmacist in the French navy."
There is more uncertainty. The genus Fatoua is placed in the Mulberry Family (MORACEÆ) but is anomalous in that most MORACEÆ genera are woody rather than herbaceous, and yield copious white sap. Also, it may be argued that the whole family is best combined with the Nettle Family (URTICACEÆ) --which is where this weed was placed originally in 1784.
The third item of ambiguity is how many species are in genus Fatoua. The Plant List.org and Flora of China accept 3 species: 1 in Madagascar and two in SE Asia. But Mabberley's Plant Book and the authors of Fatoua in PROSEA, "lump" the two SE Asian species. If one accepts two SE Asian species, Fatoua villosa is an annual, of temperate to subtropical areas mostly, while Fatoua pilosa is a perennial of more tropical areas.
Here I quote from the 1999 book Plant Resources of South-East Asia (PROSEA) No. 12(1): Medicinal and poisonous plants: "In Indonesia, the ground yellow roots, known as greges otot, used to be smeared on the legs of children with weak legs. In the Philippines, a decoction of the roots is given against fevers and is effective for swollen gums when used as a gargle. An infusion of the roots is prescribed for irregular menstruation and as a diuretic. In Taiwan, the chewed leaf is considered a remedy against stomach-ache. In Indo-China, the crushed and roasted roots are used to prepare a depurative medicine for women after childbirth."
Tanaka's Cyclopedia of Edible Plants of the World, a 1976 book by Tyôzaburô Tanaka, reports that Fatoua villosa is called in Japanese Kuwa-kusa, (クワクサ ; meaning mulberry herb or weed) and that leaves of young plants are boiled and eaten in scarcity.
Plants for Human Consumption, a 1984 book by Günther Kunkel, notes that young plants are cooked as famine food. Numerous other species in the Mulberry and Nettle families, in various genera, are eaten by people. In general, the leaves possess little flavor; some ripe fruits are sweet. As usual, some species cause dermatitis to people, and many species are edible only if cooked.
Fatoua villosa was noted wild in New Orleans in 1950. Now it is found in most of the United States. It is deemed a major weed. It is a summer annual that can set seed when about 2 inches tall, and reach at most about 4 feet tall; its stems green to maroon (in more sun). The leaves are in shape and toothing similar to those of mulberry trees. They are utterly bland tasting, as are the bristly little fruits. But the boiled young leaves and tender upper portions of the stems are no doubt edible, and if grown in rich soil, nutritious.
Back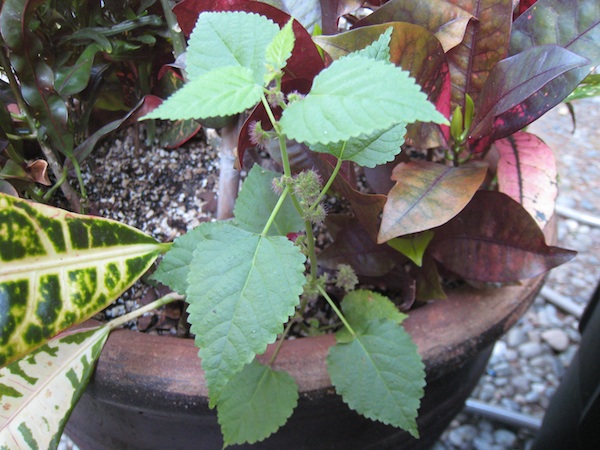 Fatoua villosa in a pot of crotons; photo by ALJ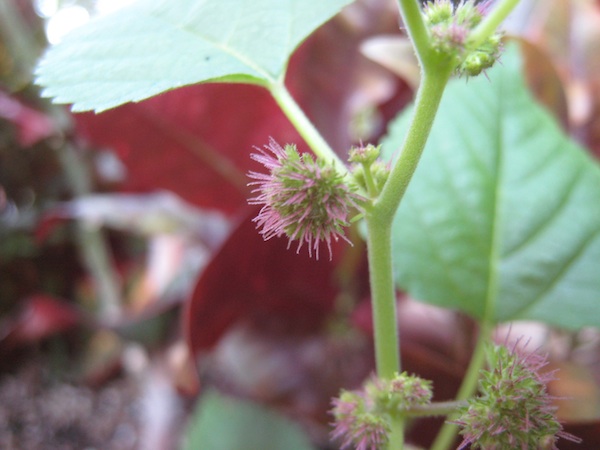 Fatoua villosa flowers; photo by ALJ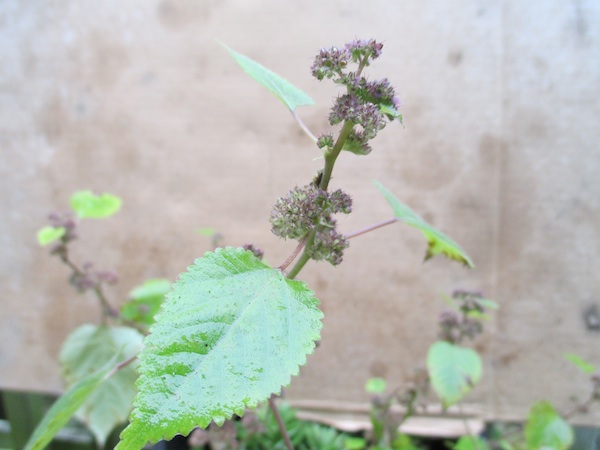 Fatoua villosa fruit; photo by ALJ