Among a plethora of other things, both fine and foul, California symbolizes sunshine and flowers. One of the Golden State's numerous native shrubs is the Flannel Bush, an inelegantly named shrub notable for at least three reasons: 1) strong yellow flowers; 2) lengthy bloom season; 3) horribly irritating hairs. The first two reasons sufficiently outweigh its drawback, supposing that gardeners plant it in the right location --ideally, where it is seen but not handled. Your neighbor's garden, for example.
Most non-tropical shrubs bloom for perhaps ten days to two weeks, then set seed and wait a year to repeat. But to the delight of our appetite for colorful flowers, a happy minority bloom on and on. Very often --if not usually-- such shrubs are human-bred or raised hybrids. The most obvious example are hybrid tea roses. Various Abutilon, Lavatera and Hibiscus shrubs also.
Fremontodendron offers both special opportunities and challenges to gardeners. First, the challenges. Being a California and Mexico native, it cannot tolerate severe winter freezes. Adapted to "dry, gravelly, and rocky soils" in a summer-dry, warm, sunny climate, it is an easy victim of deadly root rot when planted in heavy soil and/or when irrigated by humans or rainfall. The only safe site for it, is one with freely-draining soil, with little or no water. Many gardeners lack such a site.
The value of a content Fremontodendron specimen in a garden, is that from late spring until fall, a succession of heartwarming bright yellow flowers are produced, on a rapidly growing shrub or small tree, that is completely tolerant of pruning for size control or shaping. Also, the dark evergreen leaves, pale and felted beneath, offer a pleasing visual contrast with the showy flowers. And if Fremontodendron neither freezes nor rots, it will be insect- and pest-free --or virtually so.
Gardeners in the Seattle area have discovered that growing the purebred species is harder than the hybrids. The 3 Fremontodendron species recognized are:
Fremontodendron californicum native in California, Arizona, and north Baja California
Fremontodendron decumbens native in El Dorado County, California, and federally listed as endangered
Fremontodendron mexicanum native in south California, NW Mexico
The best known hybrid is 'California Glory' that originated as a 1952 seedling at Rancho Santa Anna Botanic Garden. Its parents were F. californicum and F. mexicanum. It is the one I am familiar with in Seattle, and show photos of. Five other hybrids include 'Dara's Gold', 'Ken Taylor', 'Pacific Sunset', 'San Gabriel' and 'Tequila Sunrise' (bred in England).
The generic name Fremontodendron dates from 1893. Before then, the genus was called Fremontia (1851), because it had been discovered in 1846 by John Charles Frémont (1813 - 1890), a celebrated soldier, general, politician, explorer and natural historian. Alas!, Fremontia the name, however, had already been used in 1843, and so Fremontodendron (Fremont's tree) had to be substituted to be legal.
Until a few years ago, Fremontodendron was considered in the Sterculia Family, but that family (STERCULIACEÆ) has been merged with the mallow family MALVACEÆ. Other shrub or tree genera that you may know in this family include the New Zealand Hoheria, the immense South African baobab Adansonia, the widespread Tilia, and the aforementioned Abutilon, Hibiscus and Lavatera. And, the strictly tropical Theobroma --the source of chocolate.
The original Fremontodendron was called "slippery elm" by early observers, inasmuch as its inner bark was passably similar to that of the slippery elm of Back East: Ulmus rubra, also known as U. fulva. The names Flannel Bush and Velvet Flower are suggested by all the loose fuzzy hairs smothering the twigs, leaves, and flowers. Another name was California or Mountain Leatherwood. Many people just call the plants by the old name Fremontia.
The ecology of the species is that they are fire-adapted chaparral shrubs, growing with scrub oak, mountain mahogany (Cercocarpus), holly-leaf cherry (Prunus ilicifolia), manzanita (Arctostaphylos spp.), Coffeeberry (Rhamnus californica), Ceanothus, and the like.
The leaves are thick, maple- or fig-shaped, prominently veiny, felty and pale beneath. The waxlike flowers have no petals but the calyx is big and petal-like, so serves the same purpose. Depending on the plant, the flower size ranges from about 1.5 to 3 inches wide; bees pollinate them. A stout, bristly, seed capsule results. If you look close at the twigs, you will notice the buds are naked.
If you examine the copious hairs under a microscope, you will be horrified at how viciously sharp they appear --like miniature shards of glass. When I prune these shrubs --which is every year-- I dread the job. The only other plant that causes me similar trouble is planetree (Platanus). Every time one uses pruners to cut off a branch, tiny, sharp hairs are dislodged, and can find their way in between shirt and skin. An amusing account of these is in The Gardener's monthly and horticulturist, Volume 24 edited by Thomas Meehan, March 1882. "A correspondent" writes (pp. 87-88) mostly about the hairs on the seed capsules:
"Ah, the torments I have endured in gathering Fremontia seed! How they sting --the villainous things! As I live by bread, I would almost as soon be rolled in a nest of ants. And to cap the climax, one or two get down the back of my neck, leaving a long stinging trail as they roll over and over on their long journey to my waist. My belief is that the first Fremontia was white. A prehistoric collector came along hunting for seed, began gathering; and the more he gathered, the hotter his temper got, until finally, the sulphurous fumes of his cursing became encrusted on the flowers so deeply and indelibly, that their color was changed and their progeny has retained it to this day."
That is why I advise you plant it in a background, where it can be left unpruned. If instead, it is trained on a wall, as is usually the case, loads of pruning is necessary --especially if snow bends or breaks branches. In the wild, Fremontodendron has been measured as high as 30 feet tall, with trunks as much as 20 inches thick. But some specimens are just sprawling little shrubs. The commonly cultivated clone 'California Glory' is immensely vigorous, and in gardens may eventually grow awkwardly large --and wide. It can be kept to around 10 feet in height if it is pruned yearly. It is also more cold-hardy than most other Fremontodendron.
A specimen in Seattle in north Capitol Hill is right by the sidewalk at 1238 E Crockett Street. The one I show photographs of, is on the 2200 block of E Howe Street, against a garage. It was planted in the 1990s by Sue Moss. At present, it measures 17.5 feet tall and 20 feet wide.
Want more? Stewart R. Hinsley, in England, has made a website full of information about Fremontodendron and its kindred: (click here)
Back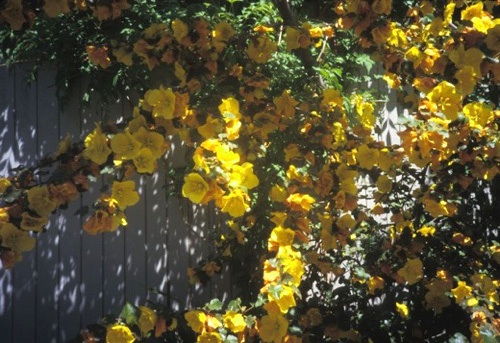 Fremontodendron 'California Glory'; May 14, 2004 photo by ALJ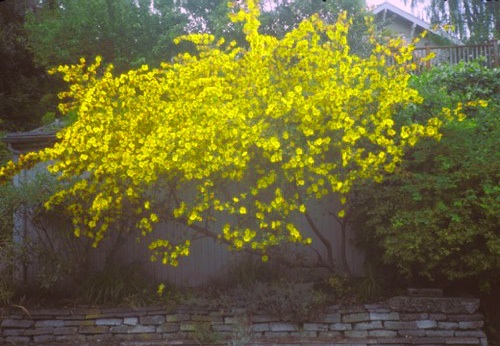 Fremontodendron 'California Glory'; May 21, 2007 photo by ALJ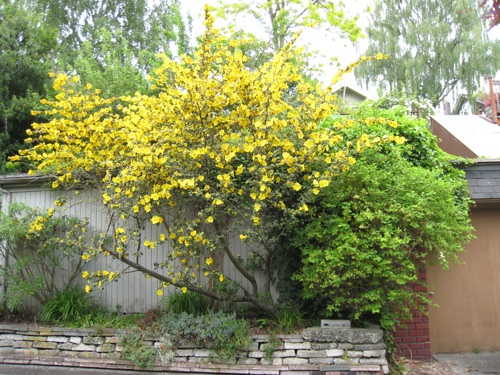 Fremontodendron 'California Glory'; May 26, 2008 photo by ALJ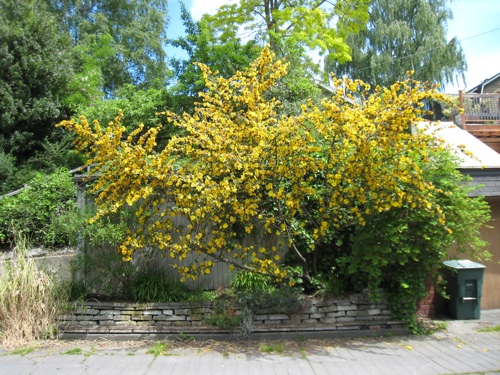 Fremontodendron 'California Glory'; May 30, 2009 photo by ALJ