Plants that thrive in deep shade, yet need little or no summer watering, are most useful in Seattles dry summers. The Catalina Currant is both shade tolerant and highly aromatic. More of us should know it and grow it.
Last March the specimen in my garden bloomed for the first time. I do not recall what year I obtained it, but it came from Cistus Nursery. A month ago in January I studied specimens planted in California, and now am writing what I have learned about the shrub.
Compared to most of its cousins, this species is an oddity. The genus Ribes consists of about 200 species, in much of the world but mainly in cold and temperate regions of the Northern hemisphere. Nearly all are deciduous; many are prickly. They are called usually currants and gooseberry bushes. In the realm of American landscape gardening, at least two are called Evergreen Currant:
Ribes laurifolium Jancz. from China, with showy chartreuse flowers in winter
Ribes viburnifolium --my current subject
The Chinese species needs summer watering to thrive. It has large leaves, and its male and female flowers are borne on separate plants. In contrast, Ribes viburnifolium is drought tolerant when established, and its flowers are bisexual.
Other names for it: Santa Catalina Island Currant, Island Currant, Catalina Perfume, and the stupidly chosen one used by the USDA: "Island Gooseberry."
I first learned about it around 1990, when I saw and smelled one in a very shady spot in a Ballard garden. Inhaling the rich perfume, admiring the handsome foliage, I knew I desired to obtain one for my garden. Its touched leaves release pleasing piney or turpentine fragrance; also described as "wine grapes" scented.
In the wild, it grows in California from SW San Diego County to the south Channel Islands & Baja California --All Saints Bay-- from west of Tijuana to Mesa San Antonio or beyond. In tends to be in canyons and arroyos among chaparral. At least on the California mainland, it has been called "Endangered" in the wild.
It was introduced to cultivation about 1897. But it is still not commonly grown. It is cold-hardy to 15 degrees F (-9 degrees C).
Its stems are wine-red, arching gracefully, prostrate, or gently hanging like a curtain. It grows wider than high. The stem ends touch the ground and take root. The flowers are small, red, and appear anywhere from February into May --usually March or April in Seattle. Hummingbirds and bees like the flowers. Little red berries can follow. They are not worth eating.
Besides being shade tolerant and needing no summer irrigation, it resists deer browsing.
A wholesale nursery, San Marcos Growers, has introduced cultivar 'Spooner's Mesa' (San Diego Evergreen Currant) "This variety has larger leaves giving the plant a fuller and denser appearance. Collected on Spooner's Mesa (southern San Diego County) along the Tijuana River estuary near to Mexican border by Dylan Hannon."
A good local mail-order nursery source for Catalina Currant is Colvos Creek Nursery (www.ColvosCreekNursery.com) and a California nursery is Las Pilitas (www.LasPilitas.com).
Back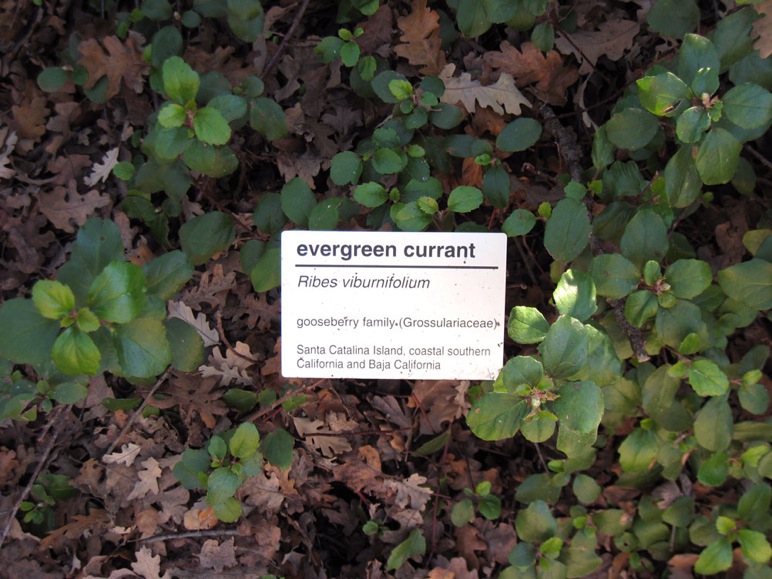 Ribes viburnifoliumn photo by ALJ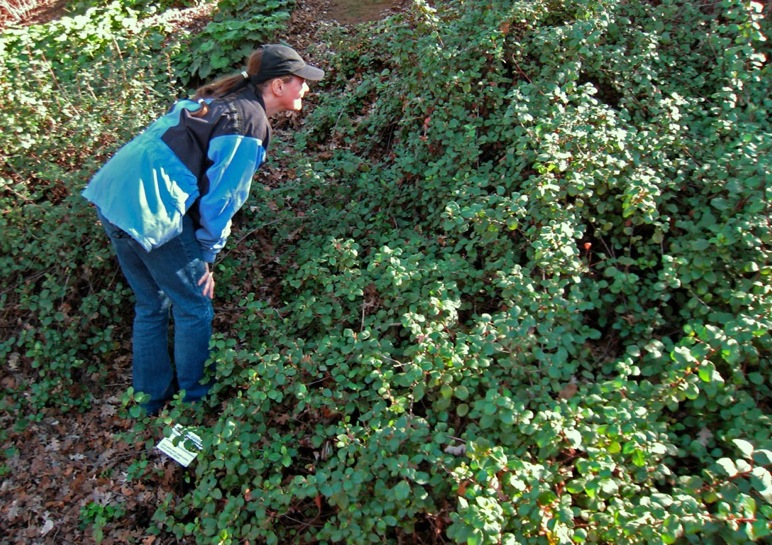 Ribes viburnifoliumn photo by ALJ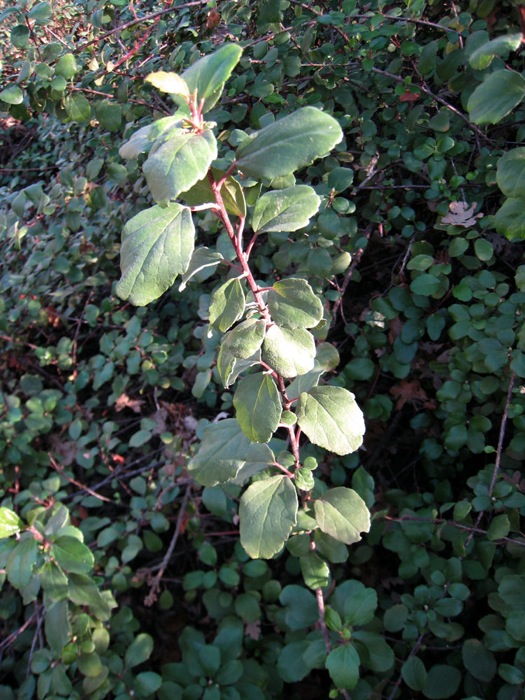 Ribes viburnifoliumn close-up photo by ALJ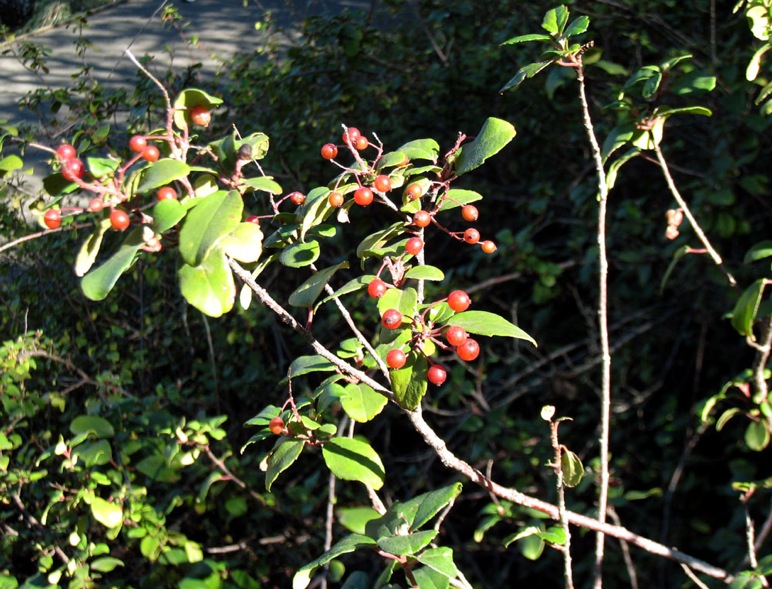 Ribes viburnifoliumn berries photo by ALJ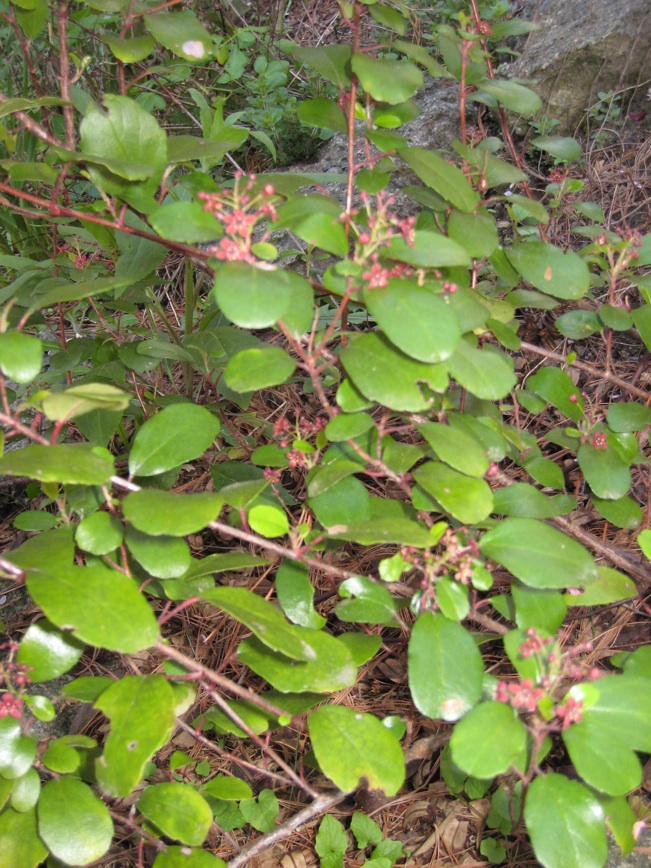 Ribes viburnifoliumn flowers photo by ALJ