The cutleaf tanoak is a superb ornamental tree, too little known, burdened with an unwieldy 16 syllable scientific name: Lithocarpus densiflorus f. attenuato-dentatus. (Make that 18 syallables. It was renamed Notholithocarpus in July 2008!) I will tell its story, but first must go into detail about its parent, the ordinary tanoak.
The genus Lithocarpus has been described as oak-like and chestnut-like; that is, with features intermediate between the genera Quercus and Castanea. Dating from 1825, the name Lithocarpus is from the Greek lithos, stone, and karpos, fruit, alluding to the hard shell of the acorn of the species first described: Lithocarpus javensis Blume. There are 100 to 300 species of Lithocarpus, all broadleaf-evergreen trees or shrubs, nearly all relatively cold-tender and in eastern and southeastern Asia.
The lone North American species is native from southwest Oregon into California, reaching its greatest size in the coast redwood forests. It can become a magnificent tall tree in optimal growing conditions. It can tolerate winter frost as well as summer heat and dryness. The bark was highly valued for tanning leather, but its wood little used, so in the late 1800s and early 1900s most of the trees were cut down.
In his 1910 book The Silva of California, Willis Linn Jepson wrote: "The bark furnishes the best tannage known for the production of heavy leathers and extensive tanning plants are among the manufactories in California." The bark is up to 1.5 inches thick, and is peeled from May to July. Jepson adds that most of the peeled trees were allowed to rot in the forests, but that they sprout readily from the base.
Other common names applied by early woodsmen or explorers are: burr oak, chestnut oak, and sovereign oak. Indians leached the tannins from the acorns and used the meal to make a flour for cooking.
As for size, Jepson reported specimens "commonly 40 to 100 feet tall but frequently 150 feet high, the trunk 1 to 4 feet in diameter, clear of branches for 15 to 70 feet." And in 1914 one was reported 208 feet tall, its trunk 4.5 feet thick. It stood on the Little Sur River in Monterey County, California.
Regular tanoak has been cultivated since 1865. But it is seldom grown as an ornamental tree. It lacks the gloss of hollies, the showy sweet flowers of evergreen magnolias, and the fragrant elegance of eucalypts. In Seattle it tends to be dull green and utterly dense, and its seedlings weedily come up beneath it. The joy of its cutleaf mutation is that there is neither undue density nor any seedlings. Attributes of tanoak in general include tolerance of both full sun and dryness as well as shade and rainfall or irrigation. A drawback is that the flowers, produced in June or July, smell offensive to many people, and are messy.
The flowers are borne in slender upright spikes 2 to 5 inches long. They are creamy white. The bottom of the spikes bear female flowers that give rise to plump acorns, up to 1.5 inches long, in burry cups, borne on stout fuzzy stalks.
The leaves of the typical tanoak are always thick and prominently veined; they vary in size and toothing. The largest attain 8 inches long and more than 3 inches wide, but most are less than 5 inches long. In early spring the emerging young leaves are silvery with hairs and contrast beautifully with the old dark green foliage. As shown in the scan below, the uppersides of the leaves are dark green, the undersides pale.
The cutleaf tanoak was discovered by Dale O. Hall in January 1962, in Yuba County, California. It was named officially, and its story told in the botanical journal Madrono, Volume 20, number 4; 1969; pages 221-225. Here I paraphrase from that article A mutant of Lithocarpus densiflorus. There was more than one specimen, they were shrubby (less than 8 feet tall), and grew about a mile north of the town of Challenge. Later, more were located, all within Yuba county. A geneticist suggested that these trees were the result of a sub-lethal recessive mutation. It breeds partly true via acorn. Because it breeds partly true and dozens existed, it was given the botanical status of a forma, (abbreviated as f.) whereas if there had been just one specimen it might have remaimed undescribed scientifically, or been given a cultivar name.
Specimens of the cutleaf tanoak have been grown from cuttings, and perhaps more than one clone has been propagated. Specimens are grown not only in North America but in Europe. As far as I have been able to discover, the largest trees are in Washington State. In 1971 Arthur and Mareen Kruckeberg raised two specimens from rooted cuttings, in Shoreline, Washington. In 1993 the larger of these measured 40 feet tall and 25 feet wide. Ten years later in 2003 it had increased to 48 tall and 38 feet wide. An example 21 years old in Kent, Washington, raised by George and Susi Pinyuh, is 44 feet tall (53.5 feet at the end of 2009) and 39 feet wide.
The cutleaf tanoak trees are evidently sterile even though they make flowers. Their growth rate may indeed be slow and a dry sunny site, but in irrigated gardens with fertile soil they grow luxuriously. Calling them shrubby is simply not accurate. Since they do not expend energy making the thousands of acorns that ordinary tanoaks make, (In 2004 one specimen in Kent, Washington, has made acorns) they have more energy for vegetative growth. And it appears that even as the leaves are elongated (attenuated), so are the limbs and the terminal leader. The result is a relatively open, airy tree.
Public garden specimens of cutleaf tanoak exist at Hoyt Arboretum and Leach Botanical Garden in Portland, Oregon, and in bed 114 at the Carl English Gardens at the Hiram M. Chittenden Locks in Seattle. In California it has been planted at Berkeley Botanic Garden and Rancho Santa Ana Botanic Garden.
Over the years the cutleaf tanoak has been sold sparingly by various nurseries. MsK Rare Plant nursery (now part of Kruckeberg Botanic Garden; 206 546-1281), Cistus, and Heronswood are three that I am aware of.
I have nothing but praise for this form. Let us hope that the sudden oak death syndrome (Phytophtora ramorum), that has killed thousands of tanoak specimens in the wild since 1995, does not get into our gardens and kill our planted trees. I must say that the cutleaf tanoak's lengthy name is absolutely accurate in a descriptive sense, but utterly offputting in its greatness. Calling these trees Cutleaf Tanoaks is far easier and almost as descriptive.
Back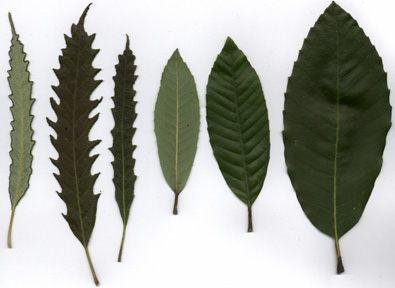 Lithocarpus leaf scan by ALJ