In Seattle, Mexican Orange proves one of the more common ornamental shrubs because it combines ease of cultivation with pronounced beauty. Even with minimal attention it charms us with its relaxed, charming mien. It is especially fetching next to coarse, dull-leafed rhododendron hybrids. I have much first-hand experience with Mexican Orange, which is here shared in writing for you.
It is native in Mexico, where it is the most common of 6 species in its genus. Popular names there include Hierba del Clavo. Flor del Clavo. Clavillo. Clavo de Olor. English names are: Mexican Orange. Mexican Orange-blossom. Mexican Mock-Orange. The scientific name Choisya ternata dates from 1823 and commemorates Genevan naturalist, Jacques Denys (Denis) Choisy (1799 - 1859). The ideal way to prounce the name Choisya is to prounce the name of Choisy as he would have done, while adding an a at the end. The epithet ternata refers to each leaf consisting of three leaflets as does a clover. The leaves are luscious rich glossy green.
It is an evergreen shrub of sprawling, floppy habit. It can grow about 10 feet tall and twice as wide, so is pruned much lest it get "out of control." Many months of the year find it with small white flowers whose scent to some recalls orange blossoms. Few shrubs bloom more freely. The foliage of the plant is scented, too, as are those of most of its relatives in the rue family.
Various cultivars and hybrids exist. My experience is with the typical version.
In Seattle, it is planted often right up against houses, and succeeds whether it faces north, south, east or west. It can be watered during summer, but also can be left alone in that regard. If it is given much water, it is more likely to develop fungal dieback from diseases such as Phytophthora. For the most part, a branch here and there dies. But I have seen plants die entirely, and in other cases look so ugly from disease that they were killed by owners.
Severe winter freezes also cause injury in Seattle. The branch tips are killed. After it is obvious in spring what is okay, what is hurt, and what is dead, one prunes off the blemished pieces. People in very cold climates can grow Mexican Orange in a conservatory.
For the shrub to look most attractive and healthy, shading it from summer's heat on a southwest wall, is advisable. That is: it looks healthiest if it does not bake. Heat and dryness encourage mites. Use a southwest facing wall for plants that require heat. Since Mexican Orange will thrive on a north or east wall, put it there. Also, planting it where the soil drains freely will minimize root-rotting fungal diseases.
In Seattle, and elsewhere, largely, the plant seems to bloom with abandon, yet seldom or never sets seeds. So it is propagated by cuttings or layers.
As for non-ornamental use, in Mexico people have employed an infusion of the leaves for antispasmodic and stimulative properties; essential oil from the leaves was found by scientific tests to be anti-inflammatory.
Not reported edible or toxic, Mexican Orange is related to genera that contain edible species, such as Adenandra, Calodendrum, Casimiroa, Dictamnus, Flindersia, Phellodendron, Skimmia, and Zanothoxylum. It is the only Rue Family genus (of 16) in my edible houseplant study with no reported edibility. Its leaf flavor is spicy to extraordinary degree, suggesting possible use as a flavoring. Considering that, and because I am curious, I snipped some flowering tips, then dried them (at 118 degrees F), finally grond them into something to use as one would Italian seasoning, on pasta, pizza, or rice. My goal was to discover if Mexican Orange is a desirable flavoring or not. Three variations were tested: leaves only; flowerbuds and flowers only; and a blend of leaves and flowers. None of the three excited me. It is entirely possibly that combining ground Mexican Orange with other dried plant material may result in a pleasing blend. I will try.
Back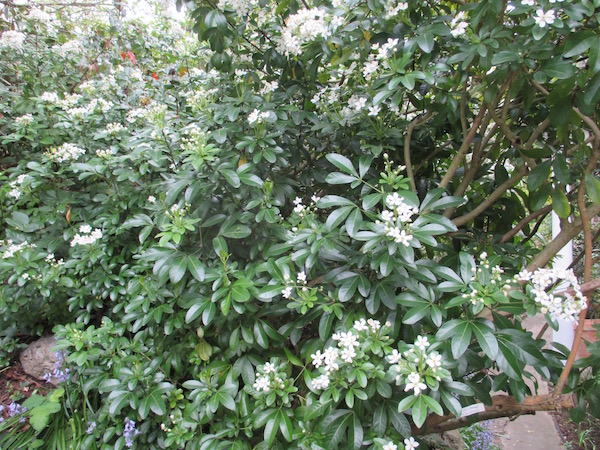 Choisya ternata photo by ALJ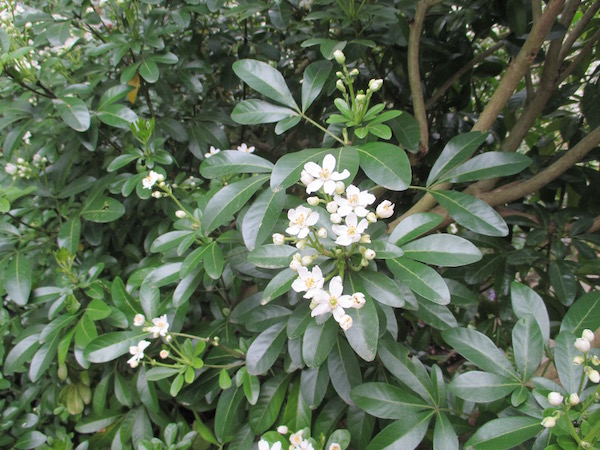 Choisya ternata; photo by ALJ