In August 2015, I bought a potted plant of Wercklea ferox, because it was unknown to me yet alluring. It looked attractive, cost only about $20, and I desired to become better acquainted with it. This article shares what I have learned.
When first described scientifically in 1848, it was called a member of the Hibiscus genus. Only in 1981 was it transferred to genus Wercklea. Nowadays, due to molecular genetic studies, plant taxonomists must either place Wercklea back into a much larger genus Hibiscus, of over 700 species, or split Hibiscus into various relatively small genera, hard to distinguish. (Or do nothing, hopeful that someone else will tackle the job.) I favor lumping, as was proposed in a 2005 article in Australian Systematic Botany 18(1) pages 49 - 60: "We argue that including over 200 species from several genera within a broadly defined Hibiscus causes fewer nomenclatural changes overall than do alternative schemes, while promoting stability and attempting to minimise change to well known species."
Whether one chooses to recognize Wercklea as a separate genus from Hibiscus or not, is an academic point. Individuals will still cultivate specimens and use whatever name they prefer.
The Spiny Hibiscus, also known as Prickly Umbrella, is native in Costa Rica, Panama, Colombia, Ecuador, Peru, and Bolivia. As such it is the most widespread of about a dozen Wercklea species. Furthermore, it is the most variable species. It can be a stout herbaceous plant, a shrub, or a small tree to about 20 feet tall, and though usually spiny, can be nearly or utterly spineless.
All Wercklea species are native to tropical Central America, the West Indies, and NW South America, in relatively wet habitats such as river banks or cloud forests. They are light-wooded, and the tallest recorded was 20 m (about 65 feet). The genus was named after Carl Wercklé (1860 - 1924) Costa Rican botanical collector.
Though introduced in 1824 as a "stove plant" ornamental to England, Wercklea ferox has remained rare in cultivation in the United States, and only in this millennium has it been sold by several nurseries, mostly in Florida. Its selling points include its dramatic large leaves, up to 2 feet wide, corrugated and prickly, with reddish veins; red and yellow flowers; and an ease of growth. It may be kept in a container, and so long as it gets enough moisture and is warm, it thrives. In more sun it will bloom better and have more colorful red veins. Ideally, one would grow it outdoors in the summer, and protect it inside during winter. Frost will either injure it much, or even kill it.
It has not been advocated for growing in houses, but rather conservatories or greenhouses. Well, mine so far is doing fine in my house. There are over 60 Hibiscus species that have been recorded as eaten by humans. I figured that Wercklea ferox might be edible, too. A plant usually defends itself against herbivory by one means or another, such as: hairiness; astringency, acridity, bitterness or toxicity; leathery foliage; prickles, spines or thorns. Many plants that are prickly, spiny or thorny actually are good eating when their leaves are very young and tender. I tasted young tender leaves of my Wercklea ferox and found them, as with certain Hibiscus, to be juicy, pleasantly gratifying, and a bit slimy. The peeled leaf stem was the easiest part to consume. If mine makes flowers, I shall taste them.
If a clone with few or no prickles is selected, it would be a useful "perennial vegetable." If a different Wercklea species tastes as good, and is as easily cultivated, it would be good to grow, too. The various Wercklea species vary in whether they are prickly or not. This genus deserves more attention.
My illustrations below show first Wercklea ferox drawn by W.H. Flint in Curtis's Botanical Magazine vol. 74 (series 3, vol. 4) 1848; then photographs of mine. Due to lack of sun in Seattle's winter, the plant's winsome red color faded away; it may return next summer.
Back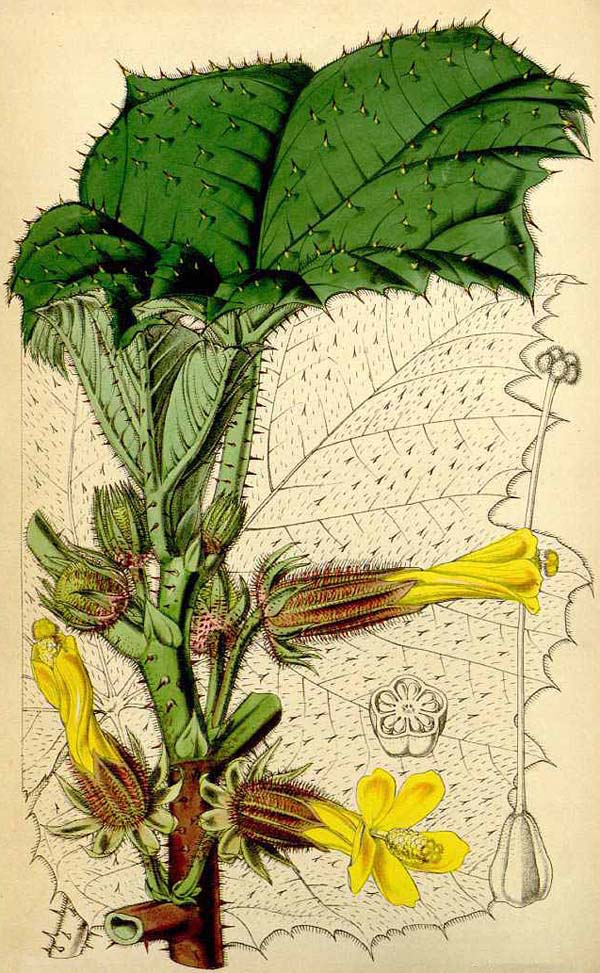 Wercklea ferox ; W.H. Flint drawing from 1848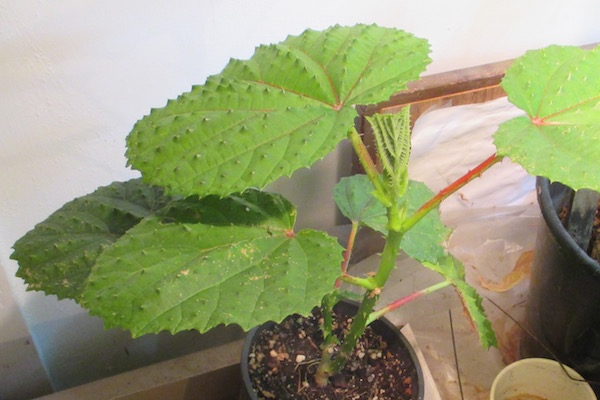 Wercklea ferox ; August 29 photo by ALJ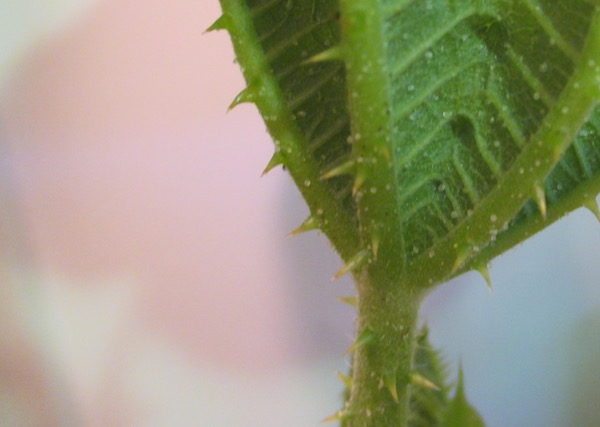 Wercklea ferox ; September 5 photo by ALJ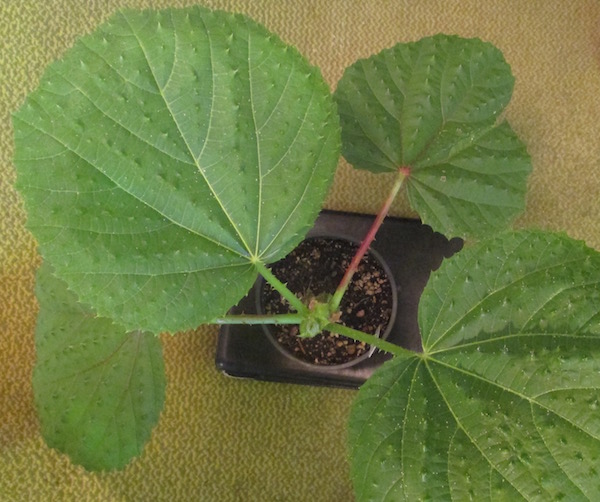 Wercklea ferox ; Sept. 29 photo by ALJ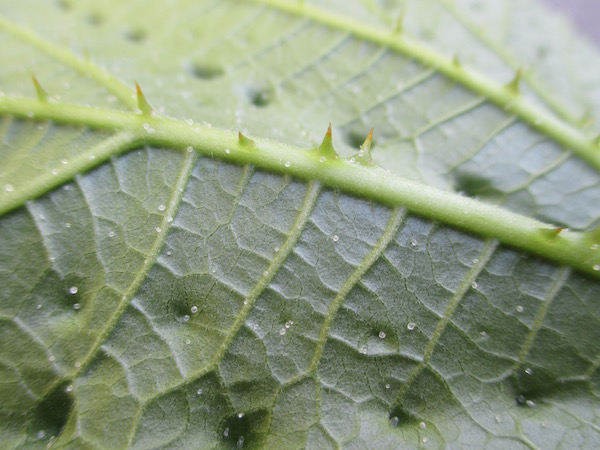 Wercklea ferox ; leaf underside Sept. 29 photo by ALJ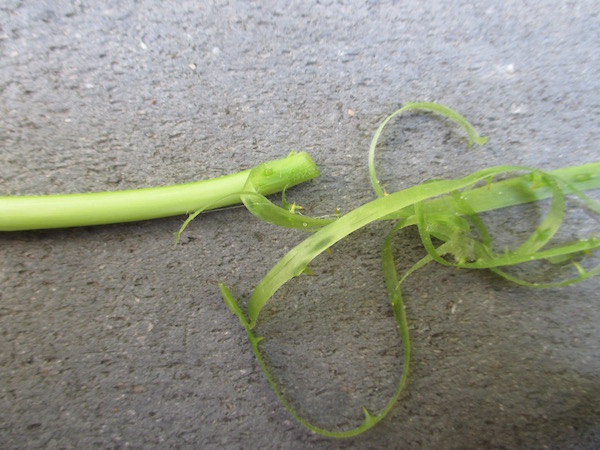 Wercklea ferox ; peeled leaf stem Sept. 29 photo by ALJ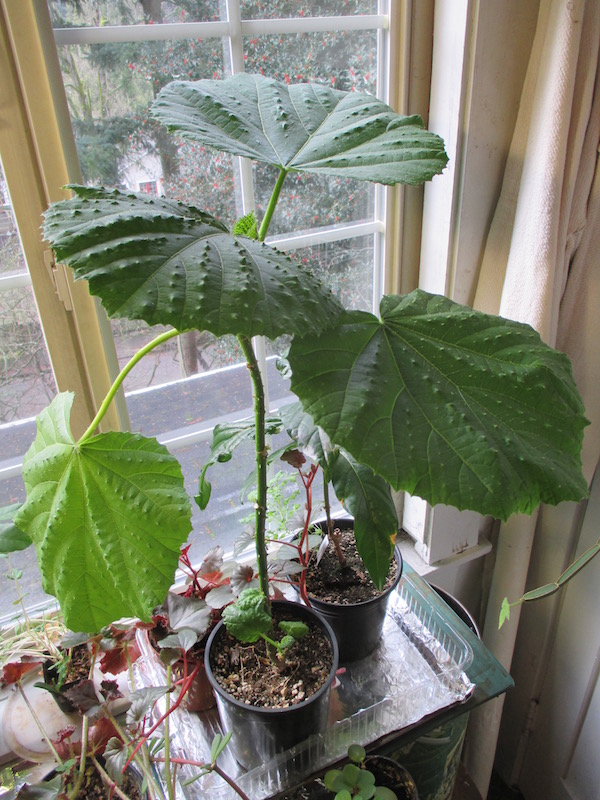 Wercklea ferox ; December 29 photo by ALJ