Plant of the Month: December 2011
Pineapple Guava
Acca Sellowiana (O. Berg) Burret 1941
= Feijoa Sellowiana (O. Berg) O. Berg 1859
= Orthostemon Sellowianus O. Berg 1857
MYRTACEÆ; Myrtle Family
This month, I cut down a Pineapple Guava tree that had been planted in my Seattle garden in 1987. It was almost 17 feet tall. Its bark was a pleasing flaky, warm orange-brown; its foliage lovely all year --each leaf glossy dark green on top and felted whitish beneath; its flowers tasted like candy. But because I desired to grow vegetables where it stood, and it blocked so much sunlight, besides having roots in the soil . . . it had to go. Transplanting a 17-foot tall tree was more than I cared to attempt. Thus, the tallest Pineapple Guava tree I knew outside of California or Mexico, became firewood. In Mexico, some can be seen 35 feet tall. Below I show photographs of a big one that once was in San Francisco's Strybing Arboretum.
This species is a cold-hardy guava. Most guavas, of various genera, are tropical; this one is subtropical. It actually needs chilly winters to fruit well. Other names are Feijoa and Fruit-Salad Tree. (I already --May 1990-- wrote an article about the Chilean Guava: here.)
Pineapple Guava is native in high altitude areas of SE Brazil, Uruguay, N Argentina, and likely Paraguay. It was discovered in 1819 by Friedrich Sellow (1789 - 1831), a German gardener, botanical explorer, naturalist, industrious plant collector. It was named in 1859 after João da Silva Feijó (1760 - 1824), a San Sebastian naturalist. It was introduced to northern hemisphere cultivation in 1890. California nurseries have sold it since the early 1900s. Now, over 40 cultivars exist, some more dwarf, some self-fertile; most feature more, larger or otherwise superior fruit. Random seedlings, usually, do not set fruit unless pollinated from another specimen. Ten reported self-fruitful cultivars (still, cross-pollination helps and is advised): Apollo, Beechwood, Coolidge, Lickver's Pride, Mammoth, Nazemetz, Pineapple Gem, Smilax, Trask, and Unique. At one time I had 3 pineapple guava plants. None would bloom; I figured they were too shaded. So I dug up two and gave them away. The remaining one, then --as if to spite me-- bloomed. So I had to go find pollen. In the wild, birds pollinate them.
The flowers appear sporadically in summer; the fruit ripens in fall or winter. Each flower has plump white or pale pink petals that taste like candy, around numerous, long, dark crimson stamens. The fruit is the size of a small egg, and green or at best yellowish when ripe, bruising purplish-brown. It tastes delectable, is sweet and juicy --like a guava with also pineapple flavor; one of my favorite fruits. But to get the fruit to become large, and ripen fully, in Seattle, is a challenge, due to our cool summers. California and such places are far better.
Back


Pineapple Guava tree 17 feet tall; photo by ALJ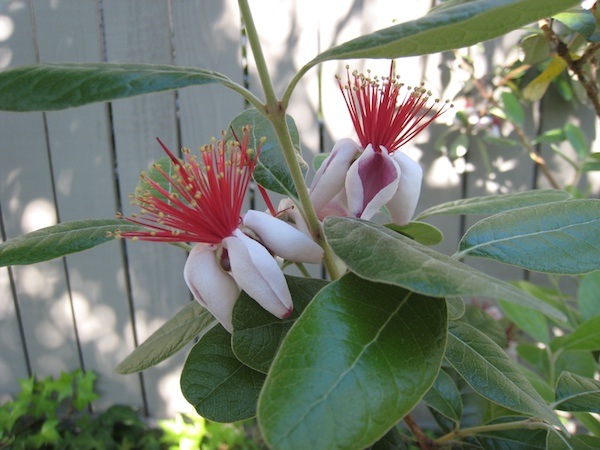 Pineapple Guava flowers in July; photo by ALJ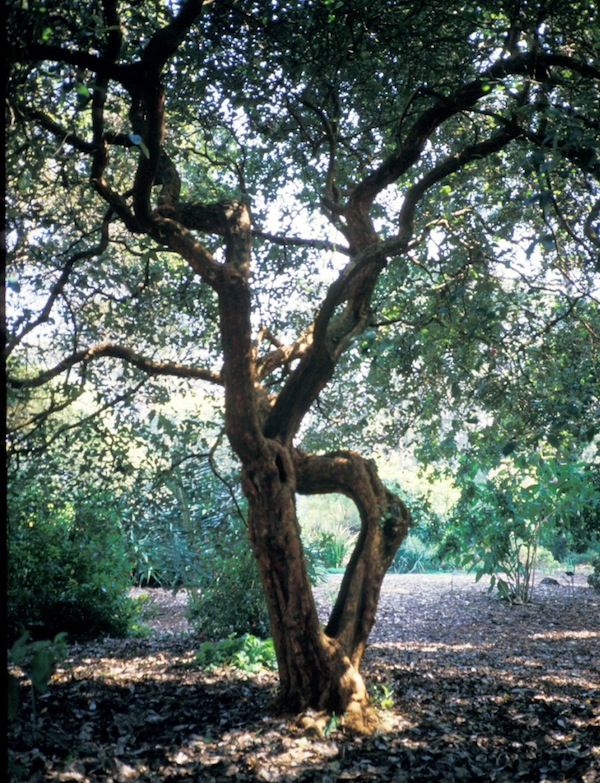 big Pineapple Guava in San Francisco; photo by ALJ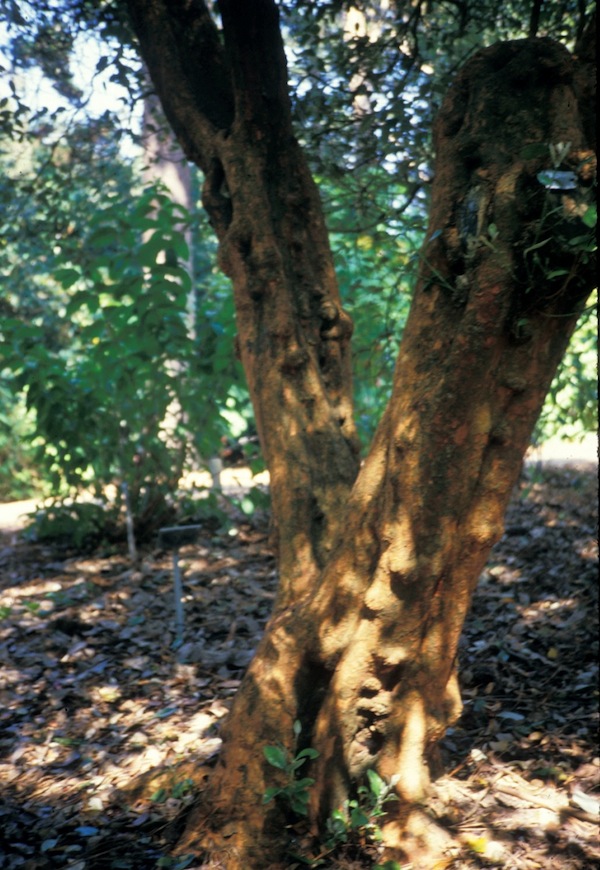 big Pineapple Guava trunk in San Francisco; photo by ALJ