Plant of the Month: December 2002
Oca
Oxalis tuberosa Molina
OXALIDACEÆ; Wood Sorrel Family
Oca is a staple Andean root-crop, surpassed in value there only by the potato. Because it is cold-hardy, productive, tasty and nutritious, many people elsewhere in the world are now testing it, especially in New Zealand. In February of 2000 I bought a tuber from Forest Farm nursery, of Williams, Oregon. Since that time I have not seen oca listed by Forest Farm. A source selling several cultivars is Oregon Exotics Nursery (www.exoticfruit.com). Now I desire to share a few observations about the plant. But first, some background on the whole genus.
Oxalis is a genus of at least 700 species, distributed widely in temperate and tropical regions, mostly south of the equator. The name Oxalis is derived from the Greek word oxys, meaning sharp, in reference to the sour acid juice of the plants. The original species was Oxalis Acetosella Linnæus, widely distributed in the northern hemisphere, and called wood sorrel because it thrives in forests. Like many species it bears three leaflets, and thus is called a shamrock. Most species are perennial herbs, though some are annual, and others subshrubs. Oxalis is the most important genus in the family OXALIDACEÆ. Another genus in this family, of tropical Asian evergreen trees, is Averrhoa, from which comes the carambola or star-fruit.
I have eaten more than a dozen species of Oxalis, and all possess the same agreeable sourness. In my experience, the leaves, flowers and seed capsules all are edible and taste alike. Oxalis flowers vary from inconspicuous to showy; they consist of 5 petals of white, yellow, pink or red; most are bee-pollinated and scentless, but O. enneaphylla has a winsome fragrance that attracts butterflies to pollinate it.
From the human perspective, Oxalis species vary significantly. There are cold-hardy weeds (such as O. corniculata and O. stricta), tender subtropical or greenhouse weeds (such as O. megalorrhiza and O. pes-capræ), houseplants (such as O. purpurea), dozens of species of garden ornamentals for both shady sites (such as O. oregana) and sunny rockeries (such as O. adenophylla), and of course the oca is a food plant.
Livestock such as sheep grazing great quantities of Oxalis can become acutely ill or even die from potassium oxalate leading to kidney failure. This is similar to the toxicity associated from ingesting too much rhubarb, sorrel, or spinach. Eating modest amounts of the leaves in salads, or of the oca tubers, is totally harmless.
As for oca, Oxalis tuberosa, it is lovely as a foliage plant, but still is not worth growing for ornament only; unless one desires to harvest and eat its tubers, it is less pretty than other Oxalis species that bear attractive flowers in addition to the foliage. Oca consists of many cultivars, and some do not even produce flowers. It has been cultivated for centuries in South America, and is no longer found as a wild plant.
It is a cool-weather crop, and the tubers are not dug until hard frosts kill the greenery of the leaves. Tubers vary from round to elongated, and can be white, yellow, orange, red, or mixed. They can be eaten fresh and raw, or dried, baked, fried, or boiled. They vary in their acid content.
Oca is grown like potatoes, but I think it needs less sunshine. The unnamed clone that I bought and have grown, has a mass of greenery, the leaflets of which fold and go to sleep at night. The leaves are arranged spirally along a plump trailing stem, and scattered little hairs cover the plant. I add leaves to my salads. The tubers I have so far only eaten raw, because they are sufficiently crunchy, mild and pleasing that there is no incentive to cook them. Mine are also small, due to the cultivar, the climate, or the culture.
To buy oca tubers consider (www.abundantlifeseed.org) or (www.nicholsgardennursery.com). A third nursery that also has oca tubers, but whose website is still being made, is (www.colvoscreeknursery.com).
Back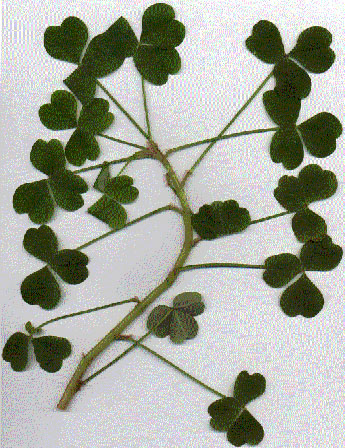 Oxalis tuberosa foliage scan by ALJ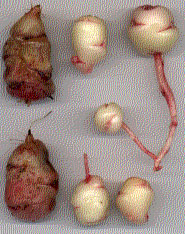 Oxalis tuberosa tuber scan by ALJ