To gardeners in frosty climates such as Seattle has, nearly all Gesneria Family species must be potted and kept indoors over winter, lest they freeze to death. One joyful exception, frost hardy in at least some clones in at least some gardens, is the Mitre Plant. I acquired a specimen and planted it in 2004 in Seattle. This article shows two photos of it and shares what I learned about it.
Genus Mitraria has only 1 species, an evergreen, straggling or epiphytic subshrub that grows in Chile & Argentina in cool, humid temperate evergreen rain forests, either in shade or open sunny gaps.
Mitraria has been cultivated in the northern hemisphere since 1846 when William Lobb sent it to England. Arduaine Garden of coastal Scotland has an old specimen that has grown 40 feet into a tree. Pruning of the plant's long shoots each year can induce more compactness and flowering shoots. Though the leaves are handsome, shiny green, its flowers are the exciting feature.
The leaves are opposite or ternate rarely, toothed coarsely, nearly hairless, one-half to one and a half inches long. Flowers are bright cheery scarlet, 1 to 2 inches long, solitary, pendulous. They are bird-pollinated mainly (some bumblebees), and (in the North) appear May into August --if grown indoors, they can appear during other months. The fruit is a round, fleshy, yellowish-green berry, around half an inch wide, the old floral style persisting when ripe; containing about 100 small brown seeds.
Since the flowers in shape recall Roman Catholic mitres, the scientific generic and English names reflect this. In its native land, Mapuche or Spanish names include: Botellitas. Huechil-huechil. Voqui del picaflor (Hummingbird Vole).
Cultivars exist, including 'David Mason's Robust', 'Lago Puychue' (= Clark's form), 'Lake Caburgua'. The specimen that I bought and show in the accompanying pictures, may be a cultivar but I do not know. It grows wholly in the shade under a Camellia. In the coldest winters, the ends of its most exposed twigs die. It blooms from June into August. It gets ample summer watering. The flowers may be abnormal, because published studies state they ought to contain nectar that is 31% of sugar --sucrose mainly. But I find they taste bitter, are astringent, and devoid of nectar.
Mitraria is propagated easily from cuttings. I tasted one of its berries and found it bitter as dandelion greens. Growing a Mitraria in a hanging basket would work if one had a proper soil mix: acidic, kept moist, high in organic content. The Huilliche people of Chile use the leaves to treat wounds.
Some people make a tea of the leaves and twigs, that is said to be slightly purgative, so I guess is meant as a medicine. This information is from: Incorporación de Especies Comestibles de la Flora a la Oferta Gastronómica, Caso Selva Valdiviana by Alejandra Rios Plaza & Maureen Zbinden Salazar (2010).
Back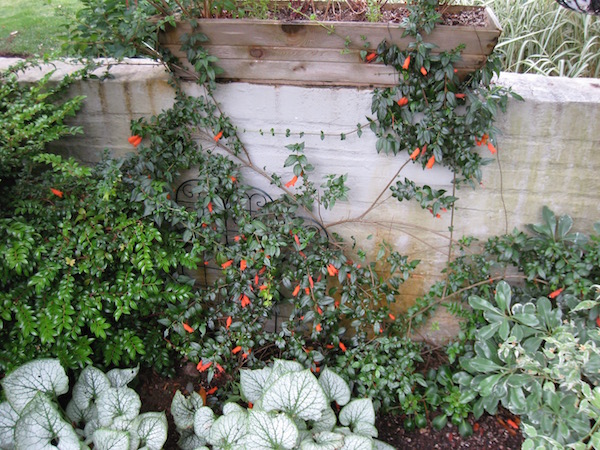 Mitraria coccinea ; flowering in Seattle ; photo by ALJ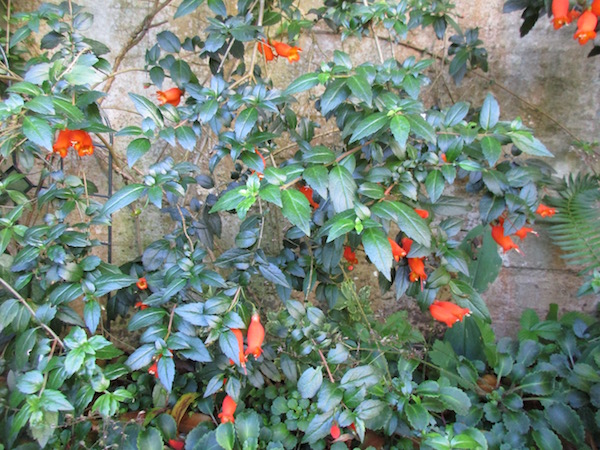 Mitraria coccinea ; flowering in Seattle ; photo by ALJ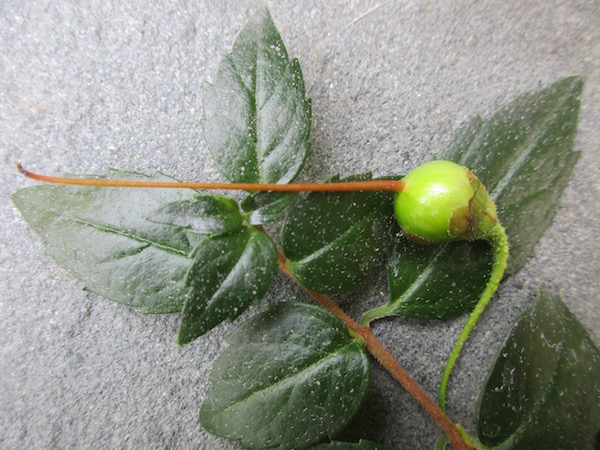 Mitraria coccinea ; unripe berry ; photo by ALJ