Almost 30 species of Arum plants exist, in the Mediterranean region. As with most members in their family, they are toxic to humans --at least if ingested raw. At least 7 Arum species have been reported eaten by humans, after detoxification. Several species have been cultivated as ornamental plants suitable for thriving under deciduous shade trees. At least one species, Arum creticum Boiss. & Heldr. (the Cretan Arum) has been suggested as worth cultivating indoors.
Living in Seattle, my personal experience is limited to an Arum species cultivated and weedy here: Italian Arum, Arum italicum Mill. That is what this article is about. The photographs show a plant under a holly tree in my garden. Leaves vary from plant to plant, so some are colored differently.
Italian Arum is adapted to dry summers. In winter, the leaves surge forth from the tuberous roots. They grow rapidly, photosynthesizing both before they get shaded out by deciduous trees leafing out above them, and before the soil dries in the summer. The plants bloom from late April into June, and their berries ripen to bright orange by August or September.
Each year, the plant makes more leaves, and slowly a clump grows wider.
The leaves vary significantly in shape, size, and degree of marbling. Most are from 6 to 14 inches long, triangular, and most have their veins edged prettily with silver or white contrasting with the dark green. When fresh, from January into April, they are lovely. The plant's floral cloak is ghostly green, 6 to 16 inches high, loosely enveloping a phallic flower-stem.
As William Coles wrote in his 1656 book The Art of Simpling: "The flower hath the evident resemblance of the genital parts upon it, and is a most powerful incentive to Lust." Pollination occurs by flies or midges, who are forced by the flower to stay inside for a long time. By late summer, the floral spike has transformed into stunning, tightly packed bright orange-red berries; the leaves have withered away.
Other names are Large Cuckoo-pint and Italian Lords-and-ladies. Cultivars exist.
It grows easily in gardens, and spreads beyond them. That is why it is weedy. It prefers alkaline soils but does perfectly okay in acidic ones. No shade is too deep for it.
Arum maculatum is a smaller close cousin from England, which may also act weedy in the Seattle area. English names for it include: Lords-and-ladies, Cuckoo Pint, Wake Robin, Wild Arum, Parson-in-the-pulpit, Starchwort,and Snake Food.
Italian Arum has been detoxified to serve as food. Boiling the leaves a few times, for a long time, in several water changes, may render them safe to consume. I have not tried. More usually, the tuberous roots are chopped into fine pieces, and processed to yield a starchy meal used in mush, to bake breads or sweetmeats. I have encountered no reports that the fruit of any Arum species are safe.
If Arum plants are not cooked properly, eating them can cause anemia, body weakness, skin irritation and cardiac disturbances. Even to have the human skin come into contact with the plant --as in making a starch-- causes severe blisters and soreness.
But if one laboriously mashes the roots in a mortar, adding water, straining, drying and washing, ultimately a wholesome starch can be procured, that was fed to invalids hundreds of years ago.
Of 33 genera of plants in the Arum Family, that have been cultivated indoors, 30 have documented human edibility. But most, due to calcium oxalate crystals and other irritations, need thorough preparation first. Certainly Arum is not among the better genera in this regard.
Back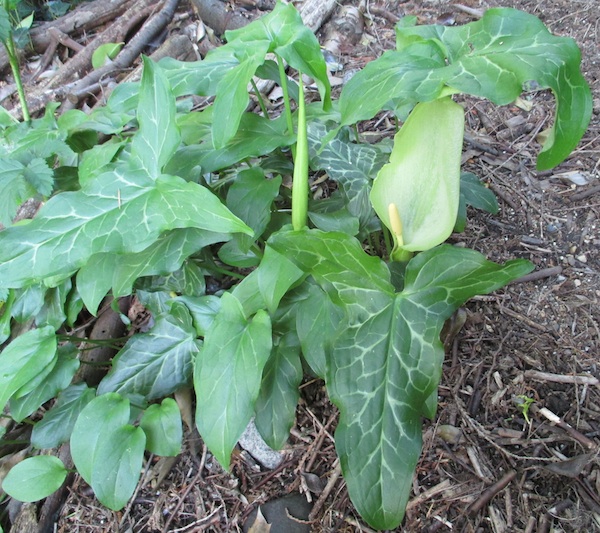 Arum italicum in bloom May 13th; photo by ALJ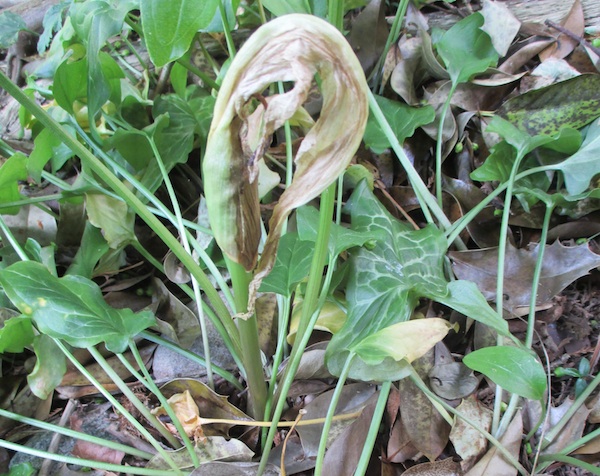 Arum italicum withered floral cloak June 7th; photo by ALJ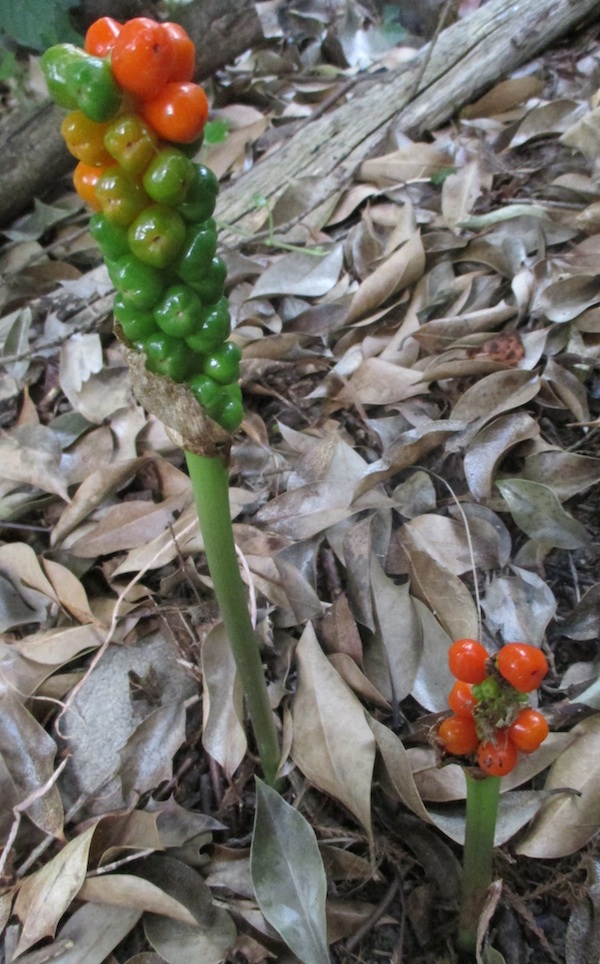 Arum italicum unripe berries August 12th; photo by ALJ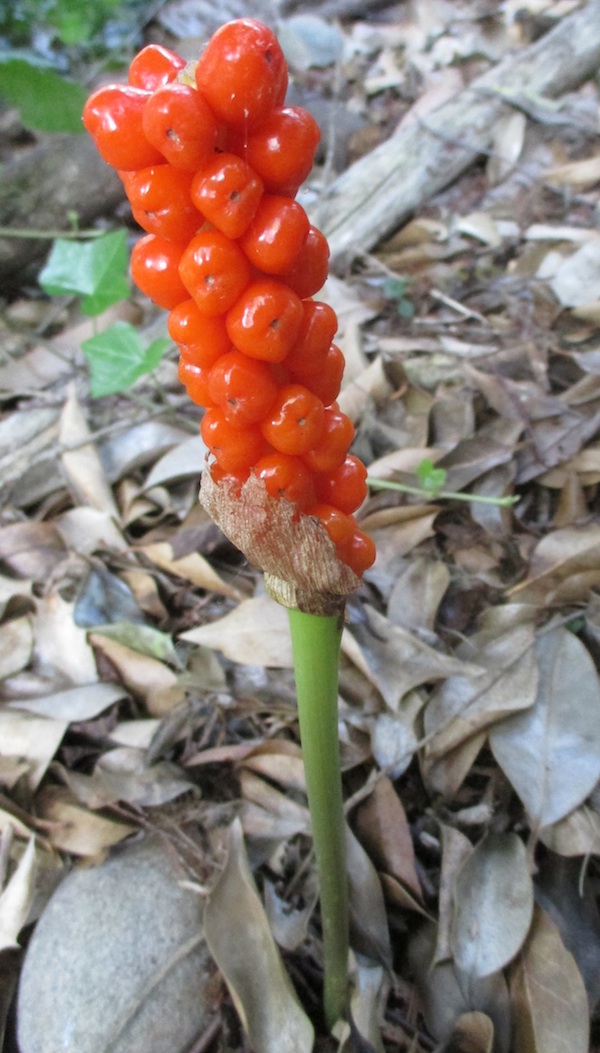 Arum italicum ripe berries August 25th; photo by ALJ