The word Hibiscus conjures flowers of spectacular color, rarely with fragrance, thriving in warm and hot regions. Plant breeders are making more cold-hardy Hibiscus hybrids. But the plants still need sun and heat. In Seattle, most are a flop.
The genus Hibiscus consists of 178 to 675 species, according to whether a taxonomist takes a broad or narrow view. The broader view (my approach) includes under ("lumps under") Hibiscus also other genera such as: Abelmoschus, Malvaviscus, and Pavonia.
Better-known genera related to Hibiscus include Abutilon, Alcea (hollyhock), Gossypium (cotton), and Malva (mallow).
All Hibiscus share in common a need for much sunshine and warmth. I and others have found them unfortunately ill suited as houseplants. At least 47 species are recorded to have been eaten by humans. In most cases, it is edible flowers or leaves, which can be nutritious but are usually bland in flavor, and mucilaginous. A few species are pleasingly acidic (such as Hibiscus Acetosella Welw. ex Hiern and Hibiscus Sabdariffa L.) but none are remarkable for a strong, distinctive or spicy flavor. Some species have fruits eaten, seeds, roots, or even bark!
In the north, Okra (Hibiscus esculentus L.) is the best known vegetable; its full sized but not yet dry seedpods are cooked. In the tropics, Hibiscus Manihot L. is a valuable leaf vegetable, high in protein and very productive. Some Hibiscus are grown as fiber plants. The species most grown for floral beauty --but incidentally edible-- is Hibiscus Rosa-sinensis L. It has a great many cultivars, most of them of hybrid origin.
Species vary from small annuals to trees over 80 feet tall (such as Hibiscus elatus Sw., the blue or mountain Mahoe; the National tree of Jamaica). Most are shrubs. They are found throughout much of the world.
My six photographs below give only a tiny survey of the Hibiscus genus. But, after all, I reside in Seattle rather than the tropics or subtropics. And I have indeed obtained and grown still other species than those shown, but they have not thrived or bloomed for me. For example, the Hibiscus diversifolius shown, bore good-tasting leaves, but never bloomed before it died.
Hibiscus Acetosella Welw. ex Hiern
(False Roselle. Redleaf Hibiscus. Cranberry Hibiscus. Bronze Hibiscus)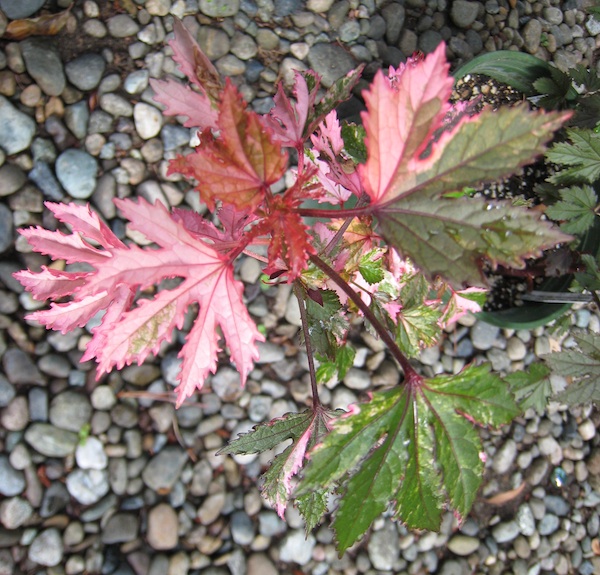 Hibiscus Acetosella; photo by ALJ


Many cultivars; this one 'Haight Ashbury'.
Hibiscus diversifolius Jacq.
(Swamp Hibiscus. Cape Hibiscus. Prickly Tree Hibiscus)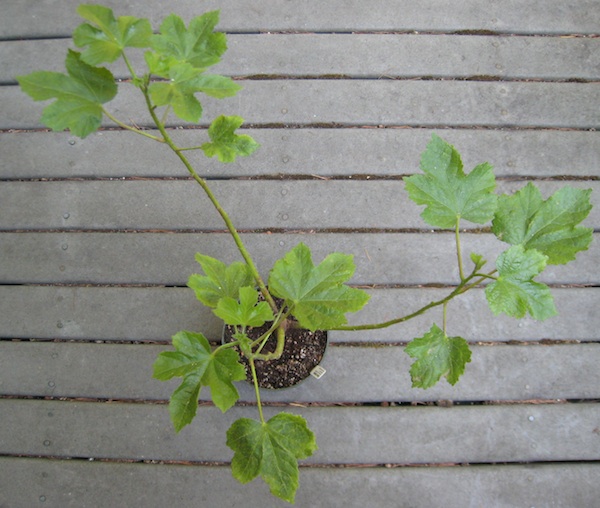 Hibiscus diversifolius; photo by ALJ


Rough, prickly stems, and leaf veins that secrete drops of green that recall masses of aphids.
Hibiscus Malvaviscus L.
= Malvaviscus arboreus Cav.
(Sleeping or Lipstick Hibiscus. Turk's-Cap)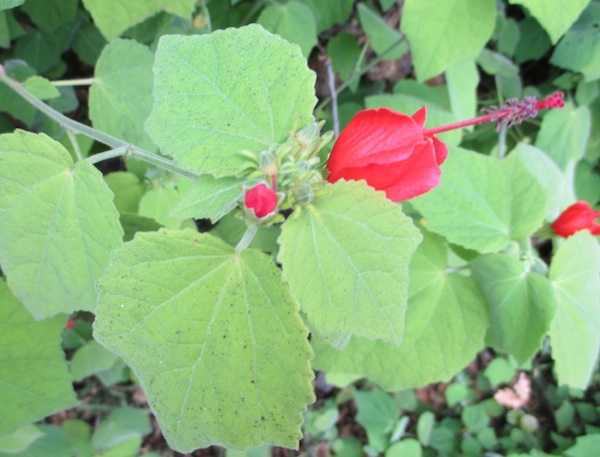 Hibiscus Malvaviscus; photo by ALJ


Flowers pollinated by hummingbirds.
Hibiscus Rosa-sinensis L.
(Rose Mallow. Rose of China, Chinese Hibiscus. Red Hibiscus. Hawaiian Hibiscus. Shoe Flower. Shoe Black)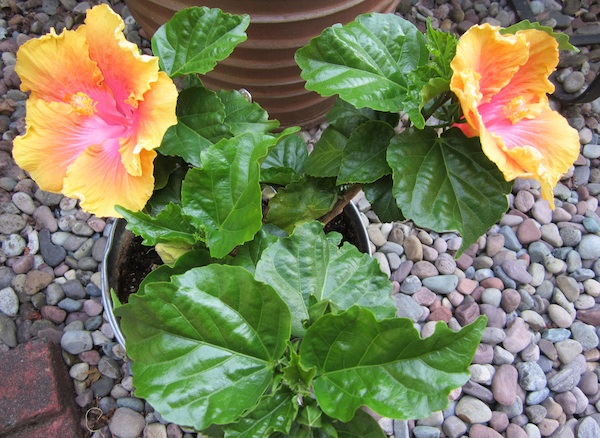 Hibiscus Rosa-sinensis; photo by ALJ


This cultivar is a dwarf, LuauTM 'Lilikoi Yellow'
Hibiscus syriacus L.
(Rose of Sharon. Shrub or Shrubby Althea. Tree Hibiscus)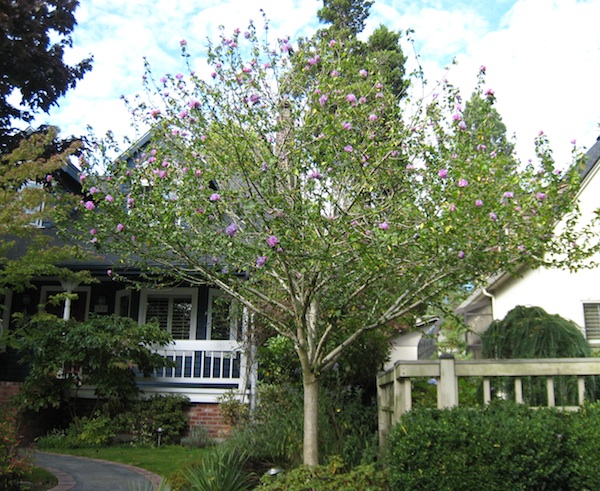 Hibiscus syriacus; photo by ALJ


A cold-hardy small tree. Many different flower colors are available. I have not determined the cultivar name of this tree.
Hibiscus trionum L.
(Flower of an Hour. Venice Mallow. Bladder Ketmia, Bladder Weed. Bladder Hibiscus. Trailing Hollyhock)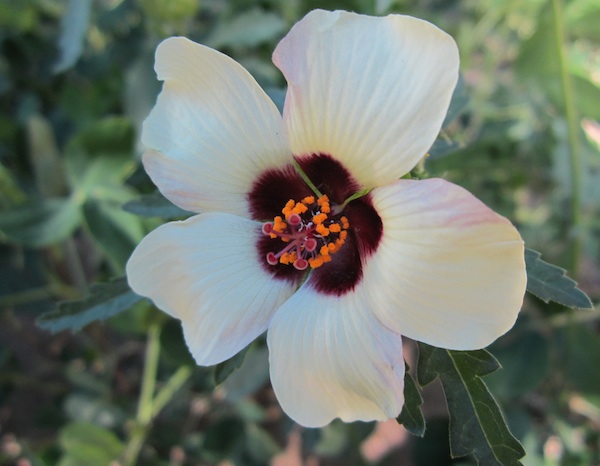 Hibiscus trionum; photo by ALJ


A summer-annual of weedy habit and adorable beauty.
Back