Exceptions to the rule are frequently amusing, sometimes shocking, and always interesting. Most plants in the buttercup family (RANUNCULACEÆ) are toxic --or at any rate, inedible to humans. In fact, a few are notably deadly, such as Aconite (Aconitum Napellus). Many other members of the family taste acrid or bitter, even if they're not deadly.
Despite being in the Buttercup family, some Nigella species have edible seeds.
Love-in-a-Mist
Nigella damascena L.
Due in part to its weird appearance and fun names, I have long liked Love-in-a-Mist. Other English names of this plant include Love-in-a-Puzzle, Devil-in-a-Bush, Jack-in-the-Bush, Lady-in-the-Green, Ragged Lady, St. Katherine's Wheel, and Fennel Flower. The generic name Nigella more or less means little black --in allusion to the seeds. The specific epithet damascena means of Damascus. It was said to be brought from Damascus to northern Europe in 1570.
Love-in-a-Mist hails from the Mediterranean region, and has been mostly prized in North America as a garden flower, partly its seeds enjoyed as a spicy condiment, and scarcely, rarely cursed as a weed.
An annual, its seeds tend to sprout in the autumn, winter or early spring, the plants bloom in summer, then go to seed. Each flower can make up to 100 seeds or more, and larger plants make many dozens of flowers.
The plants grow best in sun, with loose, rich soil. They do not need much rain or irrigation. Cultivars not only exist, but are the overwhelming majority of the plants grown, and usually boast plumper flowers, such as 'Miss Jekyll'. This drawing below by S. Edwards, appeared in The Botanical Magazine, 1787, and shows the relatively simple, original wild version.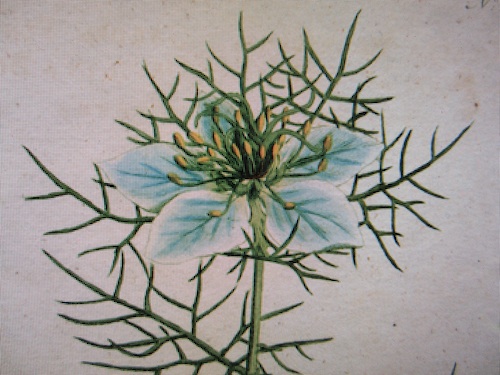 the relatively simple, original wild version of Nigella damascena ; drawing by S. Edwards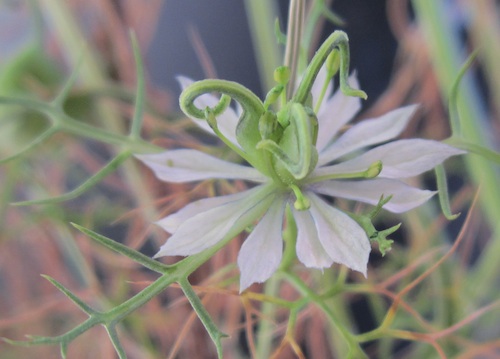 Nigella damascena flower with slender whitish petal-like sepals ; photo by ALJ


The bright green leaves are elegantly filigreed. The flowers are exquisitely odd and "misty" with needle-like segments, around petal-like sepals colored white to pale or dark blue --rarely rose. The ensuing inflated roundish seed capsules are first pale green, but eventually dry and ripen pinkish, then paper-bag brown, opening by slits at their tops to reveal the pure black seeds. The seed capsules are effective as dried decorative features indoors.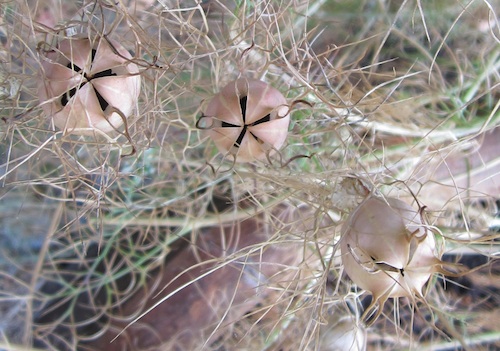 Nigella damascena dry seed capsules ; photo by ALJ


Black Seed
Nigella sativa L.
A close cousin of Nigella damascena, is Nigella sativa, the Black Seed, Fennel Flower, Small Fennel, Black Cumin, Black Caraway, Nutmeg Flower, Roman Coriander. Hindi: Kalongi or Kalonji. Turkish: Çörek otu. It is not grown as an ornamental, but rather for its aromatic, edible seeds. (I actually prefer eating the seeds of Nigella damascena. When dry, they are tasty raw, straight from the seed capsule. To me they are like candy, while those of Black Seed taste more medicinal.)
Nigella sativa is native from SW Asia and NE Africa to NE India. Its seeds were called fitches once, and were in King Tut's tomb. They preceded black pepper as a spice in the Near East. While beneficial in the small amount desirable as a seasoning or flavoring, in large dosages they can be harmful to people.
Herbalists have used Nigella sativa for various medicinal roles such as to combat tapeworms, treat asthma, serve as a galactagogue, assist the immune system, and the crushed seeds in an alcohol extract tested effective against oral cancer. The active ingredient is nigellone, soluble in alkaline or alcohol solutions, but not effective in water extracts.
Back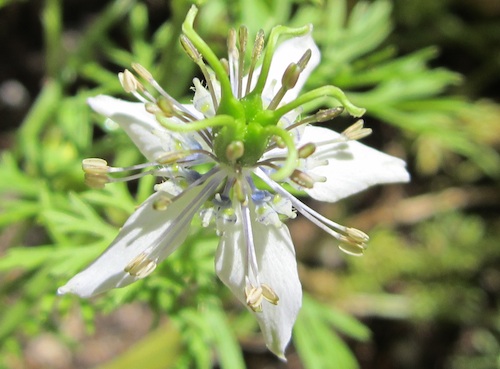 Nigella sativa flower ; photo by ALJ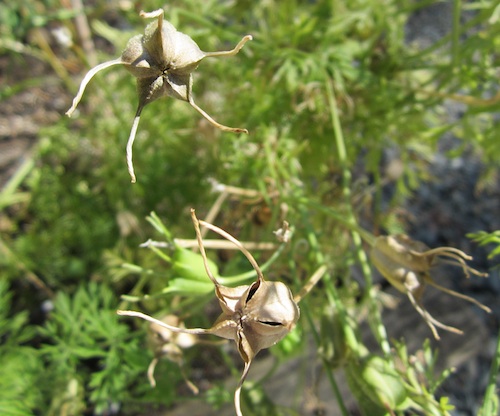 Nigella sativa seed capsules ; photo by ALJ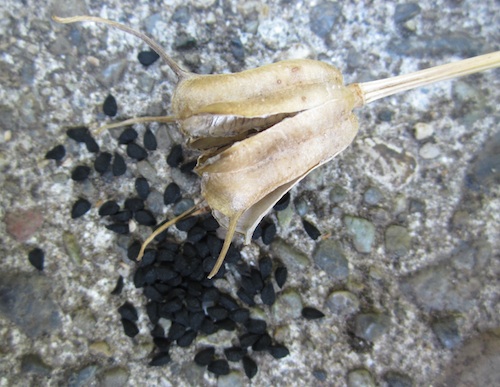 Nigella sativa spilled seeds ; photo by ALJ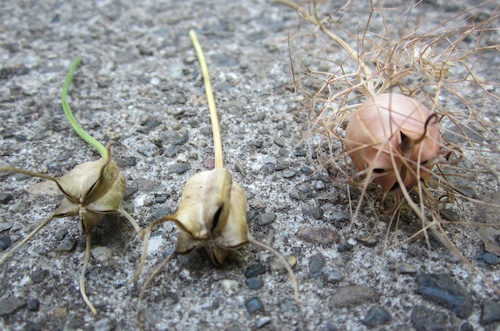 Nigella seed capsule comparison; photo by ALJ