This month in Seattle I discovered a Carolina Hemlock tree, the first specimen I have yet found in the city. Inasmuch as my book Trees of Seattle includes 5 other Hemlock Tree species known in the city, the present article serves to supplement the book.
The 5 species that book contains:
Western Hemlock
Tsuga heterophylla
native in Seattle
Eastern Hemlock
Tsuga canadensis
from eastern N America
Mountain Hemlock
Tsuga Mertensiana
from mountains of far western N America
Northern Japanese Hemlock
Japanese: Kome-tsuga コメツガ
Tsuga diversifolia
from central & N Japan
Japanese Hemlock
Japanese: Tsuga ツガ
Tsuga Sieboldii
from S Japan, and Korea
First noted to science in the 1850s, the Carolina Hemlock grows in mountains of the southeastern U.S., and has been cultivated since about 1881. It was originally called Mountain Hemlock, to logically contrast it with the more lowland Eastern Hemlock.
In the wild, it --at least previously-- was able to live hundreds of years old, and heights were recorded as lofty as 140 feet. Yet in recent decades it has suffered immensely, largely due to an introduced insect called Hemlock Woolly Adelgid, and as a result the large old wild trees are dying or dead. For more details about this pest and what is being attempted to save the trees, (click here).
The Eastern Native Tree Society has the latest news about this (and many other eastern U.S. native trees). As for the tree's status in cultivation, it seems that specimens planted far from its native land may be better off. For example, until it died about a year ago, there stood a planted tree of large size in Tacoma, Washington. It was in Point Defiance Park, and in 1990 measured 74 feet tall, its trunk about 3 feet thick. When it died it was 79.5 feet tall, its trunk over 3.5 feet thick, its branch spread 65 feet. Its death resulted from a lawn renovation project, not insects. When I first saw that tree, I mistook it for a Western Hemlock.
To distinguish the Carolina from the Western Hemlock, the most obvious feature is the cones. The Carolina cones have narrower scales that jut out widely when the cones are dry and mature. I reproduce below two lovely wood engravings by American illustrator Paul Landacre (1893 - 1963). They were done for two books by Donald Culross Peattie: A Natural History of Trees of Eastern and Central North America and A Natural History of Trees of Western North America.
The lone Seattle Carolina Hemlock stands less than 40 feet tall, but looks to be decades old, in the front yard of 9230 13th Avenue NW. It is just north of Holman Road. It has a lush, healthy crown of foliage. Based on its apparent suitability to Seattle, and the tree being wiped out in the wild, more of us should try growing Carolina Hemlocks in Seattle. If one was to obtain seeds from this tree, perhaps some seedlings could be raised.
In the back of my memory, I recall that at one time, a nursery in Bothell, Washington, owned by a man named Torben Barfod, was selling Carolina Hemlocks. But I still know of only this one Carolina Hemlock in Seattle. However, I fully expect that at least the cultivar 'LaBar's Weeping' exists as a youngster in a few private gardens here.
Any news to this effect is appreciated.
Back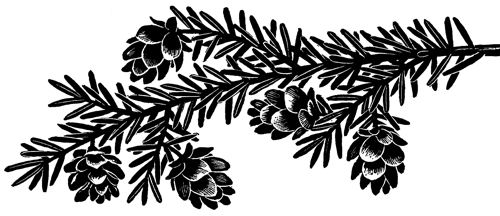 Western Hemlock wood engraving by Paul Landacre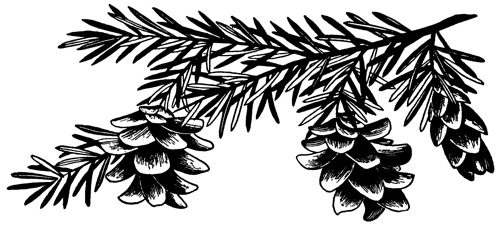 Carolina Hemlock wood engraving by Paul Landacre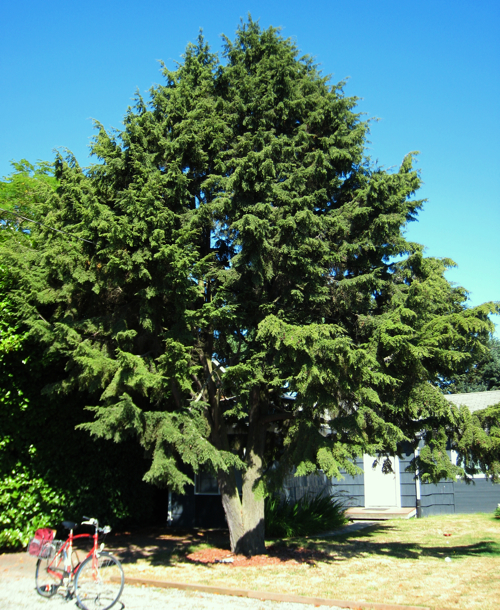 Carolina Hemlock at 9230 13th Avenue NW, Seattle; August 2010 photo by ALJ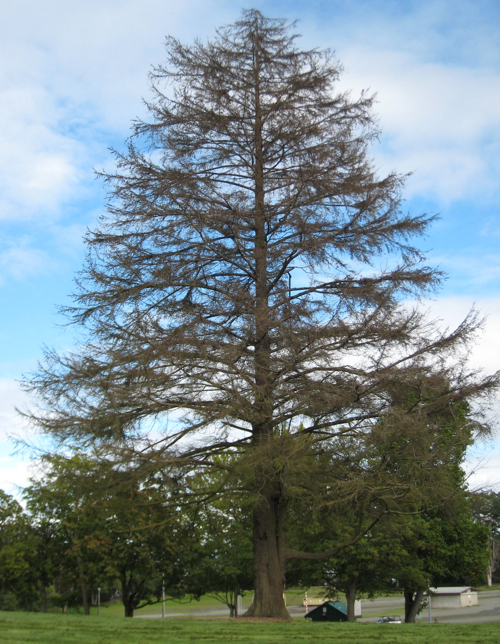 dead Carolina Hemlock at Point Defiance Park, Tacoma; September 2010 photo by ALJ