Polka-dot Plant is said to be native in Madagascar, which has many species. It is now grown around the world outdoors as a tropical or subtropical groundcover, and indoors in terraria or as houseplants. It has other names, all alluding to its pretty foliage: Baby's Tears. Measles Plant. Flamingo Plant. Freckle Face. Nosy Neighbor. Flamingo Plant. Pink-dot. Spotted Dog.
Genus Hypoëstes consists of perhaps 70 species from tropical & southern Africa, India, China, Malesia & Australia. There is no recent generic account, and I think until someone does a monograph, the Polka-dot Plant's correct name will remain questionable. Genera related closely to Hypoëstes include Dicliptera, Justicia, and Peristrophe.
Polka-dot Plant has been grown in USA since at least the 1920s but was uncommon until the 1970s. It is usually called by the specific name sanguinolenta, referring to its red veins, but for years botanists have stated that Polka-dot Plant's correct name is H. phyllostachya. Yet J.G. Baker's 1887 description of phyllostachya states that its leaves are green, period.
Polka-dot Plant leaves taste bitter like dandelion greens. Though Polka-dot Plant is not recorded as edible, at least 4 African Hypoëstes species are eaten as cooked greens:
H. aristata (Vahl) Sol. ex Roem. & Schult. (Ribbon Bush)
H. cancellata (Willd. ex Nees) Nees
H. Forskaolii (Forsskaolii) (Vahl) R. Br.
H. verticillaris (L. fil.) Sol. ex Roem. & Schult.
Only the first named is sold as an ornamental in the USA, both for indoor usage and outdoors in frost-free areas.
Some accounts on the internet describe the Polka-dot Plant as toxic, variously to people, cats or dogs. It is not; no credible reports exist. Of course, if a person ate a specimen purchased recently from a retailer, it likely would be tainted with chemical growth retardants, pesticides and fungicides --which would probably cause intoxication.
Back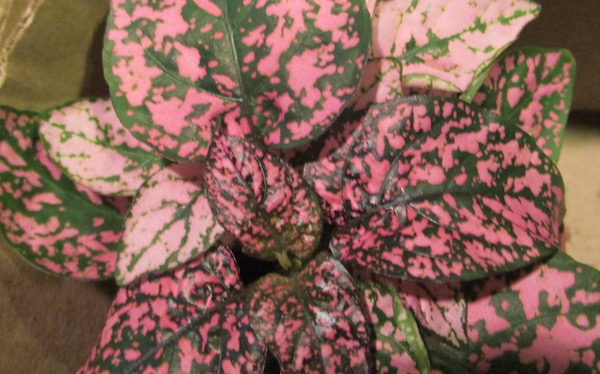 Polka-dot Plant; photo by ALJ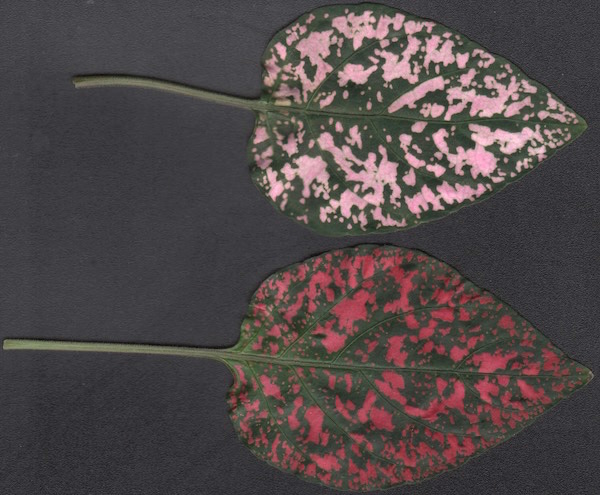 two variants of Polka-dot Plant leaves; photo by ALJ