A most distinctive, familiar, and impressively stoic evergreen shrub in Seattle gardens, is the old-fashioned Spotted Laurel Aucuba. Usually I write about relatively little known plants. This one is common as dirt. But I shall share little known details about the plant.
According to botanical opinion, anywhere from 3 variable to 10 hard-to-distinguish Aucuba species exist, all growing from the Himalaya region to Japan. The first known to the Western world, was the gold-spotted Aucuba japonica 'Variegata' introduced in 1783 from Japan to England. It is often called a clone, but can be deemed a cultivar that partly comes up true from seed. It is a female, and its seedlings are often more or less identical to the parent. The gold spots in the leaves are from a virus.
Names given it include Goldspot Laurel, Spotted Laurel, Japanese Laurel, Gold-dust Tree. It is prized for its luxurious foliage of contrasting dark green with bright yellow flecks. The flowers are utterly inconspicuous, and only rarely do the shrubs make large crops of the attractive scarlet fruits.
It is able to grow in deep shade, but also tolerates full sun. However, specimens in full sun are malcontent, and if they were able to, would transplant themselves to shade.
It can be clipped as a hedge, pruned into a small tree 15 feet tall, or be left alone. It requires no summer irrigation in Seattle, and can grow even under native cedar trees.
Rarely do pests or diseases bother Aucuba in gardens.
For people who detest its gold spotted leaves, there are wholly green Aucuba shrubs that can be obtained. A list of some of the cultivar names is:
Crassifolia
Crotonifolia
Goldiana
Longifolia
Macrophylla
Maculata
Nana
Yellow and white-fruited forms also exist.
Close cousins of the genus Aucuba are Cornus and Garrya. The Chinese name is qing mu and Japanese name is Ao-ki.
Certain of the rarely cultivated Aucuba species are intriguing to me for their handsome large leaves (some over 1 foot / 30 cm) that look tropical, and their strong, treelike stature (to 42.5 feet / 13 m). Ordinary variegated Aucuba leaves are no larger than 8 inches long and 3 inches wide.
In East Asia, the young tender leaves have been eaten boiled in times of scarcity. It is about this time of year (April-May) that one can obtain them. I found that the glossy bright green leaves, if boiled when very young, turn scary black. If they are nearly full sized, they do not. Their flavor is much like other cooked greens such as spinach. They should not be eaten raw, as they are mildly poisonous. Boiling allows both leaching, plus heat-destruction, of deleterious or distasteful substances.
Aucuba fruit are bitter and slightly toxic. It seems the alkaloids are in too small quantities, so cannot intervene significantly in toxicity --Sur la toxicite des fruits de l'Aucuba japonica (Cornacees) by A.M. Leveau et al. in Plantes Med. Phytotherap 13(3), 1979.
Back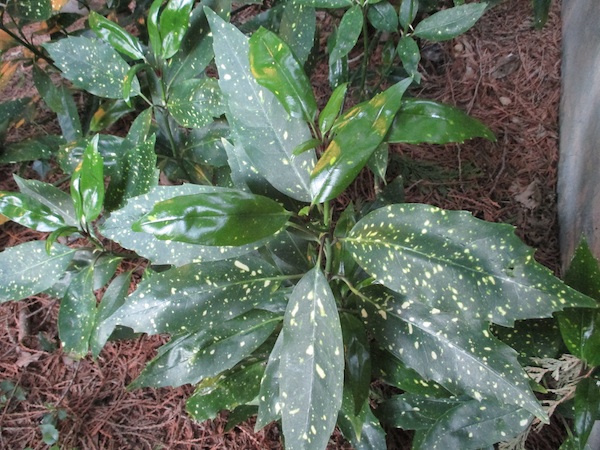 Aucuba foliage; photo by ALJ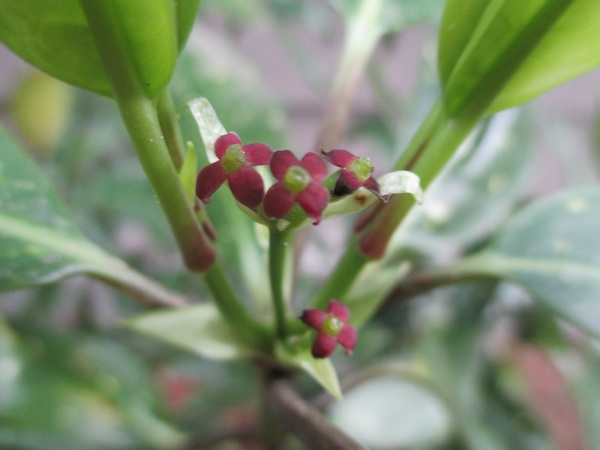 Aucuba female flowers; photo by ALJ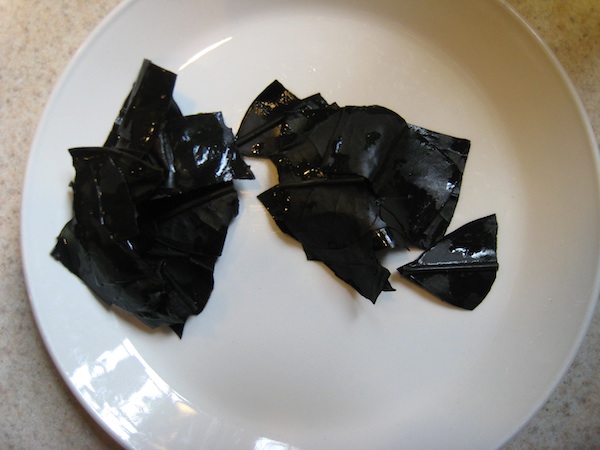 young tender Aucuba leaves boiled; photo by ALJ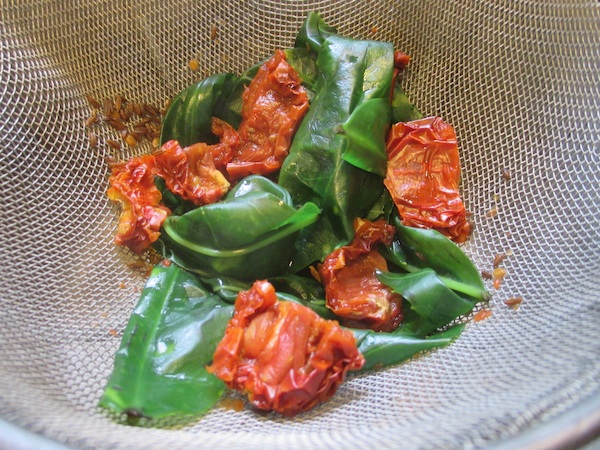 Aucuba leaves boiled with tomatoes & caraway seeds; photo by ALJ