A beloved, commonly cultivated ornamental plant prized for its petite size, darkest evergreen foliage, and profuse indigo-blue flowers . . . is nearly altogether named incorrectly. Hence this brief article. It is frustrating when scientific names of familiar garden plants are changed. Alas! --here is another example of just such a thing. But the confusion is in this case due to sloppy garden writers, rather than nit-picking scientists.
Shrubby Gromwell is a widespread heathland plant throughout the Atlantic side of SW Europe, France to Portugal, and N Morocco. It has been grown in England since at least 1825. As long as it has sunshine, adequate drainage, and non-alkaline soil, it is easily grown. It blooms mostly in April through June. Other names include: Purple Gromwell, Gentian-blue Gromwell, and Acid-soil Lithodora.
The original Gromwell, Lithospermum officinale, is a perennial medicinal herb of Europe, devoid of ornamental beauty. In contrast, Shrubby Gromwell is indeed a miniature woody shrublet, that, to gardeners, is categorized variously as a rockery plant, a dwarf shrub, a groundcover, or (not aptly) as a perennial. Pretty, in any event, as can be seen by the photos below.
Glandora prostrata cultivars include (some likely synonyms):
'Alba'
'Baby Barbara'
'Blue Star' --may = 'Star'
'Cambridge Blue'
'Compacta'
'Grace Farwell'
'Grace Ward'
'Heavenly Blue'
'Inverleith'
'Minima'
'Pete's Favorite'
'Picos'
'Star'
'White Star'
I noted that Sunset's Western Garden Book, Mabberley's Plant Book, the European Garden Flora, the RHS Plant Finder and all other horticultural sources checked, uniformly contradicted recent taxonomic studies. Therefore, I contacted two botanical experts (Daniel C. Thomas, David J. Mabberley) who kindly confirmed that the names cited in this article, are correct. In a nutshell, the common plant sold as Lithodora diffusa, is really Glandora prostrata, while true Lithodora diffusa is not cultivated, and is properly called Glandora diffusa.
Regardless whether one accepts Glandora as a genus distinct from Lithodora or not, certainly the two species prostrata and diffusa are differentiated adequately. They grow in different soils (acid vs. alkaline); their flower stamens vary; their seed coats vary (rough vs. smooth); and they differ at the molecular level.
Glandora diffusa (Lag.) D.C. Thomas 2008
= Lithodora diffusa (Lag.) I.M. Johnst.
= Lithospermum diffusum Lag.
Endemic to the Cantabrian mountains of N Spain; grows in limestone. Viewed through magnification, its seed coats are smooth rather than rough. Not cultivated, but its name is generally misapplied to Lithodora prostrata.
I wonder if true G. diffusa can be cultivated easily in a lime soil. Likely, some members of Rock Gardening societies will know. It is as attractive as the other species. I expect the main difference on a practical level, is the soil pH requirement.
Back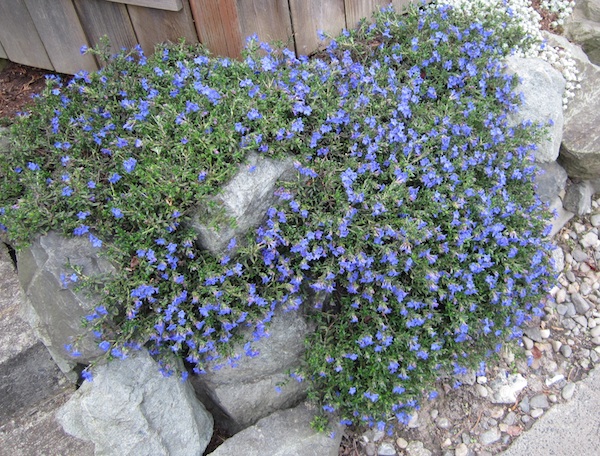 Shrubby Gromwell; photo by ALJ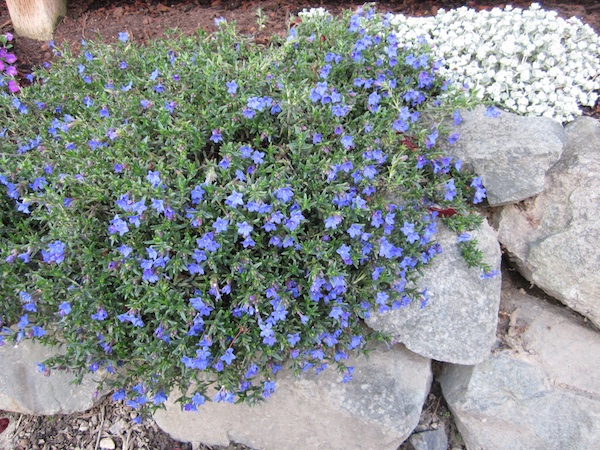 Shrubby Gromwell; photo by ALJ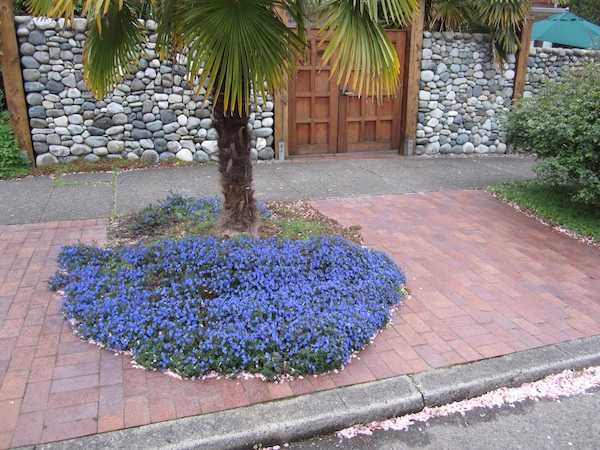 Shrubby Gromwell; photo by ALJ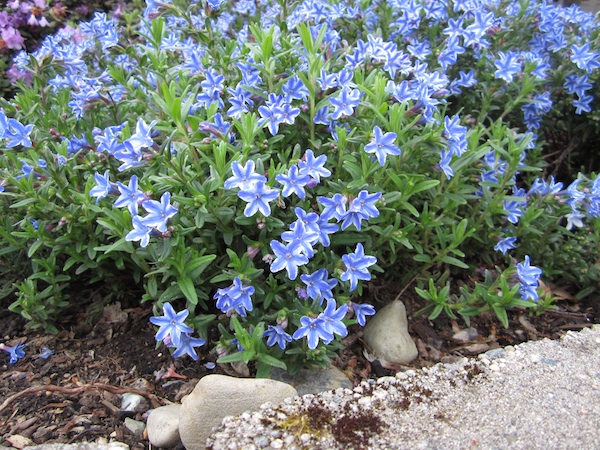 Shrubby Gromwell; photo by ALJ