Plant of the Month: April 2011
China Doll
Radermachera sinica (Hance) Hemsley 1902
= R. Borii C.E.C. Fischer 1940, non Santisuk 1974
= R. Danielle hort.
= R. tonkinensis Dop 1926
= Stereospermum sinicum Hance 1881
BIGNONIACEÆ; Bignonia Family
China Doll is the most prevalent name for a houseplant that has been sold in North America since at least 1985. By accident, I bought one at Home Depot on March 2nd. Oops! So, decided I better learn about it. This article shares my findings with you. How can a person can buy a plant accidentally? Being in a hurry, I spotted this plant, unfamiliar to me, and labeled only "Foliage Plant." I thought: "Looks like a bold-foliaged Polyscias; and is inexpensive; I will buy it." Well, it ended up being both more costly than I expected, and being Radermachera sinica instead of a Polyscias.
Radermachera is one of 83 genera in the Bignonia Family, a clan that is mostly tropical, with fewer subtropical, and a tiny per cent warm-temperate --namely Campsis, Catalpa, Chilopsis, Eccremocarpus and Incarvillea. Three well known ornamental genera in frost-free climates are Jacaranda, Tabebuia and Tecoma.
The Family is characterized by being mostly woody shrubs, vines and trees --rather than herbaceous; by often making aerial roots; by usually bearing showy but unscented flowers, often nocturnal, often long and trumpet-shaped --to be pollinated by bats, moths or birds; and by having remarkably few toxic members. Of its 83 genera, I found references to 20 containing species eaten by people.
Lucky for me, Radermachera is interesting. It would seem that China Doll has become the most widely grown houseplant in the whole Family, and that it is almost certainly edible --at any rate non-toxic. Its young tender leaves recall celery leaf in flavor. Moreover, it has fragrant flowers. Radermachera sinica is one of about 17 species of Radermachera in tropical & subtropical SE Asia. It was named in 1854 after the Dutch botanist Jacobus Cornelius Matthaeus Radermacher (1741 - 1783).
In the wild, Radermachera sinica is native to Bhutan, NE India (Assam, Nagaland Hills, Arunachal Pradesh), S China, N Myanmar (Burma), Viêtnam, and Taiwan. As early as 1897, it was being offered in southern California, but never became popular there. E.A. Menninger, Florida's "flowering-tree man," reintroduced seeds of it from Hong Kong in spring of 1956. Now it is naturalized in Miami-Dade County, and in Hawai'i, is naturalizing in Waimea Botanical Garden, Oahu. D.G. Hessayon's book The House Plant Expert (2004) states: "A house plant of the eighties --it was introduced to Europe from Taiwan at the beginning of the decade."
In addition to the coined China Doll name of the 1980s, other English names include: Asian Bell-Tree (used by 1960 if not before), Emerald Tree (used by 1996 if not before), Serpent Tree (borrowed from a related tree: Stereospermum fimbriatum), and Canton Lace (used by 2003 if not before, mostly in New Zealand). In Chinese, its name has been transliterated as cai-dou-shu or shan-tsai-tou, meaning Bean Tree or Mountain Bean [because it grows on hills (300-800 m elevation) and has long slender seedpods]. In Japanese, the name sendan-ki-sasage means Chinaberry Catalpa (because it has leaves like Chinaberry tree and flowers like a Catalpa tree).
The tree attains, according to what writer is consulted, anywhere from 35 to 50 or even 100 feet (10 to 15 or even 30 m) tall. As a houseplant, it needs little light, ample watering, and not much fussing. But it will not likely bloom; it is valued ornamentally for its shiny, elegant, much divided leaves. As for its flowers (on trees outdoors), they open at night, in large terminal clusters, are carnation-scented, white to yellow, trumpet-shaped, and vary in length from 2.75 to 5 inches (7 to 12 cm). Bean-like, slender seedpods are 18 to 30 inches (45 to 80 cm) long, attracting certain birds. In the wild, the tree blooms about half the year, and is in fruit about half, and has a deciduous period. As a houseplant it is evergreen.
Below, my first two photos show a specimen outdoors at San Francisco Botanic Garden (Strybing Arboretum); a 2000 accession, in bed 78B (SE Asian cloud forest), now about 20 feet tall. Next I show the Home Depot plant, posed outside for its portrait. It is leggy from insufficient light.
A yellowish-green variegated cultivar promoted as "Crystal Doll" since 1995 if not before, is slightly smaller. This is likely also called 'Kaprima' --since at least 1992.
A related species is Radermachera xylocarpa (Roxb.) K. Schum., the Padri Tree, from India, where it is endangered. Its tender unripe fruits are eaten as a vegetable.
Radermachera 'Kunming' is from Yunnan in S China (a province with 5 Radermachera species). It has been in the U.S. since at least 2007, sold as Dwarf Tree Jasmine; in Australia, it has been called "Summerscent." The flowers are pink in the bud, opening white with a gold throat, and are pleasantly fragrant.
Back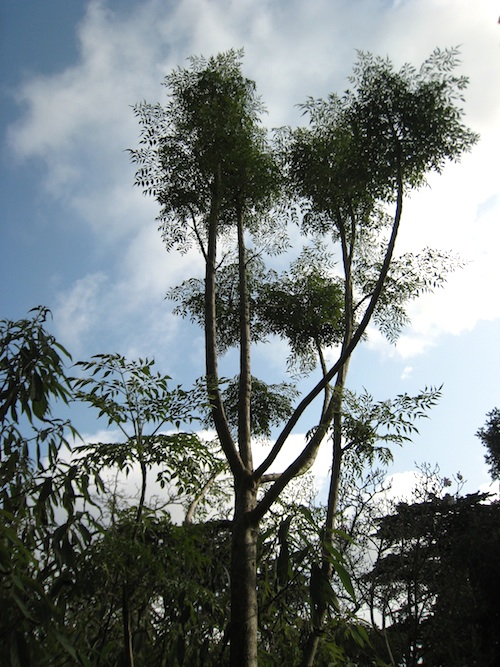 Radermachera sinica at San Francisco Botanic Garden, March 17 2011 photo by ALJ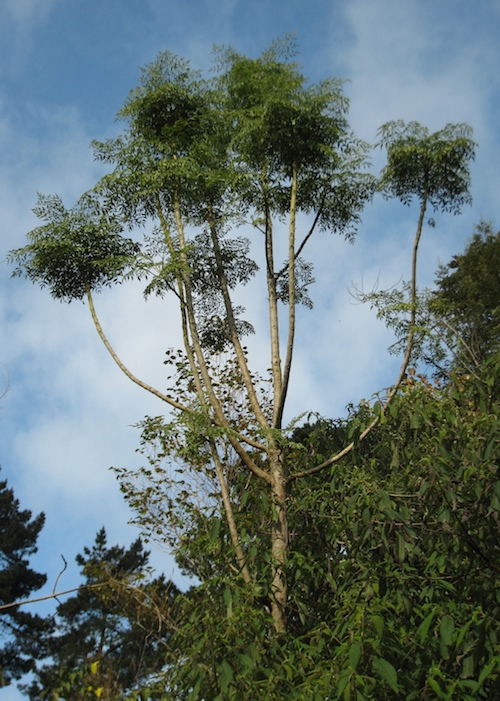 Radermachera sinica at San Francisco Botanic Garden, March 17 2011 photo by ALJ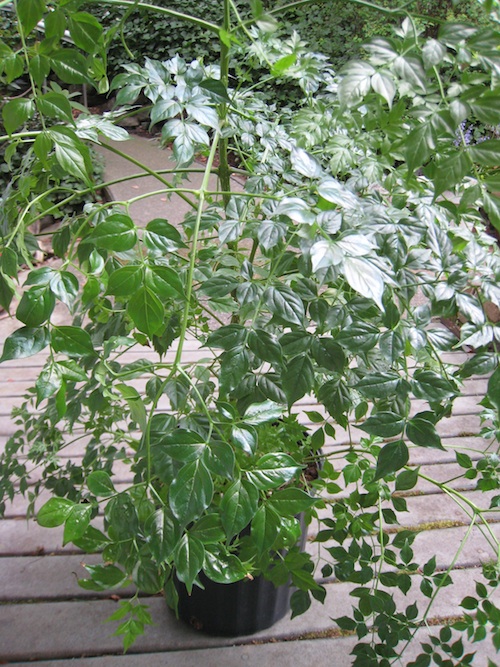 Radermachera sinica my China Doll houseplant in its pot, April 28, 2011 photo by ALJ