Plant of the Month: April 2006
Azara
Azara spp.
(FLACOURTIACEÆ); Flacourtia Family (but recently moved to SALICACEÆ the Willow Family)
In 1794 the genus Azara was named after Félix de Azara (1742 - 1821), a Spanish geographer and naturalist who did fieldwork in South America from 1781 to 1796. Contrary to some published accounts, the genus was not named after his brother, José Nicolás Azara (1731-1804), patron of science. The 10 to 13 Azara species are all South American broadleaf evergreen shrubs or trees, more or less cold-tender. They are related to some deciduous East Asiatic trees: Idesia, Poliothyrsis, and the evergreen Xylosma.
Below I limit my remarks to three Azara species that are included in my book Trees of Seattle, second edition. I welcome feedback about my comments. In the 1970s, Hermann O. Sleumer published in German a monograph, Revision der Gattung Azara, but I have not seen a copy. My data is from observation on the Pacific Coast, and such reading as I could do in English. All of the species below prefer partial sun, good draining soil, and summer irrigation in Seattle. Though all can be propagated readily from cuttings, seedlings offer the advantage that they will vary in their cold hardiness as well as habit of growth and other details.
1) Azara microphylla Hook. fil. [Flora Antarctica 244. 1845]
BOX-LEAF AZARA. From Chile and Argentina. Named from Greek micro, very small, and phyllon, a leaf. In Chilean (Mapuche) it is Chin-chín. It was introduced to Northern cultivation about 1861 by R. Pearce for Veitch nursery of England. It has been offered since 1895 or earlier in the California nursery trade. Common there, it is also grown in Oregon, Washington (was in Seattle by 1893) and British Columbia near the coast. It is by far the longest cultivated, best known, most cold-hardy, and tree-like of the three species I write about here.
It is a large shrub or small tree of upright growth and notably fine-textured foliage. I cannot think of any other cultivated broadleaf evergreen tree that is more dainty; and few are as dainty. In Seattle, England, and Ireland specimens have been measured 40 feet tall or more. Its elfin leaves measure only a quarter inch to an inch long; they are dark green and shiny. Minute, almost unseen flowers are yellowish-green, intensely vanilla- or chocolate-scented in late winter or early spring --anytime from December into April. For their fragrance alone this is a superb tree to grow. The fruit is a tiny one-seeded berry a quarter inch long, first reddish-orange, ripening in June or July to the color of chocolate milk, yet shiny and speckled; slightly bitter vanilla-flavored.
Its cultivar 'Variegata' has leaves variegated with creamy white so it lights up dark garden corners wonderfully. It was introduced to cultivation around 1916; possibly it was raised by Slieve Donard nursery of Ireland. Once very rare, it has been cultivated in the United States since at least 1966. The tallest I know is 25 feet, planted in Seattle in the 1990s.
2) Azara lanceolata Hook. fil. [Flora Antarctica 243. 1845]
NARROW-LEAF AZARA. This is also Chilean and Argentinean, but less tree-like, with larger leaves of lighter green; up to 3 inches long by five-eighths of an inch wide. Its flowers are rich yellow and showy in April, though only weakly vanilla-scented. It makes lilac-white, pale mauve or lavender colored berries. It has been cultivated in the North since at least the 1920s. The tallest I have found recorded is 20 feet, and in Seattle I have so far found it that height at the Carl S. English, Jr. Gardens at the Locks. Specimens are there in beds #204, 305 and 306. It has been cultivated since 1988 at Washington Park Arboretum (four in 13-8E and two in 12-8E). It will be blackened if not killed in severe cold winters.
3) Azara serrata Ruíz & Pav. [Flora Peruvianae, et Chilensis Prodromus t. 36. 1794]
WHITE-BERRY AZARA. This is also Chilean and Argentinean. In its native land its names are Corcolén, Aromo, or Aromo de Castilla. It is scarcely tree-like, tending to be broad and low; growing to perhaps 15 feet or so. It features broad, bright green leaves up to 2.75 inches long by 1.5 inches wide, on stems to five-sixteenths of an inch. Its flowers are rich yellow and showy in April or May; scented, it has been said, of fresh fruit salad. It makes porcelain-white berries in late August, a quarter-inch to a third of an inch wide, usually in clusters of 3 to 5. Cultivars exist, such as 'Andes Gold' and 'Maurice Mason'. The latter cultivar has also been sold (incorrectly) as A. paraguayensis, and been suggested as a possible hybrid between A. lanceolata and A. serrata.
I have not yet learned what year this species was first cultivated in the North. In 1987 I admired mature fruiting specimens in Victoria, B.C. Seattle has at least two specimens that last year measured 9.5 feet tall, but both were planted only in the 1990s and may eventually grow to small trees.
(A very similar species to A. serrata is Azara dentata Ruíz & Pav. [Systema Vegetabilium Florae Peruvianae et Chilensis 138. 1798] TOOTHED AZARA. It shares the same common names in South America, and though cultivated in the North since about 1830, is still horribly confused in horticultural circles. If you see a plant labeled as Azara dentata, it may well really be A. serrata. It blooms later in spring (or summer) than A. serrata, has shorter-stalked flower clusters, smaller leaves (to about 1.5 inches long) that are felted beneath, and it is less cold-hardy. It makes similar berries but they are often yellow or orange. I do not know of any Azara dentata in Seattle, but the real species may exist here. Most likely a few people have youngsters of A. serrata acquired inaccurately under the name A. dentata.)
Back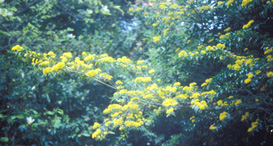 Azara lanceolata flower photo by ALJ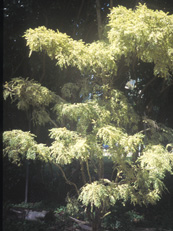 Azara microphylla 'Variegata' photo by ALJ