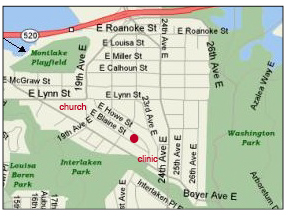 From noon to 6:00 all are welcome to visit my garden in Seattle's Montlake neighborhood. This is the time to appreciate springtime lushness, and flowers that will be gone by summer. Potted plants will also be for sale.
Visitors can socialize merrily, touch and sniff my many aromatic plants. I provide drinks and fresh baked bread for your refreshment. If there is no rain, books both new and used, will be for sale. There will likely be a baby goat to cuddle.
The garden is of southwest exposure on a steep hillside. It is decidedly not wheelchair accesible; it has 52 steps. Trees abound, native and otherwise. Recycled materials are used often. For example, from the house I've re-used structural lumber for borders and supports, and concrete foundation chunks to make steps. There is a Trex wood-polymer lumber deck. Bamboo canes are used for vine growth and staking. A chimney I knocked down has become brick plant bed bordering, along with "native" stones sifted from the soil.
Some native trees and shrubs include a dominating white pine (under which socializing occurs), red cedar, Douglas fir, dogwood, hazel, tall and low Oregon grape, mock orange, and salal. Other than trees and shrubs that were there to begin with, I planted mostly fragrant and edible plants, in an ecclectic fashion. It is informal. There is no lawn. If you love formality and straight lines, you may hate this garden.
There are over 500 mostly edible or fragrant annuals, perennials, vegetables, herbs, vines, flowers, trees, shrubs, and intentional cultivated weeds -- all together. I scarcely segregate by category. If you come, please do NOT pull weeds. What you may be sure is a weed may be a plant that I am growing for a specific reason. Some of you know that for 23 years I maintained the Weed Garden at Seattle Tilth's urban Agriculture center. For the Tilth newsletter I wrote 100 Weed-of-the-Month articles.
Three shrubs or trees of note include: Chilean Hazel (Gevuina Avellana) 28' tall; Banana Shrub (Michelia Figo) 13' tall; Eucalyptus Dalrympleana 111' tall --planted in 1992.
The garden also demonstrates pine-cone mulch, and cultivated patches of ivy, wild clematis, and a magnificent 52' tall female English Holly. Most impressive, is the Eucalyptus towering 111 feet, with a gleaming white trunk over 2 feet thick.
Hundreds of plants are labeled your ease, so you can learn what they are if you do not already know.
DIRECTIONS: Find Montlake neighborhood, between the U.W. and Capitol Hill. Once there, with the map above you should be able to get to 2216 E Blaine Street. The place (red dot on the map) can be recognized by the FIRE HYDRANT, 150 square feet of BAMBOO, and the massive PINE TREE. (You can approach by going uphill to 2215 E Howe St, too, but there is almost no parking up there.) If you want to ride the bus, numbers 43 and 48 as well as any that go to the Montlake Freeway Station will get you close enough. It is about a 15 minute walk from the Husky Stadium link rail station.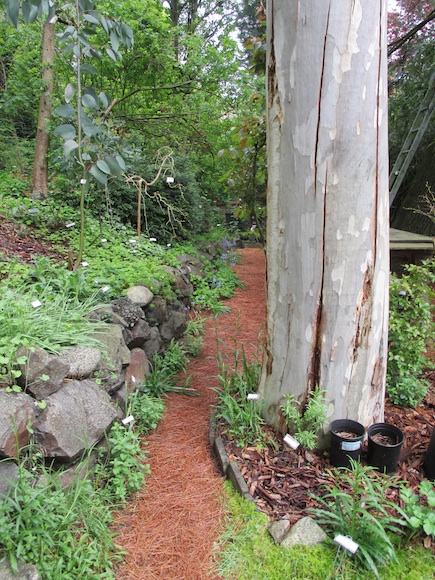 ALJ Eucalyptus Dalympleana (photo by ALJ)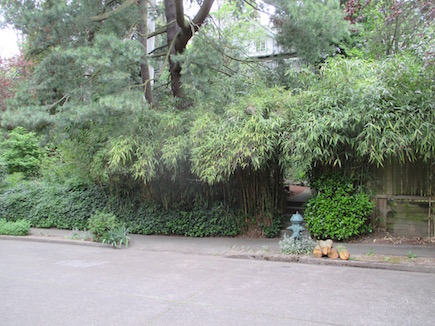 ALJ garden from Blaine Street (photo by ALJ)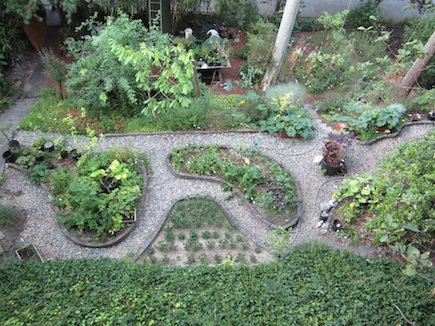 ALJ garden from above (photo by ALJ)


Back